This article is a stub.  Please help the Critical Role wiki by expanding it, adding pictures, or improving existing text.

needs a summary of VM's encounter with the pixies
including: their village, their relationship with the werewolves, their ultimate fate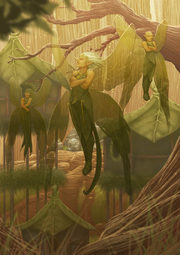 A wisher pixie is a small, winged, fey creature.  Vox Machina encountered wisher pixies in the Feywild.[1]
Gameplay Edit
Wisher pixies are Matthew Mercer's homebrewed variant of the standard pixie.[2]  It is not clear if wisher pixies are considered a race, culture, or group, nor whether they live in other communities or planes of existence than the area where Vox Machina encountered them in the Feywild.
References Edit
Art:
Community content is available under
CC-BY-SA
unless otherwise noted.