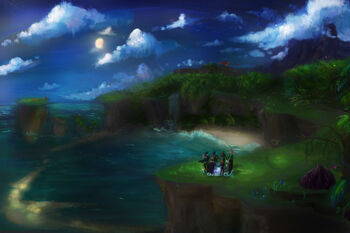 The
Whitedawn Lagoon
is a bay on the
Lucidian Ocean
in the far south of
Xhorhas
.
DescriptionEdit
The Whitedawn Lagoon is surrounded by grassy hillsides, the glittering Lucidian Ocean to the south, and to the north are the broken gray rocks of the Ashkeeper Peaks with a deep ravine beginning to carve its way northward at the horizon. The Quoraska Jungle wraps around and encompasses a large portion of the shoreside cliff expense of the Lagoon.
Points of InterestEdit
BackgroundEdit
References Edit
Art:
Community content is available under
CC-BY-SA
unless otherwise noted.