We're Getting Mutants in the MCU - The Loop
Play Sound

Vax'ildan,[36] nicknamed Vax, is a half-elf rogue / paladin / druid and a member of Vox Machina. He is played by Liam O'Brien.
Born in Byroden, he and his twin sister Vex'ahlia were raised there by their mother Elaina until they were taken to live in the elven city of Syngorn at the direction of their father, Syldor Vessar. He and Vex'ahlia were unhappy, and left in their early adulthood to be on their own.
During his adventures with Vox Machina, he came into possession of the legendary Deathwalker's Ward and Whisper to fight the Chroma Conclave. Vax'ildan offered his life in service to The Raven Queen to save his sister, and after his own death, was brought back to life by her to defeat Vecna. He then abandoned his mortal form to become Champion of the Raven Queen.
Intro
"Never entirely welcome in the company of elves or men, Vax'ildan learned at a young age to skip past formality, preferring instead to invite himself in your door.
Along with twin sister Vex'ahlia, Vax was born by a chance encounter between elven royalty and human peasantry. Raised by their mother in their early years, the twins were eventually sent off to their father in the elven capital of Syngorn. But their cool reception among the elves there never warmed, and their time in the capital didn't last. The siblings stole away one autumn night and set out on the open road.
After a few years of wandering, they eventually decided to return to their mother, and journeyed back to the lands of their youth. But instead of finding their childhood home, they returned to a pile of rubble. Their mother was gone, their home burned to ash. Pressing the townspeople for answers, they learned of the day the dragon came.
With their ties all severed, Vax'ildan and his sister set out to find their fortune together in Tal'Dorei. An outsider since birth, Vax quickly learned to solve life's challenges in his own particular way, often by sidestepping them entirely. And when his knack for circumventing adversity isn't enough, the way of blades the elves schooled him in more than makes up the difference."[37]
Description
Appearance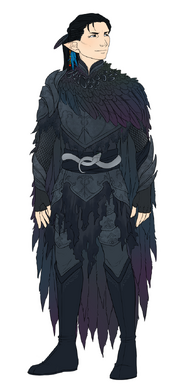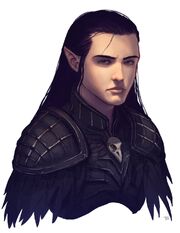 Like his twin sister Vex'ahlia, Vax is a twenty-eight-year-old half-elf.[13] He greatly resembles his sister, with long, dark brown hair[38] and hazel eyes,[39] but at 5'11"[40] he is two inches taller than her.[41] During his resurrection ritual in Vesrah, a part of his hair was braided with Vex's blue feathers as part of her offering.[42] Vax'ildan wears the Deathwalker's Ward, a black set of studded leather armor trimmed with black feathers. When he activates the armor's ability to fly, a pair of large black raven wings sprout from his back.
After joining the Slayer's Take, Vax'ildan has the brand of the guild on his right arm. He got a pair of tattoos in Vasselheim after completing the Slayer's Take trial: on the inside of his left wrist are the sounds for "V" and "M" written in Elvish script, and on the inside of his right wrist is an icosahedron.[43] While spending a year with Keyleth in Zephrah, he also got a tattoo of her antlers on his upper right arm. Additionally, Vax'ildan used to have the Clasp's brand between his shoulderblades,[7] but it has since been covered by a handprint-shaped scar on his back after he asked Keyleth to burn it away.[44]
After his resurrection, Vax'ildan developed a dark, bruise-like mark over his heart as a symbol of the boon he received from the Raven Queen.[45][46] After being disintegrated by Vecna, the Raven Queen made a deal with Vax to allow him to return to life until Vecna had been destroyed. Once Vax reappeared on the Material Plane, the dark mark on his chest had expanded to resemble a pair of wings.[47]
When Vax'ildan briefly returned to the material plane in order to commemorate his sister's wedding, he wore an elegant mask resembling Percy's, and his right shoulder had a bony, antler-like growth coming from the area of his tattoo of Keyleth's antlers.[48]
Personality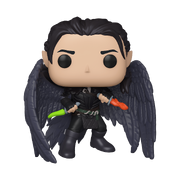 Compared to his sister, Vax is far more focused and serious, but he is not without his moments of playfulness, as he is quite fond of being a prankster. He can be incredibly deceptive and often navigates through social situations with ease and occasionally coin.
Vax tends to wear his heart on his sleeve. He has a habit of self-loathing and tends to brood when undergoing emotional crises. When he feels overwhelmed, he prefers to walk away when it becomes too much to bear instead of dealing with the problem.[49] At times, he keeps his emotions to himself, the only person he ever trusted for a long time being his sister. But he does open up towards those who earn his trust and his love.
Vax'ildan has said that he felt depressed for a long time before meeting with Vox Machina. For many years, he thought of himself as "lost and a wanderer", his goal being to find some purpose in his life. He had considered becoming a follower of Sarenrae, inspired by his friend Pike,[50] but had to give up on this idea after he offered his life to the Raven Queen, in desperation, to save his sister's life. Upon encountering the Raven Queen,[51] Vax'ildan was fearful at first, but he eventually accepted his new role as the goddess's champion.[52] By accepting that role and coming to an understanding, Vax found what he had been lacking and became more at ease.
Vax'ildan is bisexual.[53] He shows interest in both men and women, specifically Shaun Gilmore, a human sorcerer, and Keyleth, a half-elven druid and fellow member of Vox Machina.
Vax is a close-ranged combat fighter and often uses a deadly combination of sneak attacks, magical weaponry, items, agility, and various abilities when in combat. He is naturally the sneakiest member of Vox Machina and often scouts ahead for the group when in dangerous situations.
Vax's alignment is "chaotic good", like Pike and (currently) Vex.
Biography
Before Campaign One
Background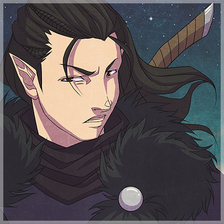 Vax, along with Vex, was born in the humble village of Byroden due to the union of a human woman named Elaina and an elven man named Syldor Vessar. The twins lived with Elaina for the first ten years of their life before they were sent to live in Syngorn, where their father lived. During this time, Vax had received training in the ways of the blade from his elven instructors, one of whom is named Master Tharendril.[54] He and Vex learned the Abyssal language in classes together,[55] apparently at their father's insistence.[56]
After several years of cold reception from the Syngornian elves, the twins set off on their own. They returned to Byroden, only to see their childhood home destroyed and their mother gone, killed by a dragon.
The twins wandered the continent together for some time as they honed their respective skills. At one point, Vax'ildan discovered a plot to kidnap Vex'ahlia, and he agreed to join the Westruun sect of the Clasp in exchange for her freedom.

Vax'ildan and his twin sister Vex'ahlia were in the K'Tawl Swamp near Stilben to investigate a possible curse. After the twins took down a shark-speaker, Keyleth suddenly appeared and offered to heal Vax's wounds. The twins were confused by the exuberant druid, who had never heard of half-elves being mistreated before.
Back in Stilben, the twins interrogated an alchemist named Zeth, but he refused to talk. They were ambushed by assassins as soon as they left his shop. The twins hid in the sewers to watch over the shop, and when Zeth left, they stalked him to a sewer station, where Grog and Scanlan had just broken in. The twins attacked them on sight, but the two duos had to join forces when they were all attacked by a group of assassins, then Iselda, who entered through a magic mirror. During the fight, Keyleth arrived with her friend Tiberius, and they joined the battle. When Keyleth suggested all six of them group up to reach their common goal, Vax'ildan and Vex'ahlia refused and left on their own.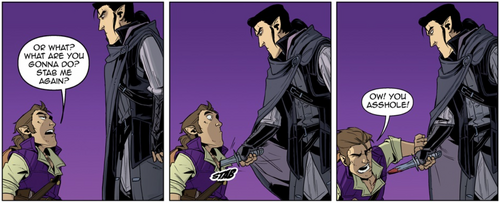 Shortly afterward, Iselda kidnapped Vax'ildan by pulling him inside a mirror, and locked him in a cage on the lower deck of a ship, the Mockingbird. She suggested that Vax join her organization, but he refused. Later, Vax'ildan managed to escape from the cage. He fought his way out of the ship by tricking Iselda's henchman to blow a hole in the side of the ship. When he jumped out, he found Vex'ahlia on the docks, along with Keyleth, Tiberius, Scanlan, and Grog. The six of them then boarded the ship and They found the source of the "curse" that had been plaguing the inhabitants of Stilben: a sigil carved into the floor and filled with poison. When Keyleth and Tiberius determined that it could be diluted by an acidic substance, Scanlan immediately started to pee on it, and Vax'ildan followed suit, succeeding in stopping the strange ritual. Iselda arrived and almost wiped the group out, but was killed by Grog, and the group escaped through the previously made hole in the side of the ship. Afterward, they all headed to a tavern together.
Series Two
While tracking the whereabouts of their friend Grog, the party that would one day become Vox Machina was directed to the Trickfoot household in Westruun, where they met Pike, who helped them rescue Grog from a lich. Later, the party had to split to find ingredients for a ritual to save Grog from the lich attempting to possess his body.
Vax'ildan went with Vex'ahlia and Grog to the Frostweald in search of the heart of a nymph. The team encountered basilisks on their way there, and Vex'ahlia was petrified in their fight, but Vax'ildan figured out that she could be cured by basilisk's blood. When the group encountered the nymph, she befriended Grog and brought him with her inside her pond for a while, and he refused to explain when he resurfaced with the heart they had come to get.
When the entire group reunited, the other three were accompanied by Percival de Rolo, who helped them with the ritual.
Series Three
Vax saved Vex'ahlia from being frozen solid by Skysunder by jumping in front of her, and he was frozen instead. The rest of Vox Machina took down the white dragon, freeing Vax and the frozen citizens of Westruun.
Vox Machina ran into Vex and Vax's father, Syldor Vessar, in Emon.[57] The conversation was frosty, and the twins learned that they now had a younger half-sister named Velora Vessar.
Vax'ildan and Pike became separated from the group during an incident inside a cistern underneath Emon, and they were both captured by the Clasp. Vax revealed his membership to the Clasp's Westruun sect, so their leader, Modeth Lai, called for a test of their skills and intent. The Clasp forced the rogue and cleric to battle a chained chimera in their arena, but an unconvinced Modeth had the two held overnight anyway. During the night, Pike and Vax managed to escape and reunite with the rest of the party in the Graveyard District.
Vax was able to land the killing blow on the blue dragon Brimscythe. Brimscythe had assumed a human form as General Krieg for some time, and after Vox Machina discovered Krieg's secret, he revealed his true nature to them. After a long fight, Vax ran up a wall and sunk his daggers into Brimscythe's neck, sliding down and slowly killing him.
Pike purposely injured Vax when she found out he had been a "peeping tom" by stepping on his foot. She dealt one point of nonlethal damage.[58]
---
---
Post-Campaign
Following the defeat of Vecna and saving of Exandria, Byroden created statues for Vax'ildan and his sister.[89]
---
---
Season One
In the animated adaptation, Vax'ildan infiltrated the Briarwoods' room in the Palace of the Sovereign and stole a mysterious book from a hidden compartment in their chest. He was bitten by Sylas Briarwood, but escaped through the window. On the road to Whitestone, Vex'ahlia warned him against being distracted by "pretty things", hinting that she had noticed his feelings for Keyleth. During the battle against Delilah's army of undead, Vox Machina was surrounded at the base of the Sun Tree, and Vax took a moment to tell Keyleth that he was in love with her. She reacted negatively at the timing of his confession and left to continue fighting the zombies.
Relationships
The Clasp
Sometime after leaving their father but before returning to their home town, Vax'ildan learned that his sister Vex had a stalker who had paid the Clasp to get her for him. Vax gave the Clasp a child rapist, who was then transformed to look like her, allowing the Clasp to meet their contract. In exchange for sparing Vex's life, Vax was branded with the Clasp's mark and sworn to serve the Clasp whenever he was called upon.[90][91]
Vax'ildan and Pike were once captured by the Clasp in Emon. Vax revealed his membership to the Clasp's Westruun sect, so their leader, Modeth Lai, called for a test of their skills and intent. The Clasp forced the rogue and cleric to battle a chained chimera in their arena, but an unconvinced Modeth had the two held overnight anyway. During the night, Pike and Vax managed to escape.
After talks with the Clasp to help the survivors of Emon after the Chroma Conclave attack happens, Vax asks Keyleth to burn away the brand on his back.[92]
Cyriel
As teenagers in Syngorn, Cyriel and Vax'ildan were friends and love interests.[28] Cyriel was a little older but close in age to the twins.[93][94] After failing to pick her pocket on their first meeting, Cyriel took Vax'ildan under her wing and taught him to be a thief.[93] Vax'ildan remarked that Cyriel and Tharyn were the only elves who were interested in getting to know the twins during the five years they lived in Syngorn.[95] Cyriel gave him a few gifts, including an old coat with hidden pockets, and a set of old lockpicks for Winter's Crest.[93][95] The two did not remain close, however, as Cyriel became busier with her work and became close with a goldsmith's apprentice,[95] while Vax'ildan eventually left Syngorn.
Grog
Vax and Grog Strongjaw, a goliath barbarian and a fellow member of Vox Machina, have a playfully antagonistic relationship, the two of them occasionally playing pranks on each other. Aside from that, they are close friends who had each others' backs. Their prank war did become more prominent when Vax shaved off half of Grog's newly grown beard. Grog didn't take it well, but Vax only thought of it as another prank.
Keyleth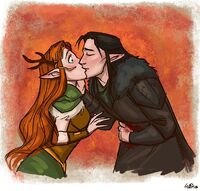 Vax and Keyleth are romantic partners. He started developing feelings for Keyleth while Vox Machina was adventuring in the Underdark on their mission to rescue Lady Kima of Vord and subsequently defeat K'Varn the Mad.[98]
Vax eventually admitted his love for Keyleth and kissed her after they took down Professor Anders.[99] Keyleth, however, hesitated to explore her own love for the rogue due to uncertainty and fear, but after Vox Machina discovered the corpse of Tiberius Stormwind and returned to Whitestone, the druid admitted her love for him, and that she had loved him for a long time.[100] The two since established a close relationship, and Keyleth never stops loving him even after his death following Vecna's defeat.
Kynan Leore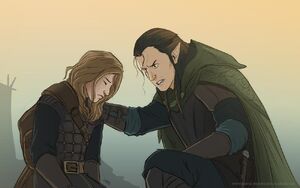 Vax first met Kynan outside of Greyskull Keep upon their return from Vasselheim, during which he personally crushed the boy's dream of joining Vox Machina by telling him that he was not ready for the life that they live.[101] Later on, when Kynan was revealed to be working with Anna Ripley, Vax took it upon himself to talk some sense to the boy, convincing Kynan that despite what he had done while working with Ripley, he could still find redemption. He later gave him two daggers he had bought from Gilmore's shop in addition to his Keen Dagger[102], and then later gave him his serpent belt, telling him that he earned his second chance.[103] Vax reclaimed the serpent belt after a year, having seen that Kynan was a leader in the Whitestone forces but knowing he would not need it as much as him.
Percy
Percy and Vax were once very trusting of each other, but ever since Vex's death due to the gunslinger's own negligence, as well as other events, the two have not been able to see eye-to-eye. Eventually, they had a discussion and Percy told Vax that he wants to be in the rogue's good graces again, but for the time being requests that he "never trust him". After several events, the two ended up on good terms once more and later become in-laws, through Percy's marriage to Vax's sister, Vex.
Pike
Pike, as a person and as a cleric of Sarenrae, is respected by Vax and he originally planned to follow in her footsteps and become a paladin of the goddess, even sewing a symbol of her patron to his glove as a reminder of his bond with his friend.[104][105] But due to his deal with the Raven Queen, he became fearful that the gnome cleric would shun him for turning away from Sarenrae's light and actively tried to avoid her.[106][107] When Pike confronted him about his avoiding her, the two came to an understanding, with Vax still believing that despite their differing patrons, he can still follow in Pike's footsteps.[108]
The Raven Queen
After offering his life in exchange for Vex's soul, Vax began having dreams about the Raven Queen, who referred to him as "fate-touched", which only served to confuse and frighten him.[110] He soon accepted his new role as Champion of the Raven Queen when he managed to survive being inside Umbrasyl's stomach and while in free-fall.[111][112] He later went to the Raven's Crest temple in Vasselheim to commune with the goddess, during which She answered many of Vax's questions about Her purpose as a goddess of death and his role as Her champion.[113] After this communion, Vax became more at ease. And ever since, his faith in Her has grown, though he still fears Her. After the battle with Vecna, the Raven Queen claimed his soul.[114]
Scanlan
Vax and Scanlan Shorthalt, gnome bard and former member of Vox Machina, have a strong bond of friendship. At times, Scanlan was able to offer words of advice to Vax.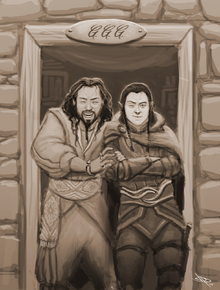 Shaun Gilmore
Vax and Gilmore enjoy flirting with each other and spending time together. In "Shopping and Shipping" (1x14), Vax asked out Gilmore for a meal and a walk, which is the first time in the game that this has happened. Vax also seems to view Gilmore as a confidant, as he told him about Vox Machina's struggles in the Underdark and about the Horn of Orcus, which the party had agreed to keep a secret.[115] After defeating the Briarwoods and returning to Emon, Vax took a moment to sit down with Gilmore and explain that he was in love with someone else. Gilmore, although saddened by the news, took it very well, and after a final kiss, the two parted amicably.[116] They remained close friends and still loved each other platonically until Vax's death.
Trinket
Vex has a companion bear named Trinket. If she is Trinket's adoptive mother, then Vax is his uncle.
Vex'ahlia
Vax and Vex both usually work together when scouting and ambushing opponents. They haven't been separated for very long since birth, at least until after the events of "Hubris" (1x17), where they were forced to work with different groups of people.
Character information
Quests
Vax'ildan, along with his sister Vex'ahlia, was on a quest to kill Thordak, the ancient red dragon that killed their mother when it destroyed their home town of Byroden.[117] This has since been fulfilled with Vax slaying the Cinder King during the siege of Emon.[118]
After his death at Thar Amphala, Vax agreed to the Raven Queen's offer of returning as a revenant so that he could fulfill his charge of sealing or defeating Vecna. He, along with Vox Machina, finally succeeded in banishing him, and in the end, Vax willingly returned to his patron's side and died for the last time.[119]
Proficiencies
Skills: Intimidation, Investigation, Persuasion, Sleight of Hand

Expertise: Acrobatics, Perception, Stealth

Tools: Disguise kit, poisoner's kit

Expertise: Thieves' tools[120]
Notable items
Current items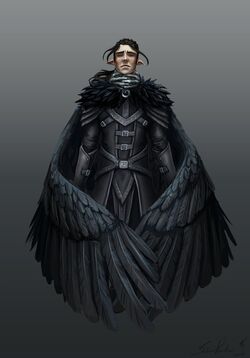 Former items
Abilities
As an assassin rogue, Vax'ildan excels at dealing high damage very quickly, especially while stealthed, while evading and minimizing damage to himself. After reluctantly becoming a Champion of the Raven Queen, Vax eventually multiclassed as a paladin,[146] granting him new abilities and proficiency with medium armor, shields, and martial weapons. With his second paladin level, he also gained access to paladin spells and Divine Smite.[147] With his third paladin level, he took the Oath of Vengeance, which granted him additional abilities and spells. He later took the Resilient feat with his fourth paladin level, to further improve his fortitude.[148]
Vax took a level in druid before his death. As a character with multiple spellcasting classes, this granted him an additional second level spell slot.
Half-elf abilities
Darkvision
Fey Ancestry
Skill Versatility
Fate-Touched
Fortune's Grace (grants an additional use of "Lucky")[149]
Revenant abilities
Returns to life within 24 hours after death
Knows the distance and direction between himself and Vecna while they are on the same plane of existence
Oxygen and food are no longer necessary
Hit points slowly regenerate when below half health
Feats
Weapon damage
Vax'ildan has an assortment of daggers, some of which also deal additional damage of the following types:
Fire (Flametongue Dagger)
Poison (Dagger of Venom)
Necrotic (Dagger of Life-Stealing)
Psychic (Whisper)
Rogue abilities
Class features
Cunning Action
Expertise
Evasion
Reliable Talent
Roguish Archetype: Assassin

Assassinate
Bonus Proficiencies (Disguise kit, poisoner's kit)
Impostor
Infiltration Expertise

Sneak Attack (7d6)
Thieves' Cant
Uncanny Dodge
Paladin abilities
Class features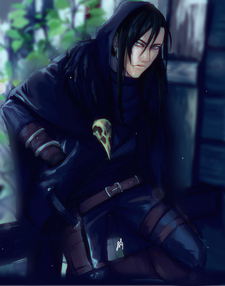 Aura of Protection[154]
Divine Health
Divine Sense[155]
Divine Smite[156]
Extra Attack
Fighting Style: Defense (+1 to AC when wearing armor)
Lay on Hands (30 points)[157]
Sacred Oath: Oath of Vengeance

Channel Divinity

Abjure Enemy
Vow of Enmity [158]

Oath Spells

Spellcasting (Charisma-based ability)
Oath Spells
Vax has access to the following spells, which do not count against the number of spells he can prepare.
1st-level
2nd-level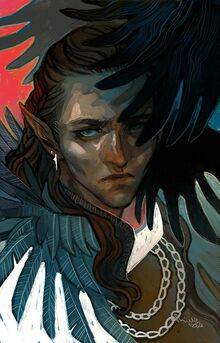 Paladin spells
Vax has access to paladin spells up to 2nd-level. As a 6th-level paladin, he can prepare up to 5 spells per day.
1st-level
2nd-level
Druid abilities
Ritual Casting
Spellcasting (Wisdom-based ability)
Druid spells
Vax has access to druid spells up to 1st-level. As a 1st-level druid, he can prepare up to 3 spells per day.
Cantrips
1st-level
Appearances and mentions
Pre-stream
Campaign One, every episode played by Liam except "Dungeons & Dragons Campaign Tips" (1x12), absent and "Trial of the Take: Part 1" (1x18)

[DM]

, "Trial of the Take: Part 2" (1x19)

[DM]

, and "Uninviting Waters" (1x62)

[DM]

Exandria Unlimited
Vox Machina Origins: Animals, mentioned only
Vox Machina Origins Series I, all issues except Issue 2, mentioned only
Vox Machina Origins Series II, all issues except absent from Issue 5
Vox Machina Origins Series III, all issues
The Legend of Vox Machina, every episode
Quotations
Trivia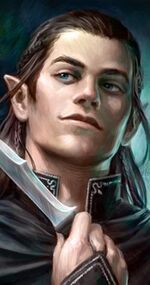 It was revealed on Talks Machina: After Dark that at one point, he and Keyleth became intimate with each other, and that he was her first. But it was also explained in a later episode that, although intimate emotionally, their relationship was mostly asexual.
In the Critical Role Major Arcana Tarot Card Set, he represents XII - The Hanged Man.
Vax has a small rivalry with Percy, though it is later stated (in What Lies Beneath the Surface) that it is more of a brotherly one. This rivalry comes full circle when they become in-laws, through Percy's marriage to Vax's sister, Vex'ahlia.
By defeating Thordak, the Cinder King, Vax completed his personal mission to avenge his mother, Elaina's, murder.

Also, by defeating both Thordak and Brimscythe, Vax holds the title of defeating the most members of the Chroma Conclave (sitting at 2). The remaining three were defeated by Vex (Vorugal), Grog (Umbrasyl), and Kerrek (Raishan).

Vax currently holds the title for third-highest damage dealt in a single attack (118 points against Thordak). He is behind Percival (who dealt 156 points to a Corrupted Empyrean) and Arkhan (who dealt 135 points to Vecna).
In the animated opening for Campaign 2, Molly's gravesite is shown being visited by a raven, which may be an allusion to Vax and the Raven Queen.
Vax'ildan is included in the Critical Role Pack DLC for Pillars of Eternity II: Deadfire.
Liam's backup character if Vax'ildan had died during the campaign was a halfling Air Ashari druid/monk, widower to a fellow Ashari named Riegel. He would have been sent by Korrin, Keyleth's father, to be of aid to her in her grief.[174]
According to Vex'ahlia; out of the twins, Vax'ildan is the oldest by two minutes.[175]
His youngest nephew, Vax'ildan de Rolo, is named after him. Pike and Scanlan's son Wilhand'ildan is also partially named after him, the other half of his name a reference to Wilhand Trickfoot.

Among the fans, nicknames such as Vax'ildeux (a pun with the French term for "two"), Vax'ildan IIor Dan soon became popular to differentiate the young de Rolo from his uncle.
External links
References
Art: