This article or section may require cleanup. The spelling, grammar, or formatting may need attention. The content may be out of place, overwritten, and/or contradictory. You can help the Critical Role wiki by reviewing this article and cleaning it up.

needs episode summary for Bats out of Hell
needs account of death at the hands of Tova + VM
needs relationship with Tova
Utugash was a pit fiend in the City of Dis.  As an NPC, Utugash was played by Matthew Mercer.
Description Edit
Appearance Edit
Utugash was a massive pit fiend with a giant belly that hung over the front of his knees. He wielded a large axe.[5]
Personality Edit
Biography Edit
Background Edit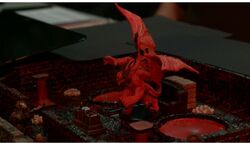 Vox Machina accepted a contract from Ipkesh to assassinate Utugash. They infiltrated the devil's stronghold, where they encountered Utugash sitting on a chair in the middle of his chamber. He was lazily reclining on the chair, propping one hand up on his axe but staring directly at Grog as the goliath entered the chamber.[7]
Relationships Edit
Character Information Edit
Abilities Edit
Corpulent Form[8]
Immunity to fire[9]
Immunity to poison[10]
Resistance to non-magical weapon damage
Resistance to spells
Wall of Fire[11]
Notable Items Edit
Black Iron Axe of Corruption[12]
Quotations Edit
References Edit
Art:
Community content is available under
CC-BY-SA
unless otherwise noted.