Twiggy is a gnome rogue. She is played by Deborah Ann Woll.
Description Edit
Appearance Edit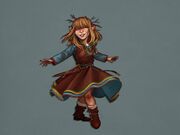 Personality Edit
Biography Edit
Background Edit
Relationships Edit
Character Information Edit
Abilities Edit
Gnome Abilities Edit
Rogue Abilities Edit
Cunning Action[3]
Evasion[4]
Expertise (Investigation, Thieves' Tools)
Roguish Archetype: Arcane Trickster

Mage Hand Legerdemain[5]
Spellcasting

Sneak Attack (4d6)[6]
Thieves' Cant
Uncanny Dodge
Wizard Spells Edit
As a 7th-level Arcane Trickster, Twiggy knows three wizard cantrips and five 1st- and 2nd-level wizard spells. She can replace the spells she knows when she gains a level.
Cantrips Edit
1st-level Edit
2nd-level Edit
Notable Items Edit
Quotations Edit
Twiggy is the fifth guest character to get a "How do you want to do this?" on stream, following Zahra Hydris, Kerrek, Tova, and Shakäste.
Twiggy had a +10 on her Investigation checks. Indicating that she had put one part of the Rogue Ability of Expertise into Investigation. With an intelligence 18 giving her a +4 modifier, and +3 proficiency bonus at Level 7. Since Expertise doubles the Proficiency Bonus of selected checks, this would give her a +6 proficiency on investigation checks. 6+4=10.
References Edit
Art: