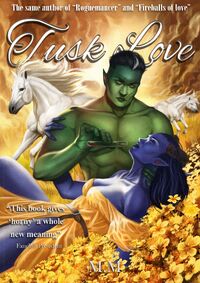 Tusk Love is a smutty romance novel purchased by Jester from the Chastity's Nook bookshop in Zadash. The story deals with the saucy union of Oskar (a half-orc) and the daughter of a traveling merchant, named Guinevere.[1] They met along the Amber Road, up near Druvenlode. However, they couldn't be together, for fear of what their families might think. According to Jester, the story ends when "Oskar falls in love with her, and he carries her across a field, and they love each other so much", describing it as "the most beautiful story".[2]
While reading the book, Jester began eyeing Fjord and referring to him as "Oskar".[3]
Tusk Love was written by Matilda Mercuria.
According to Jester, there was a scene in the book where Oskar and Guinevere have to paddle to shore after their ship was sinking. Jester noted that unlike her situation, where she was paddling the boat in the subterranean tunnels, Oskar was the one paddling in that scene.[1] When recounting the story, Jester mistakenly used the name "Genevieve" in place of Guinevere; in "Blessing in Disguise" (2x95) Jester's birth name was revealed to be Genevieve.
Known ReadersEdit
Jester - Became infatuated with the character of Oskar.
Horris Thrym - Claimed to have found it a boring read.
Tyla Dust - Was completely taken with the book.
References Edit
Art:
Community content is available under
CC-BY-SA
unless otherwise noted.