We're Getting Mutants in the MCU - The Loop
Play Sound
This page is about the actor. For the character from a one-shot campaign, see Travis Willingham (character).
"
I would like to RAGE!
"
Travis Willingham is a voice actor, a member of the main cast of Critical Role, and the CEO of Critical Role Productions LLC. He plays Chetney Pock O'Pea in Campaign Three.
In previous campaigns, Travis played Grog Strongjaw and Fjord. He played Bertrand Bell at the start of Campaign Three. Travis was also the Dungeon Master for "Critical Role: Grog's One-Shot" (Sx26).
Critical Role Productions
Pre-Stream
Matthew Mercer's Pathfinder campaign, which evolved into Critical Role, was Travis's first time playing a pen-and-paper RPG.[1] Travis chose to be a goliath barbarian because he wanted to be a big character that liked to drink and fight a lot.[2] He agreed to play for Liam O'Brien's birthday and had no idea the game would become an ongoing campaign, let alone a publicly streamed one.
Laura Bailey, Travis' wife, played Vex'ahlia in the first campaign. During a session, the party encountered a room full of traps. Travis, as Grog, slapped Trinket's behind, sending Vex's beloved companion charging through the traps and suffering significant damage. Travis didn't realize how upset Laura would be or how attached she was to her imaginary bear, and she allegedly made Travis sleep on the couch that night when they went home.[3][4]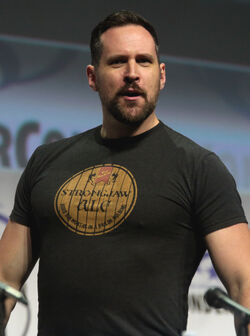 Main Campaigns
Travis's frequent use of the phrase "I would like to rage" became an early and long-standing catchphrase for Grog and for all of Critical Role. It inspired multiple works of fan-made art and apparel. Other notable quotes include "I have an intelligence of 6; I know what I'm doing."[5] Travis often played Grog's low intelligence for comedic effect, such as when he tried haggling with a merchant in Vasselheim and ended up trading the merchant more than was asked.[6] When asked which Campaign One character he would prefer to play besides Grog, Travis jokingly said he would be Trinket.
Travis made the first roll of Campaign Two and rolled a natural 20.[7]
Travis wanted his Campaign Three character to join the party a little later in the story, but Matt wanted to have Travis at the table from the beginning. When given the option to create a new character to play during the campaign's first sessions, Travis chose to play Bertrand Bell, who he had created for "The Search For Grog" (Sx42). When they discussed the manner of Bertrand's exit from the campaign, Travis pitched a "grim end" for him, though he agreed that he wouldn't know when or how it was going to happen.[8]
Chief Executive Officer
Travis became the CEO of Critical Role Productions LLC when the company was incorporated in 2015 after splitting from Geek & Sundry. He often appears in State of the Role announcements alongside creative director Marisha Ray and chief creative officer Matthew Mercer.
Player Characters
See also: Player characters played by Travis Willingham
Main Campaigns
One-Shots and Miniseries
Games Played as Dungeon Master
Other Works
→ See also: Travis' IMDb profile
Travis began working in voice acting in the early 2000s by providing additional voices on Dragon Ball Z. His career took off after he portrayed Roy Mustang in Fullmetal Alchemist. He has since went on to voice numerous characters in television and video games, such as Knuckles the Echidna from the Sonic franchise and Thor in multiple Marvel video games and animated projects.
Personal Life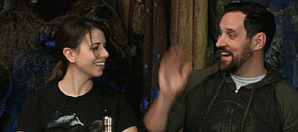 Travis is a big fan of the Dallas Cowboys and played football when he was younger. He credits his love of sports to his father, who he lost to cancer in his teenage years. His younger brother is active in the american military, which led Travis to his involvement with the Operation Supply Drop charity.[9]
Travis and Laura met through commercials and television during their college years. They briefly dated, then reconnected a few years later when Laura moved to Los Angeles, where Travis had moved earlier to pursue an acting career. They got married in 2011.[10]
In "Critical Role: Grog's One-Shot" (Sx26) that aired on 30 November 2017, Travis featured a green man (Fjord) and a blue lady (Jester)[11] with a baby,[12] alluding to Ronin.[13] Hours before the livestream of "The Gates of Zadash" (2x08), Laura tweeted a D&D character sheet for "Baby Willingham", announcing her pregnancy.[14] On June 28 2018, 4 hours before the livestream of "Divergent Paths" (2x25), Laura gave birth to her and Travis's son, Ronin. [15]
Travis has a tattoo on the inside of his arm of Nordic runics meaning "for worth" or "worthy" in reference to Thor, a character he portrayed numerous times.[16]
Trivia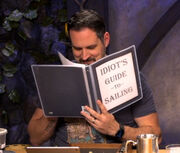 Tarvis Wellingrod
Ravish Twirlingman
Ravish Twirlingham
Trap His Quilting Hand
Catpiss Woolyman
Kravitz Fillinghand
Krampus Thrillingvan

Bad Wrist Drilling Hand
Has His Quill in Hand
Ravish Hulkingslam
Travis Has Killed a Man
Trapeze in Nottingham
That Is Really Glam
Talking Sword in Hand

Texmex Warlockman
Have This Mustang Man
Dat Hex Killing, Man
Fjather to be
Badass Winning Hand
Backstory Stalling-man
That Eye's Inside Me, Man!
External Links
References
Art:
Critical Role cast
Main cast
Guest stars

Campaign 1
Campaign 2
Campaign 3
Pre-Stream