Wiki Targeted (Entertainment)
Play Sound
To the Poop! Goblins: A Critical Role Pathfinder One-Shot is a special episode of Critical Role sponsored by Paizo's Pathfinder and Syrinscape.  It took the place of Geek & Sundry's usual Monday night Twitch programming, Ivan Van Norman's series, No Survivors.
Synopsis
Part I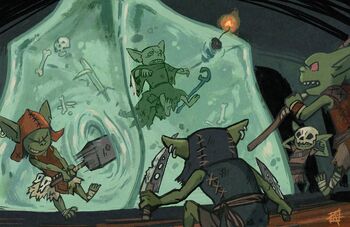 Part II
Featured Characters
Player Characters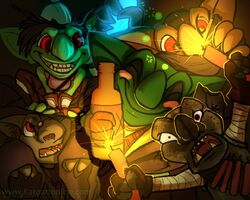 NPCs
Inventory
Quotations
Browntooth: Do we go to the poop, or away from the poop?
All: To the poop!!
Piglet: (singing) Piglet, twitchy scratch the rash until she sees them loud. Love trash, lift the hammer down and crash. Piglet angry time to smash.
Browntooth: (singing) When Browntooth axe lifts up high, someone is about to die! Someone will bleed, lots will get bit, though I'd rather avoid direct conflict. I'm Browntooth the Rogue!
Grizznak: (singing) Grizznak, Grizznak, the greatest that there is! Smarter than the stupid ones, even when he whizzed. Look at them run, look at them hide, look down to watch them burn and die! Zergamot will loot the corpse and then we'll take a ride, hey!
Mezek: (singing) Mezek, Mezek the songs he is keen, so pour a pint of beer for me or I'll punch you in the spleen ugh!
Snizzler: (singing) Snizzler, zazzlers, sizzler, zaz. Eyebrows this goblin once had. My bombs go boom, they never miss. Hi Homeland Security, because now I'm on the watchlist.
External Links
References
↑ Grizznak's name and statistics were shared by Ivan Van Norman on Twitter.
Art: