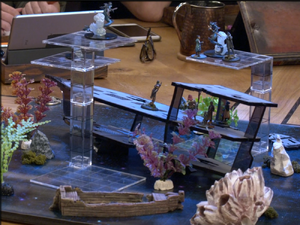 Tide's Breath
[1]
was a merchant ship captained by
Vandran
. After being sabotaged by
Sabian
the ship sank to the bottom of the
Diver's Grave
.
[2]
Appearance
The ship has a captain's quarters (Vandran's cabin) where a table, shelf and all sorts of decorations are kept.[3]
Crew
Former Crew
Captain Vandran: Survivor of the ship's destruction.[citation needed]
Fjord: Survivor of the ship's destruction.[citation needed]
History
Background
The Tide's Breath was a merchant vessel captained by Vandran that operated in the Menagerie Coast region.[citation needed] After being sabotaged by Sabian the ship sank to the bottom of the Diver's Grave.[2]
The Mighty Nein headed towards the shipwreck of The Tide's Breath to find the Cloven Crystal. Fjord asked Jester to explore the captain's quarters with him. The inside of Vandran's quarters were ransacked. Jester made a thorough search and found an opened metal box underneath a table in the corner that had been opened by brute force. The inside looked like it once held something spherical, about the size of a small apple. Jester cast Locate Object focusing on an orb similar to Fjord's. She felt the presence an orb a distance away from the ship. Looking through the rest of the ship, the Mighty Nein realized the wreck was salvaged after it sank.
References
Community content is available under
CC-BY-SA
unless otherwise noted.