The Xhorhaus is a castle-like mansion and the home of the Mighty Nein. It is located in Xhorhas, in the Kryn capital city of Rosohna.
In recognition of their service to the Bright Queen and their newfound status as "Heroes of the Dynasty", the Mighty Nein were awarded this mansion by Shadowhand Essek Thelyss.[1]
Keep Description Edit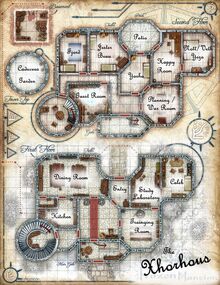 The Xhorhaus is a two-story mansion paneled in vermaloc wood, painted a dark maroon color with a lighter stone foundation. The roofing is dark, near-black clay tiling with a single balcony on the second floor. It has a short tower built into the back right corner that raises to a third story, with a large oak tree growing from the top. Two stained-glass windows installed towards the front are similar to those in the Lucid Bastion.
[2]
Basement Edit
The basement contained rat droppings, chewed wood and a red wine stain. Caduceus considered this room, initially used as a wine cellar, suitable to be re-purposed as a root cellar.
First Floor Edit
 The First Floor contains:
Second Floor Edit
Tower Top Edit
Caduceus Clay resides at the top of the Xhorhaus tower, which he has converted into a garden with Jester's help. Its most iconic plant is a 60 ft. tall, 5 ft. diameter oak tree (grown with Caduceus's feather token). The tree has made quite an impact on the Mighty Nein's neighbors: not only being the only green-leafed tree in Rosohna, but also dramatically increasing the Xhorhaus' overall height.
Because the tree and garden had a need for daylight, Caduceus and Jester came up with a system to provide it by means of glass flasks filled with enchanted liquid, strung together on lines. This too was a point of interest for the neighbors and also a source of awe and jealousy.[3]
Caduceus has a bed off to the side inside a garden shack-like structure.
There is also a small shrine dedicated to the various gods or godlike entities that the Mighty Nein follows:
References Edit
Art:
Community content is available under
CC-BY-SA
unless otherwise noted.