Wiki Targeted (Entertainment)
Play Sound
The Legend of Vox Machina is an upcoming animated series of the Vox Machina campaign, funded by a Kickstarter campaign of the same name and animated by Titmouse.
Series content
In a Kickstarter update, it was revealed that the first two episodes of the series will follow a new adventure within the canon of Vox Machina, falling in the timeline before Kraghammer. The following episodes will complete the Briarwoods arc and move "into other classic Vox Machina story arcs as well."[1]
The official description for the New York Comic Con panel of The Legend of Vox Machina described the series as "an animated fantasy-adventure series for adults that follows Vox Machina, a band of misfits with a fondness for boozing and brawling. In a desperate attempt to pay off their mounting bar tab, these unlikely heroes end up on a quest to save the realm of Exandria from dark magical forces. From a sinister necromancer to a powerful curse, the group confronts a variety of obstacles that not only test their skills, but also the strength of their bond."[2] The necromancer mentioned is likely Delilah Briarwood, while the curse may be referring to the events in Stilben that were covered in Vox Machina Origins Series I.
Production
In November 2019, Amazon Prime partnered on the project to be seen exclusively on Amazon Prime Video and expanding it to two seasons totaling 24 episodes.[3]
In June 2020, Critical Role announced that the launch of the series would be delayed from the originally projected Fall 2020 date to an unspecified date in Summer to Fall 2021.[4] At a panel at New York City Comic-Con, the release date was announced to be February 4, 2022.[5]
Production credits
Cast
Art
Writers' room
Music
Crowdfunding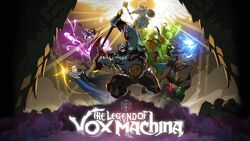 The Legend of Vox Machina Kickstarter[18] was launched on March 4th, 2019, lasting for 45 days (ending on April 18th, 2019 at 11:59 pm). The original animation was to be a 22 minute long special. Within the first 45 minutes of the Kickstarter going up, the $750,000 goal was surpassed, and $1,000,000 was hit in the first hour. After the first day, $3.0 million was raised, passing all the stretch goals the team had planned. Within the next few days, The Legend of Vox Machina became the most funded film/animation project across Kickstarter. It eventually raised $11,385,449, becoming the 5th most funded project on Kickstarter at the time with 88,887 backers.[19]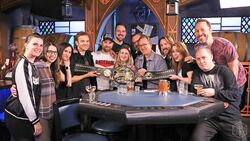 Campaign end party
To celebrate the close of the Kickstarter campaign and to thank Critters for their love and support the cast was joined by special guest Joel Hodgson of Mystery Science Theater 3000 for the Kickstarter Campaign End Party.
Stretch goals and rewards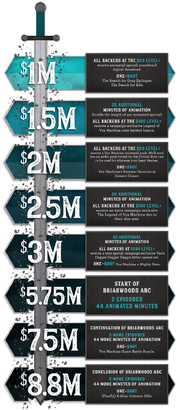 Pre-release specials
In the time between the announcement of the Kickstarter and the series' release, several sneak peak videos were posted on Critical Role's Youtube channel.
Trivia
References
Art: