Jurassic World: Dominion Dominates Fandom Wikis - The Loop
Play Sound
The Legend of Vox Machina is an animated series adapting the Vox Machina campaign funded via Kickstarter. It is produced by Critical Role Productions, Titmouse Inc., and Amazon Studios and released through Prime Video. The series will span two seasons of twelve episodes each. The first season premiered on January 28, 2022 through February 18, 2022, and was released weekly in batches of three episodes each on Fridays at midnight GMT (or UTC).
The first season begins with Vox Machina facing Brimscythe, before adapting the Briarwoods arc. The main cast of Critical Role reprise their roles as their player characters, and Dungeon Master Matthew Mercer reprises his role as multiple non-player characters, most notably Sylas Briarwood and Trinket.
The series is considered its own canon with a continuity separate and distinct from the core canon of the Critical Role streamed campaign and related canonical works.[1]
Episode summaries
The first season of The Legend of Vox Machina spans twelve episodes, released in batches of three episodes over four weeks.[2] The season begins with a two-part episode following Vox Machina's pre-stream slaying of Brimscythe, then adapts their confrontation with Delilah and Sylas Briarwood in Whitestone during the second arc of Campaign One.
A second season will also run for twelve episodes.[3]
Season 1
No.
Title
Directed by
Written by
Original airdate
Runtime
1
"The Terror of Tal'Dorei - Part 1" (LVM1x01)
Young Heller
Brandon Auman

2022-01-28

27:07
The ragtag group of adventurers known as Vox Machina are commissioned by Sovereign Uriel to find out who (or what) is decimating villages in the outskirts of Emon.
2
"The Terror of Tal'Dorei - Part 2" (LVM1x02)
Alicia Chan
Brandon Auman

2022-01-28

28:03
Vox Machina tells Sovereign Uriel of the monstrous culprit behind the devastating village attacks, and manage to track the creature back to its hidden lair. For the safety of Emon, Vox Machina must rise to the occasion and go face-to-face with a beast that is seemingly impossible to kill.
3
"The Feast of Realms" (LVM1x03)
Stanley Von Medvey

Eugene Son

2022-01-28

24:25
Vox Machina is invited to the palace for a formal dinner, where Percy encounters murderous figures from his past: the mysterious Lord Sylas and Lady Delilah Briarwood. While gathering more information about the Briarwoods, a battle ensues. In the aftermath, the team discovers Percy's tortured past has left something dark brewing inside of him.
4
"Shadows at the Gates" (LVM1x04)
Young Heller
Ashly Burch

2022-02-04

24:46
After ruining Sovereign Uriel's diplomatic dinner, Vox Machina is confined to their Keep under house arrest. While they stave off boredom, Keyleth convinces Percy to open up about his dark history and Pike fears she has lost her connection to her deity. Meanwhile, a looming new threat is on its way to confront Vox Machina.
5
"Fate's Journey" (LVM1x05)
Alicia Chan

Jennifer Muro

2022-02-04

25:07
Vox Machina journeys to Whitestone to confront the Briarwoods and help Percy reclaim his family home. As they travel, Scanlan studies Delilah Briarwood's mysterious spell book to uncover clues. But the team's first road trip is interrupted when the Briarwoods send horrific monsters to retrieve their missing book.
6
"Spark of Rebellion" (LVM1x06)
Stanley Von Medvey

Mae Catt

2022-02-04

24:36
Vox Machina finds Whitestone's holy leader, Keeper Yennen, who tells them of a growing rebellion. The team realizes that to defeat the Briarwoods they will need the help of rebel leader, Archibald Desnay. But first they must stage a daring prison break and confront the Briarwoods' sadistic jailer, Kerrion Stonefell.
7
"Scanbo" (LVM1x07)
Young Heller
Sam Riegel and Travis Willingham

2022-02-11

24:47
As Vox Machina discovers more about a revenge pact Percy made years ago, Keyleth tries to magically connect with the Sun Tree. She senses its pain as well as a dark force deep below the city of Whitestone. Feeling underappreciated, Scanlan volunteers to infiltrate Duke Vedmire's mansion as a distraction while Vox Machina attempts to rescue Percy's sister Cassandra.
8
"A Silver Tongue" (LVM1x08)
Alicia Chan

Marc Bernardin

2022-02-11

24:33
Vox Machina battles the vicious Professor Anders and his unique magical abilities, while Delilah Briarwood uses magic to summon a demonic army to rise against our heroes. Meanwhile, Pike searches for a way to reconnect with her deity, even if it means risking her life.
9
"The Tide of Bone" (LVM1x09)
Stanley Von Medvey

Kevin Burke

and Chris "Doc" Wyatt

2022-02-11

24:13
The Briarwoods' evil past connects with the present as Delilah reveals her pact with the Whispered One. In the bloody Whitestone streets, Vox Machina wages the fight of their lives against an undead horde. But just when all looks lost, the team gets help from an unexpected source.
10
"Depths of Deceit" (LVM1x10)
Young Heller
Jennifer Muro

2022-02-18

24:23
After Percy confronts his old nemesis, Dr. Anna Ripley, a tenuous partnership is struck. Despite Percy's protests that she can't be trusted, Vox Machina brings Ripley along. She leads them through the traps under the castle, but soon the team is double-crossed by one of their own.
11
"Whispers at the Ziggurat" (LVM1x11)
Alicia Chan
Eugene Son and Travis Willingham

2022-02-18

23:43
Vox Machina launches a final assault against the Briarwoods atop the Ziggurat. Battling the dark magic of Delilah and the vampiric strength of Sylas, a worried Vex and an unhinged Percy try to save their siblings. But their best efforts may not be enough as the Briarwoods near completion of their secret ritual.
12
"The Darkness Within" (LVM1x12)
Stanley Von Medvey
Brandon Auman and Sam Riegel

2022-02-18

27:05
Vox Machina has stopped the Briarwoods' evil ritual, but at a heavy cost. As they flee the Ziggurat to save one of their own, Percy is eager to take revenge on their prisoner, Delilah Briarwood. When Vex implores him to let go of his vengeance, Percy must confront the darkness within himself.
Credits
Cast
See also: The Legend of Vox Machina dubbing cast
Main cast
Guest cast
Art
Arthur Loftis - Art director
Phil Bourassa - Lead character designer
Karen Guo - Storyboard artist[8]
Cassey Kuo - Storyboard artist[8]
Marvin Britt - Storyboard revisionist[8]
Joseph Martinez - Background designer[8]
Victoria Thornberry - Color design[8]
Nick Lombardo - Character designer[12]
Luke Ashworth - Character designer[12]
Bertrand Todesco - Character designer[12]
Script
Music
Production
Crowdfunding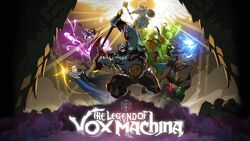 Members of the cast attempted to pitch the series to a few production companies, but were unsuccessful.[20] They decided to try a crowdfunding campaign and reached out to animation studio Titmouse, Inc. to create a teaser trailer. The Legend of Vox Machina Kickstarter was launched on March 4th, 2019, lasting for 45 days (ending on April 18th, 2019 at 11:59 pm). The original goal was to create a 22 minute long animated special. Within the first 45 minutes of the Kickstarter going up, the $750,000 goal was surpassed, and $1,000,000 was hit in the first hour. After the first day, $3.0 million was raised, passing all the stretch goals the team had planned. Within the next few days, The Legend of Vox Machina became the most funded film/animation project across Kickstarter. It eventually raised $11,385,449, becoming the 5th most funded project on Kickstarter at the time with 88,887 backers.[21]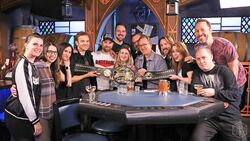 To celebrate the close of the Kickstarter campaign and to thank Critters for their love and support the cast was joined by special guest Joel Hodgson of Mystery Science Theater 3000 for the Kickstarter Campaign End Party.
Stretch goals and rewards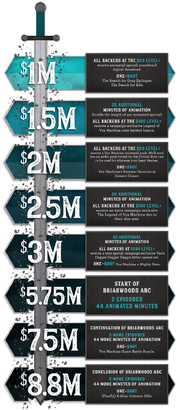 1 Million

Free digital download of the special's soundtrack for $20+ Backers.
One-shot: The Search For Bob.

1.5 Million

22 addition minutes to the animated special.
Backers at the $100+ will get an exclusive crew knitted Legend of Vox Machina beanie.

2 Million

Backers at the $20+ will get a voicemail pack voiced by the cast.

2.5 Million

22 addition minutes to the animated special.
Backers at the $100+ will get an exclusive Legend of Vox Machina d20 with their dice sets.

3 Million

22 addition minutes to the animated special.
Backers at the $200+ will get an exclusive Dagger Dagger Dagger letter opener set.
One-shot: Vox Machina x Mighty Nein.

5.75 Million

The start of the Briarwoods Arc (2 episodes, 44 minutes of animation)

7.5 Million

Continuation of the Briarwoods Arc (2 episodes, 44 minutes of animation)
One-shot: Guest Battle Royale

8.8 Million
10 Million (secret goal)[22]
Production history
In November 2019, Amazon partnered on the project to be seen exclusively on Prime Video and expanding it to two seasons totaling 24 episodes.[3]
In June 2020, Critical Role announced that the launch of the series would be delayed from the originally projected Fall 2020 date to an unspecified date in Summer to Fall 2021.[23] At a panel at New York City Comic-Con, the release date was announced to be February 4, 2022.[24] The premiere date was later moved up to January 28, 2022.[4] Kickstarter backers received early access to the first two episodes via private showings beginning January 25, 2022.[25]
In a Kickstarter update, it was revealed that the first two episodes of the series would follow a new adventure within the canon of Vox Machina, falling in the timeline before Kraghammer and that the following episodes would complete the Briarwoods arc and move "into other classic Vox Machina story arcs as well."[26] However, the series instead ended up starting in Emon, with the storyline of Brimscythe. During a Q&A, art director Arthur Loftis mentioned that the series would consist of 10 episodes;[27] however, this was later changed to two seasons of twelve episodes each.
The official description for the New York Comic Con panel of The Legend of Vox Machina described the series as "an animated fantasy-adventure series for adults that follows Vox Machina, a band of misfits with a fondness for boozing and brawling. In a desperate attempt to pay off their mounting bar tab, these unlikely heroes end up on a quest to save the realm of Exandria from dark magical forces. From a sinister necromancer to a powerful curse, the group confronts a variety of obstacles that not only test their skills, but also the strength of their bond."[28]
Though the series was announced to be premiered at midnight PST on January 28, 2022,[29] it released eight hours early at midnight UTC (or GMT) instead.[30]
Related media
Pre-release specials
In the time between the announcement of the Kickstarter and the series' release, several sneak peek videos were posted on Critical Role's YouTube channel. For the full list, see The Legend of Vox Machina Pre-release Specials.
Watch parties
Critical Role hosted livestreamed watch parties in which Mica Burton and guests from the cast or crew of The Legend of Vox Machina watch the three most recently released episodes of the series and answer questions taken from the live Twitch chat. These streams use Twitch's Watch Party feature and are scheduled for each Tuesday at 7:00pm PST after episodes release. The question and answer portions, without commentary made during each episode, are collected and posted to YouTube the following Wednesday at 3pm PST.[31]
No.
Title
Special guests
Original airdate
Link
Runtime
1
"The Terror of Tal'Dorei - Part 1" (LVM1x01) to "The Feast of Realms" (LVM1x03)
Brandon Auman, Matthew Mercer, Sam Riegel, and Travis Willingham

2022-02-01

Twitch VOD
YouTube VOD
2:35:38
0:58:05
2
"Shadows at the Gates" (LVM1x04) to "Spark of Rebellion" (LVM1x06)
Sung Jin Ahn, Laura Bailey, Taliesin Jaffe, and Liam O'Brien

2022-02-08

Twitch VOD
YouTube VOD
2:34:18
1:03:22
3
"Scanbo" (LVM1x07) to "The Tide of Bone" (LVM1x09)
Ashley Johnson, Arthur Loftis, Marisha Ray, Sam Riegel, and Travis Willingham

2022-02-15

Twitch VOD
YouTube VOD
2:29:37
0:59:38
4
"Depths of Deceit" (LVM1x10) to "The Darkness Within" (LVM1x12)
Grey Griffin, Taliesin Jaffe, Matthew Mercer, Sam Riegel, and Travis Willingham

2022-02-22

Twitch VOD
YouTube VOD
2:44:46
1:17:54
Lakeshore Records released The Legend of Vox Machina—Amazon Original Series Soundtrack digitally on 28 January 2022. The orchestral score by Neal Acree is performed by the Budapest Scoring Orchestra and features soloists Tina Guo (electric and acoustic fiddle), Paul Cartwright (fiddle), Krising Naigus (winds), and Eric Rigler (bagpipes). The album also features original songs by Sam Riegel (as Scanlan Shorthalt) and Peter Habib of Mr. Fantastic.[32]
Trivia

The name of the series is likely a callback to "The Story of Vox Machina" (Sx06), a special episode summarizing Vox Machina's adventures before the start of the stream. This special also featured animation, done by Wendy Sullivan Green.
A few elements from the series were hinted at in Crew & A Episode 4.[33]

Greyskull Keep was described by a crew member as an "early location" that they got to explore, where "Vox Machina get to live in and start off their journey".
Crew members mentioned a spell used by Scanlan to conjure up different body parts, alluding to their creative take on the spell Bigby's Hand. It was also said that Scanlan uses his lute to cast spells. Other spells that were mentioned included Keyleth's vines.

The series' composer, Neal Acree, assigned each main character specific instruments and genre influences. Grog's is heavy metal; Keyleth and Pike's are flute and choir; Percy's is classical/operatic; Vex and Vax's are strings and classical waltz. Scanlan, being a bard, sings original songs with several handheld string instruments in a variety of contemporary genres (which is more the doing of Peter Habib).[34]
The heights of several characters appear to have been modified for this series. In the past, Keyleth has been described as being 6 feet tall,[35] which is taller than the twins' 5'11" and 5'9";[36][37] however, in the official character lineup, she is shorter than both of them. Grog appears to have been scaled down, as he was initially described as an 8'7" half-giant[38] but seems closer in height to the others in this version.
As a surprise for Matt, the design team intentionally designed a character model that looked like him.[39] Several characters with his likeness have appeared in a minor role in every episode so far and are all voiced by Matt.
References
Art: