"The Fancy and the Fooled" (2x97) is the ninety-seventh episode of the second campaign of Critical Role. Live from Chicago! The Mighty Nein return to Nicodranas, where happy reunions and fantastic makeovers are shadowed by revelations about someone close to the party...
Synopsis Edit
Previously on Critical Role Edit
So, last we left off, the Mighty Nein had made their way down to the Whitedawn Lagoon in search of the whereabouts of Caduceus Clay's family, who had long one-by-one vanished over time, in search of this familial task that was put upon them by their patron deity, the Wildmother. Upon discovering the family and many others turned to stone by some sort of a Mistkath mutation of a gorgon, you managed to save most of the people who were necessary, and then through a clever use of magic and some really high medicine rolls, did save the one who got shattered in the middle of the battle, completed what seemed to be the final leg of this vision quest, and sent the now-safe family of Caduceus Clay back to their home at the Blooming Grove.
You guys then made your way to Nicodranas, to figure out how to prepare yourselves for the coming negotiation between the Kryn Dynasty and the Dwendalian Empire during the ceasefire, which you were told you don't need to be there, but you insisted regardless. And as such, you've Teleported, without forewarning, into the Tidepeak Tower of Yussa in Nicodranas. And that's where we left off last. So, as you guys all arrive into the darkened chamber, the inside of Yussa's tower, what would you like to do?
The party is greeted by Wensforth, who lets them out of Tidepeak, and they decide to visit their ship first to check in. Nott tells them that she had promised Yeza that the next time she saw him, she wouldn't still be a goblin, and after thinking a lot about it, she's ready to transform back into Veth now.
The harbor is unusually busy, with two notable ships present (other than their own): The Blue Heaven under Captain Deremi holds the emissary from the Empire and is a large, ornate, and well-guarded Empire vessel, and the Wind of Aeons, flying the Cerberus Assembly flag. They go over to their own ship, the Ball-Eater, and are greeted by Marius LePual and acting captain Orly Skiffback, who tells them the ship is ready to depart when they are.
The party then goes to the Wind of Aeons where they find Martinet Ludinus Da'leth in conversation with Lord Athesius Uludan, Archmage of Diplomatic Union for the Assembly, and Lord Dezran Thain, a lord of Nicodranas. While Thain appears nervous, Athesius invites them to a party the next evening at the home of the Marquis of Nicodranas and extends the invitation to the Ruby of the Sea, Jester's mother. Caleb covertly summons Frumpkin to the dock to watch and follow Thain if he leaves the ship, and asks that the party be allowed to look at the beacon sometime before departure for the talks. Ludinus agrees, and he and Lord Thain go together below decks.
At Beau's urging, Caleb sends Frumpkin to spy on the conversation between Da'leth and Thain. When Da'leth casts a dispel magic spell to thwart magical eavesdropping, Thain is revealed to actually be Essek Thelyss, who was startled by the sudden appearance of the Mighty Nein. Ludinus states that it is important that they oversee the control and exchange of the prisoners and the delivery of the beacon, but that afterward, they need never interact again, beyond the Assembly sharing its research as agreed. Essek agrees, resumes his disguise, and heads back up on deck. The party returns to their ship, where Caleb reveals what Frumpkin saw and heard. They realize Essek was probably the Dynasty official that handed the two beacons to the Empire in the first place, but decide they should give him a chance to explain himself.
On the way to the Lavish Chateau, they purchase the gem dust and clay they will need for the Transmogrification ritual. Nott casts Invisibility on herself so that neither her son nor her husband will see her in her goblin form. Marion greets them warmly, Luc seems to be thriving and mischievous, and Yeza is quick to enquire about his wife and be told she is on her way. Jester tells her mother that the others have now all met and seen the Traveler and that, while he's not a god, he's real. Marion recalls seeing such a man a few times downstairs in the past. Jester invites her to come to the party with them, and after some hesitation, Marion agrees.
The party takes over Marion's bathroom (and expensive bathtub) to perform the Transmogrification ritual. Nott says farewell and thanks individually to each of the Nein, finally telling Caleb that she loves him, and he replies, "I... love you too, Veth the Brave." With that, they begin the ritual, which takes an hour to complete. During it, Nott becomes completely encased within the clay, which begins glowing orange hot, finally shattering in an arcane shock wave to reveal the halfling form of Veth Brenatto. Yeza arrives, having heard the explosion, and Veth is reunited with her husband and son. After asking the party to watch Luc, Yeza and Veth retire to his bedchamber and close the door.
Caleb
asks
Jester
to lead him to a magic shop where he might buy a scroll and the paper and ink to transcribe it.
Unfortunately there isn't a magic shop in
Nicodranas
, so Jester suggests asking
Yussa Errenis
, and they (along with
Fjord
) head to
Tidepeak Tower
. Yussa has the spell
Globe of Invulnerability
that Caleb is looking for, and allows him to copy it in exchange for signing over ownership of
Willi
, who has been staying with Yussa for repairs.
Caduceus
and Jester realize they're going to need outfits for the party the next night, and the rest of the group agrees to let them outfit them all. While they shop and Caleb is busy transcribing his spell, Fjord,
Yasha
, and
Beau
head to the fish market, where Fjord sits uncomfortably as the two women do some mild flirting.
The next day, their outfits arrive, pleasing everyone with the excellent choices made by Jester and Caduceus. That evening, Jester holds Marion's hand tightly as they walk to the Marquis Demesne, and they arrive safely at the small palace, where drinks and food are being passed by servants and soft music is playing. Marion leaves them to prepare for her performance. Jester spots Lord Robert Sharpe, the man whose threat to have her killed in retaliation for her humiliating prank on him drove her to leave her home in Nicodranas before she met the rest of the Mighty Nein, and hides behind Fjord, but Sharpe approaches the group and starts making unwelcome and smarmy advances on Yasha, who doesn't know how to handle them. Jester steps out and tells him to leave Yasha alone. She successfully casts Charm Person on him, and sends him out onto a balcony to retrieve her fictional glove, locking the door behind him which Veth then seals with the Dagger of Denial.
Caduceus casts True Seeing on Beau, giving her Truesight and allowing her to see into the Ethereal Plane, but also making her seem as if she's high. Fjord strikes up a conversation with Captain Deremi of the Blue Heaven, learning that it will be carrying the important individuals for the negotiations. Caleb talks to Ludinus Da'leth, who tells him that Trent Ikithon has not accompanied him to the peace talks.
Veth has turned invisible and hides under a table to spy on
Lord Thain
(who they know to be a disguised
Essek Thelyss
) while Jester engages him in conversation. When Marion's performance starts, Veth slips a paralysis potion
[1]
into Thain's drink. Not knowing what's happening, Jester pulls the paralyzed Thain out of the room, joined by the rest of the Nein except Fjord and Beau. When the potion wears off, Caleb immediately slaps the Manacles of Stasis
[2]
on him, but Thain vanishes from them and reappears thirty feet away. Caduceus casts Command on him and tells him to Stop, and they convince him he really should talk to them, heading back to the
Ball-Eater
together.
Back at the party, Beau has spotted a black-scaled dragonborn disguised as a Dwendalian noble. She and Fjord confront him and he tells them he's secretly a former member of Draconian nobility who just wants to be left alone. Caleb casts Message to Beau and then Fjord, telling them the rest of the group is heading back to their ship, but Fjord misses the location and it's a while before Jester uses Sending to find out where they are and tell them to come to the ship.
Meanwhile, in a quiet cabin on the ship surrounded by the Nein, Essek drops his illusion and they ask what he's doing. He confesses that it was he who gave the two beacons to the Empire, in return for their promise to share their research and knowledge with him. When the party appeared in Rosohna with the first one, he got close to them in order to be able to keep them from getting too close to the truth. Unfortunately, he started liking them. He believes he is irredeemable and that he deserves the pain he now feels for putting them in danger for the sake of pursuing new knowledge that could change everything.

Caleb sees the close parallels between his own situation and Essek's, and urges him to seize this one opportunity to change and save himself, telling him that although they may both be damned, they "can choose to do something and leave it better than it was before." Essek tells them the Empire is returning the beacon that he gave them and keeping the new one they just found. They all want to end the war as it has run its purpose, and hope that with the return of both beacons, no one will ever know what they did. The only people aware of the truth are Essek, Da'leth, Ikithon, and
Vess DeRogna
- and now, of course, the Mighty Nein, who are safe as long as they keep quiet. As Veth says, "We're just supposed to turn the other way and pretend like you're not all a bunch of traitors."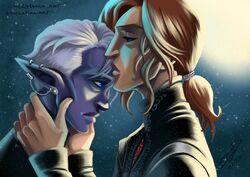 Caleb warns Essek that there is a high likelihood that the Assembly means to kill him, and, agreeing, Essek sees the value in surrounding himself with friends to protect him. He has more allegiance to them than to either the Dynasty or the Empire. Veth tells him that he is a broken person who had ill intentions and wandered aimlessly into a path with no idea how to complete it, and along the way, found a heart. He sounds like all of them: Welcome to the Mighty Nein.
Featured Characters Edit
Returning Edit
Mentioned Edit
Inventory Edit
| Adjustment | Count | Item | Source | Destination | Notes |
| --- | --- | --- | --- | --- | --- |
| Acquired/Expended | 50 pounds | Clay | Shop in Nicodranas | | For the transformation spell |
| Acquired/Expended | 150 gp worth | Gem dust | Shop in Nicodranas | | For the transformation spell |
| Acquired | 7 (1 each) | Formal attire | Shop in Nicodranas | The Mighty Nein | Spent 250 gp |
| Expended | 1 vial | Paralysis venom | Nott | Lord Dezran Thain | From the shoosuva in "Feral Business" (2x52) |
Quotations Edit
References Edit
Art:
Community content is available under
CC-BY-SA
unless otherwise noted.