"The Family Business" (1x47) is the ninth episode of the fourth chapter of Critical Role. Vox Machina returns to where much of the group's history began: Westruun. But all is not well! Not only has the Chroma Conclave decimated the area, but another strangely familiar threat has taken hold of the city, as well...
Synopsis Edit
Previously on Critical Role Edit
"Vox Machina, having to traverse the world in search of artifacts known as the Vestiges of the Divergence—ancient items of power used in massive-scale warfare in ancient moments of history—had acquired one from a sunken temple to the Champion of the Raven Queen, taking the life—thankfully not permanently—of Vex'ahlia. The party then retrieved their first artifact and then made their way towards the Pyrah tribe of the Ashari druids, the fire guardians of the gate to the Elemental Plane of Fire, which apparently Thordak, the Cinder King—the great red dragon that helms the Chroma Conclave that has torn through all of the civilization of Tal'Dorei—emerged from.
"The party went there, found a surviving faction of the Pyrah tribe including Cerkonos, their headmaster, as well as a few members of Keyleth's tribe, the Air Ashari, and her father. They went towards the remnants of the Cindergrove, ran into an... ally, a strange blue-scaled dragonborn by the name of Gern Blanston, master of necromancy and candle-making, and combining the two for interesting effect. They fought their way through the Cindergrove, tearing through elementals, encasing ifrits in hamster balls and holding them aloft for extended periods of time, and then managed to seal the gate with the help of the druidic tribes there, Gern, and the intrepid adventurers known as Vox Machina. After which, they went to spend the evening there on the mountainside, to rest before continuing their journey to wherever that next step may be."[14]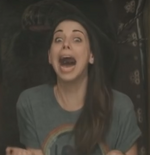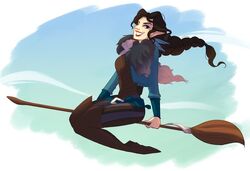 Featured Characters Edit
Vox Machina Edit
Returning Edit
Inventory Edit
Adjustment
Count
Item
Source
Destination
Notes
Acquired
27
gold pieces
Horace's corpse
Scanlan
Scanlan looted Horace after he was slain by Grog.
Ignored
1
bone necklace
Horace's corpse
Horace's corpse
Scanlan left these items upon looting Horuaces corpse.
1
human-teeth bracelet
Quotations Edit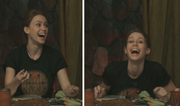 External Links Edit
References Edit
Art:
Community content is available under
CC-BY-SA
unless otherwise noted.