We're Getting Mutants in the MCU - The Loop
Play Sound
"
Apologies in advance, Bethesda, for ruining it.
"
"The Elder Scrolls Online: Blackwood - Part I: Death & Taxes" (Sx55) is the first part of Critical Role's planned The Elder Scrolls Online: Blackwood series, sponsored by Bethesda and ZeniMax Online Studios. Game Master Matthew Mercer leads Laura Bailey, Taliesin Jaffe, Sam Riegel, Michelle Nguyen Bradley, and Aabria Iyengar as they play a group of restaurateurs in an adventure inspired by The Elder Scrolls Online: Blackwood.
Synopsis
Part I
The staff of the Dreary Jug - Tavima, Hoa Sen, Slaughter Grimm, Grelnok Nightbringer, and Mallory Klaxton are each introduced in their respective roles as bouncer, hostess, waiter, barteder, and cook as they serve a group of soldiers. As the evening wears on, two more customers, a surly woman and an altmer man in blue robes, arrive at the tavern. The woman eats quickly and leaves, although Tavima calls after her to get her to tip more, but the man asks a number of questions. He reveals himself to be Diven Leson, a bureaucrat for the Aldmeri Dominion, and tells the group that they are behind on their back taxes on the tavern, which the prior owners had also not paid.
Grelnok attempts to provide a makeshift and questionable ledger but it is not accepted, and Diven tells them that they will need to pay a deferrment fee of 300 gold or he will come back with reinforcements. The party asks and Tavima threatens him until he reluctantly agrees to give them until the next day. Upon leaving he nails a sign to the door indicating the tavern is closed, and Hoa adds a note that they will be right back.
Hoa then notices an odd sound like breaking wood coming from behind the tavern. The party goes back to investigate and finds the surly woman breaking into their shed. A fight ensues, in which Tavima gets the killing blow. They find a letter of unknown origin on the woman's corpse, and as they rest to recover from the fight they also find two entrances descending down into a larger opening behind their tavern.
Part II
Featured Characters
Player Characters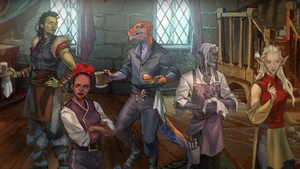 Non-player Characters
Diven Leson, an Aldmeri tax collector
An unnamed treasure-seeker
Unnamed Bosmer soldiers
An unnamed Grahtwood farmer
Mentioned
Lyranth, a dremora treasure-seeker
Massacre Grimm, Slaughter's father, an argonian necromantic torturer
Felony Grimm-Lebowitz, Slaughter's mother, an argonian necromantic torturer
Homicide Grimm, Slaughter's brother, an argonian necromantic torturer
Agony Grimm, Slaughter's sister, an argonian necromantic torturer
Quotations
Trivia
Part Two, announced at the beginning of "What Comes Next" (E1x08), aired on August 19, 2021. A third and final installment was announced the next day to be scheduled for September or early October 2021, and aired October 26, 2021.[6]
References
Art:
↑ Official art of the proprietors of the Dreary Jug: Grelnok, Tavima, Slaughter, Mallory, and Hoa, by Minttu Hynninen."The Elder Scrolls Online: Blackwood - Part I: Death & Taxes" (Sx55) at 0:04:09