This article or section may require cleanup.  The spelling, grammar, or formatting may need attention.  The content may be out of place, overwritten, and/or contradictory.  You can help the Critical Role wiki by reviewing this article and cleaning it up.

Current runtimes are based on Geek & Sundry uploads and Twitch VODs. Runtimes including the "After Dark" segments from Alpha are needed.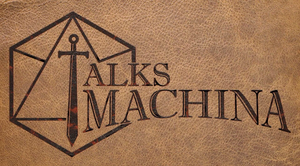 Talks Machina is a weekly talk show hosted by Brian Wayne Foster, where the events of Critical Role are discussed. Each week there are several guests who answer questions sent in by fans. The guests are usually some of the regular cast members of Critical Role, but there have also been guest players such as Mary Elizabeth McGlynn and Will Friedle, several of the crew members from Geek & Sundry, and fans such as Andrew from @CritRoleStats.
Talks Machina airs on Tuesdays at 7pm PST/PDT (Los Angeles time). The episodes can be watched live on either Geek & Sundry's Twitch channel or on Alpha. The first four episodes, the Critmas 2016 episode, and the live WonderCon episode have been uploaded to the Geek & Sundry website, but all other episodes are only available as VODs on Twitch or Alpha.
The Alpha version has an extended Q&A session after the Twitch stream has ended, which has been dubbed "Talks Machina: After Dark".
As well as questions for the cast, fans submit their gifs and fan art. The winners are featured in the Gif of the Week and Fan Art of the Week segments, respectively, and receive Critical Role or Wyrmwood Gaming merchandise.
List of Episodes Edit
No.
Episode
Airdate
Link
Runtime
1
"Talks Machina #1: 'Where the Cards Fall'" (TMx01)
2016-11-15 19:00 PST
VOD
0:54:17
Laura, Matt, and Travis discuss "Where the Cards Fall" (6x06).
2
"Talks Machina #2: 'Brawl in the Arches'" (TMx02)
2016-11-22 19:00 PST
VOD
1:11:34
Marisha, Matt, Sam, and Ashley discuss "Brawl in the Arches" (6x07).
3
"Talks Machina #3" (TMx03)
2016-11-29 19:00 PST
VOD
1:13:40
Laura, Liam, Marisha and Taliesin have a general Q&A due to Critical Role not airing the previous week.
4
"Talks Machina #4: 'Clash at Daxio'" (TMx04)
2016-12-06 19:00 PST
VOD
1:22:34
Liam, Marisha, and Matt discuss "Clash at Daxio" (6x08). Special Guests: The Geek & Sundry Pit Crew.
5
"Talks Machina #5: 'The Siege of Emon'" (TMx05)
2016-12-13 19:00 PST
Twitch VOD
Alpha VOD
1:22:32
1:15:34
Laura and Taliesin discuss "The Siege of Emon" (6x09) with special guests Mary Elizabeth McGlynn and Will Friedle.
6
"Talks Machina #6: December 2016 Critmas" (TMx06)
2016-12-20 19:00 PST
VOD
1:33:09
December 2016 Critmas. (Prerecorded)
7
"Talks Machina #7: 'Thordak'" (TMx07)
2017-01-03 19:00 PST
Twitch VOD
Alpha VOD
1:02:53
1:29:17
Liam, Matt, and Travis discuss "Thordak" (6x10).
8
"Talks Machina #8: 'Raishan'" (TMx08)
2017-01-10 19:00 PST
Twitch VOD
Alpha VOD
1:30:45
1:26:40
Laura, Marisha, Taliesin, and Travis discuss "Raishan" (6x11).
9
"Talks Machina #9: 'What Lies Beneath the Surface'" (TMx09)
2017-01-17 19:00 PST
Twitch VOD
Alpha VOD
1:28:15
1:20:04
Laura, Liam, and Sam discuss "What Lies Beneath the Surface" (6x12) with special guest Andrew from CritRoleStats.
10
"Talks Machina #10: 'Deadly Echoes'" (TMx10)
2017-01-24 19:00 PST
Twitch VOD
Alpha VOD
1:35:41
1:31:09
Marisha, Matt, Taliesin, and Travis discuss "Deadly Echoes" (6x13).
11
"Talks Machina #11: 'The Deceiver's Stand'" (TMx11)
2017-01-31 19:00 PST
Twitch VOD
Alpha VOD
1:33:22
1:27:24
Laura, Marisha, Taliesin, and Ashley discuss "The Deceiver's Stand" (6x14).
12
"Talks Machina #12: 'Loose Ends'" (TMx12)
2017-02-07 19:00 PST
Twitch VOD
Alpha VOD
1:32:27
1:27:43
Liam, Matt, Sam, and Travis discuss "Loose Ends" (6x15).
13
"Talks Machina #13: 'A Bard's Lament' and 'Daring Days'" (TMx13)
2017-02-21 19:00 PST
Twitch VOD
Alpha VOD
1:57:20
1:31:25
Laura, Liam, Marisha, Matt, Sam, Taliesin, and Travis discuss "A Bard's Lament" (7x01) and "Daring Days" (7x02).
14
"Talks Machina #14: 'Onward to Vesrah'" (TMx14)
2017-02-28 19:00 PST
Twitch VOD
Alpha VOD
1:26:19
1:30:58
Liam, Marisha, and Taliesin discuss "Onward to Vesrah" (7x03). Special Guest: Kit Buss.
15
"Talks Machina #15: 'Tangled Depths'" (TMx15)
2017-03-07 19:00 PST
Twitch VOD
Alpha VOD
1:36:51
1:34:17
Marisha, Matt, Travis, and Ashley discuss "Tangled Depths" (7x04) with special guest Gil Ramirez.
16
"Talks Machina #16: 'Curious Tides'" (TMx16)
2017-03-14 19:00 PDT
Twitch VOD
Alpha VOD
1:27:12
1:21:28
Laura, Liam, and Travis discuss "Curious Tides" (7x05).
17
"Talks Machina #17: 'Voice of the Tempest'" (TMx17)
2017-03-21 19:00 PDT
Twitch VOD
Alpha VOD
1:38:55
1:22:15
Liam, Marisha, and Sam discuss "Voice of the Tempest" (7x06).
18
"Talks Machina #18: 'Vox Machina Go to Hell'" (TMx18)
2017-03-28 19:00 PDT
Twitch part 1, part 2
Alpha VOD
1:38:10
1:38:08
Marisha and Matt discuss "Vox Machina Go to Hell" (7x07) with special guests Fan Friction Films.
19
"Talks Machina Answers Your Questions Live at WonderCon" (TMx19)
2017-04-01 14:00 PDT
VOD (G&S)
0:56:29
Recorded live at WonderCon 2017. The regular cast of Critical Role discuss "Deals in the Dark" (7x08) and answer questions from the audience.
20
"Talks Machina #20: 'Bats out of Hell'" (TMx20)
2017-04-11 19:00 PDT
Twitch VOD
Alpha VOD
1:27:33
1:23:53
Sam, Liam, and Travis discuss "Bats out of Hell" (7x09) with special guest Noelle Stevenson.
21
"Talks Machina #21: 'Jugs and Rods'" (TMx21)
2017-04-18 19:00 PDT
Twitch VOD
Alpha VOD
1:28:49
1:14:17
Laura, Taliesin, and Ashley discuss "Jugs and Rods" (7x10).
22
"Talks Machina #22: 'Liam's Quest'" (TMx22)
2017-04-25 19:00 PDT
Twitch VOD
Alpha VOD
1:38:33
1:22:51
Liam, Ashley, Marisha, and Travis discuss "Liam's Quest: Full Circle" (Sx16).
23
"Talks Machina #23: 'One Year Later...' and 'Family Matters'" (TMx23)
2017-05-09 19:00 PDT
Twitch VOD
Alpha VOD
1:34:16
1:24:52
Ashley, Laura, and Travis discuss "One Year Later..." (7x11) and "Family Matters" (7x12).
24
"Talks Machina #24: 'Taryon, My Wayward Son'" (TMx24)
2017-05-16 19:00 PDT
Twitch VOD
Alpha VOD
1:30:51
1:30:51
Taliesin, Sam, and Matt discuss "Taryon, My Wayward Son" (7x13).
25
"Talks Machina #25: 'The Mines of the Many'" (TMx25)
2017-05-23 19:00 PDT
Twitch VOD
Alpha VOD
1:42:29
1:25:21
Laura, Liam, and Marisha discuss "The Mines of the Many" (7x14).
26
"Talks Machina #26: 'Level 17 Battle Royale'" (TMx26)
2017-05-30 19:00 PDT
Twitch VOD
Alpha VOD
1:39:46
1:32:00
Taliesin, Matt, and Marisha discuss "Critical Role – Level 17 Battle Royale!" (Sx19).
27
"Talks Machina #27: 'Masquerade'" (TMx27)
2017-06-06 19:00 PDT
Twitch VOD
Alpha VOD
1:19:36
1:27:02
Sam, Ashley, and Laura discuss "Masquerade" (7x15).
28
"Talks Machina #28: 'Unfinished Business'" (TMx28)
2017-06-13 19:00 PDT
Twitch VOD
Alpha VOD
1:35:48
1:26:20
Ashley, Marisha, and Travis discuss "Unfinished Business" (8x01).
29
"Talks Machina #29: 'Thar Amphala'" (TMx29)
2017-06-20 19:00 PDT
Twitch VOD
Alpha VOD
1:32:14
1:28:22
Liam, Ashley, and Taliesin discuss "Thar Amphala" (8x02).
30
"Talks Machina #30: 'Race to the Tower'" (TMx30)
2017-06-27 19:00 PDT
Twitch VOD
Alpha VOD
1:33:48
1:10:26
Ashley, Matt, Marisha, and Travis discuss "Race to the Tower" (8x03).
31
"Talks Machina #31: 'The Fate-Touched' and 'Elysium'" (TMx31)
2017-07-11 19:00 PDT
Twitch VOD
Alpha VOD
1:19:32
1:24:42
Laura, Liam, Marisha, and Sam discuss "The Fate-Touched" (8x04) and "Elysium" (8x05).
32
"Talks Machina #32: 'The Fear of Isolation'" (TMx32)
2017-07-18 19:00 PDT
Twitch VOD
Alpha VOD
1:28:20
1:23:47
Taliesin and Travis discuss "The Fear of Isolation" (8x06) with special guest Darin De Paul.
33
"Talks Machina #33: 'The Endless Atheneeum'" (TMx33)
2017-08-01 19:00 PDT
Twitch VOD
Alpha VOD
1:42:12
1:42:15
Matt and Marisha discuss "The Endless Atheneeum" (8x07) with special guest Darin De Paul.
34
"Talks Machina #34: 'Scaldseat' and 'The Core Anvil'" (TMx34)
2017-08-15 19:00 PDT
Twitch VOD
Alpha VOD
1:32:36
1:18:32
Liam, Sam, and Travis discuss "Scaldseat" (8x08) and "The Core Anvil" (8x09).
35
"Talks Machina #35: 'The Ominous March'" (TMx35)
2017-08-22 19:00 PDT
Twitch VOD
Alpha VOD
0:40:27
1:35:54
Liam, Marisha, and Taliesin discuss "The Ominous March" (8x10).
36
"Talks Machina #36: Free-For-All" (TMx36)
2017-08-29 19:00 PDT
Twitch VOD
Alpha VOD
1:25:54
1:21:04
Ashley, Brian, Liam, Mary Elizabeth McGlynn, Steve Blum and Wendy Sullivan Green have a free-for-all while everyone else is at Burning Man.
37
"Talks Machina #37: 'Bar Room Blitz'" (TMx37)
2017-09-05 19:00 PDT
Twitch VOD
Alpha VOD
1:20:32
1:23:38
Ashly Burch, Brian, Liam, Mary Elizabeth McGlynn, and Sam discuss "Critical Role: Bar Room Blitz" (Sx21).
38
"Talks Machina #38: 'The Climb Within'" (TMx38)
2017-09-12 19:00 PDT
Twitch VOD
Alpha VOD
1:24:10
1:22:04
Laura, Travis, and Taliesin discuss "The Climb Within" (8x11).
39
"Talks Machina #39: 'Shadows of Thomara'" (TMx39)
2017-09-19 19:00 PDT
Twitch VOD
Alpha VOD
1:28:27
1:19:34
Liam and Matt discuss "Shadows of Thomara" (8x12).
40
"Talks Machina #40: 'Dark Dealings'" (TMx40)
2017-09-26 19:00 PDT
Twitch VOD
Alpha VOD
1:25:27
1:00:21
Laura and Travis discuss "Dark Dealings" (8x13).
41
"Talks Machina #41: 'The Final Ascent'" (TMx41)
2017-10-03 19:00 PDT
Twitch VOD
Alpha VOD
1:33:27
1:28:01
Marisha and Matt discuss "The Final Ascent" (8x14) with special guest Joe Manganiello.
42
"Talks Machina #42: 'Vecna, the Ascended'" (TMx42)
2017-10-10 19:00 PDT
Twitch VOD
Alpha VOD
1:31:18
1:27:44
Liam and Marisha discuss "Vecna, the Ascended" (8x15).
43
"Talks Machina #43: 'The Chapter Closes'" (TMx43)
2017-10-17 19:00 PDT
Twitch VOD
Alpha VOD
1:33:16
1:19:10
Liam, Matt, Sam, and Taliesin discuss "The Chapter Closes" (8x16).
44
"Talks Machina #44: 'Thursday by Night'" (TMx44)
2017-10-24 19:00 PDT
Twitch VOD
Alpha VOD
1:12:18
1:32:09
Sam, Taliesin, and Travis discuss "Critical Role One-Shot: Thursday by Night" (Sx24).
45
"Talks Machina #45: 'Grog's Game Night: Bunions & Flagons'" (TMx45)
2017-11-07 19:00 PDT
Twitch VOD
Alpha VOD
1:20:26
1:13:18
Liam, Sam, and Taliesin discuss "Critical Role: Grog's One-Shot" (Sx26).
46
"Talks Machina #46: 'Trinket's Honey Heist'" (TMx46)
2017-11-14 19:00 PDT
Twitch VOD
Alpha VOD
1:31:55
1:25:44
Brian, Liam, Marisha, Matt, and Taliesin discuss "Critical Role One-Shot: Trinket's Honey Heist" (Sx27).
47
"Talks Machina #47: 'Sam's One-Shot: Once Upon a Cruise'" (TMx47)
2017-11-28 19:00 PDT
Twitch VOD
Alpha VOD
1:20:58
1:21:45
Yuri Lowenthal, Noelle Stevenson, Molly Ostertag, and Sam discuss "Critical Role One-Shot: Once Upon a Fairytale Cruise" (Sx28)
48
"Talks Machina #48: 'Lvl 20 Battle Royale'" (TMx48)
2017-12-12 19:00 PDT
Twitch VOD
Alpha VOD
1:26:09
1:11:44
Liam, Taliesin, and Travis discuss "Critical Role One-Shot: Epic Level Battle Royale" (Sx30)
49
"Talks Machina #49: 'Curious Beginnings'" (TMx49)
2018-01-16 19:00 PST
VOD (Twitch)
1:22:47
Laura, Liam, Taliesin and Travis discuss "Curious Beginnings" (9x01)
50
"Talks Machina #50: 'A Show of Scrutiny'" (TMx50)
2018-01-23 19:00 PST
VOD (Twitch)
1:19:32
Marisha, Taliesin and Sam discuss "A Show of Scrutiny" (9x02)
51
"Talks Machina #51: 'The Midnight Chase'" (TMx51)
2018-01-30 19:00 PST
VOD (Twitch)
1:17:02
Laura, Liam and Travis discuss "The Midnight Chase" (9x03)
52
"Talks Machina #52: 'Disparate Pieces'" (TMx52)
2018-02-06 19:00 PST
VOD (Twitch)
1:17:37
Liam, Marisha and Sam discuss "Disparate Pieces" (9x04)
53
"Talks Machina #53: 'The Open Road'" (TMx53)
2018-02-13 19:00 PST
VOD (Twitch)
1:25:35
Matthew, and Travis discuss "The Open Road" (9x05)
54
"Talks Machina #54: 'The Howling Mines'" (TMx54)
2018-02-20 19:00 PST
VOD (Twitch)
1:17:52
Taliesin discuss "The Howling Mines" (9x06)
55
"Talks Machina #55: 'Hush'" (TMx55)
2018-02-27 19:00 PST
VOD (Twitch)
1:20:49
Liam and Marisha discuss "Hush" (9x07)
56
"Talks Machina #56: 'The Gates of Zadash'" (TMx56)
2018-03-06 19:00 PST
VOD (Twitch)
1:24:12
Laura and Sam discuss "The Gates of Zadash" (9x08)
57
"Talks Machina #57: 'Steam and Conversation'" (TMx57)
2018-03-13 19:00 PST
VOD (Twitch)
1:22:46
Ashley and Travis discuss "Steam and Conversation" (9x09)
58
"Talks Machina #58: 'Waste and Webs'" (TMx58)
2018-03-20 19:00 PST
VOD (Twitch)
1:18:59
Liam and Taliesin discuss "Waste and Webs" (9x10)
59
"Talks Machina: Live from WonderCon 2018" (TMx59)
2018-03-27 19:00 PST
VOD (Twitch)
0:59:57
Brian, Laura, Liam, Marisha, Matthew, Sam, Taliesin and Travis discuss "Zemnian Nights" (9x11) live at WonderCon 2018
60
"Talks Machina #60: 'Midnight Espionage'" (TMx60)
2018-04-03 19:00 PST
VOD (Twitch)
1:21:44
Marisha and Matthew discuss "Midnight Espionage" (9x12)
61
"Talks Machina #61: 'Lost & Found'" (TMx61)
2018-04-10 19:00 PST
VOD (Twitch)
1:20:05
Liam and Sam discuss "Lost & Found" (10x01)
62
"Talks Machina #62: 'Fleeting Memories'" (TMx62)
2018-04-17 19:00 PST
VOD (Twitch)
1:17:48
Taliesin and Travis discuss "Fleeting Memories" (10x02)
63
"Talks Machina #63: 'Where The River Goes'" (TMx63)
2018-04-24 19:00 PST
VOD (Twitch)
1:17:46
Liam and Marisha discuss "Where The River Goes" (10x03)
64
"Talks Machina #64: 'A Favor in Kind'" (TMx64)
2018-05-01 19:00 PST
VOD (Twitch)
1:19:22
Ashley and Laura discuss "A Favor in Kind" (10x04)
65
"Talks Machina #65: 'Harvest Close'" (TMx65)
2018-05-08 19:00 PST
VOD (Twitch)
1:17:43
Ashley and Marisha discuss "Harvest Close" (10x05)
66
"Talks Machina #66: 'Whispers of War'" (TMx66)
2018-05-15 19:00 PST
VOD (Twitch)
1:20:00
Liam and Sam discuss "Whispers of War" (10x06)
67
"Talks Machina #67: 'The Gentleman's Path'" (TMx67)
2018-05-22 19:00 PST
VOD (Twitch)
1:19:54
Travis and Matt discuss "The Gentleman's Path" (10x07)
68
"Talks Machina #68: 'Labenda Awaits'" (TMx68)
2018-05-29 19:00 PST
VOD (Twitch)
1:19:37
Ashley and Taeliesin discuss "Labenda Awaits" (10x08)
69
"Talks Machina #69: 'Stalker in the Swamp'" (TMx69)
2018-06-05 19:00 PST
VOD (Twitch)
1:19:57
Liam and Marisha discuss "Stalker in the Swamp" (10x09)
70
"Talks Machina #70: 'Lost Treasures'" (TMx70)
2018-06-12 19:00 PST
VOD (Twitch)
1:19:09
Laura and Travis discuss "Lost Treasures" (10x10)
71
"Talks Machina #71: 'Have Bird, Will Travel'" (TMx71)
2018-06-19 19:00 PST
VOD (Twitch)
1:18:04
Matt and Sam discuss "Have Bird, Will Travel" (10x11)
72
"Talks Machina #72: 'The Hour of Honor'" (TMx72)
2018-06-26 19:00 PST
VOD (Twitch)
1:17:12
Marisha and Taliesin discuss "The Hour of Honor" (10x12)
73
"Talks Machina #73: 'Divergent Paths'" (TMx73)
2018-07-10 19:00 PST
VOD (Twitch)
1:18:32
Ashley and Sam discuss "Divergent Paths" (10x13)