We're Getting Mutants in the MCU - The Loop
Play Sound
This article or section may require cleanup. The spelling, grammar, or formatting may need attention. The content may be out of place, overwritten, and/or contradictory. You can help the Critical Role wiki by reviewing this article and cleaning it up.

The Legend of Vox Machina summary missing, Relationships needs more comprehensive coverage and Campaign One seems a little sparse
Lord Sylas Briarwood[1] was the vampire co-ruler, along with Lady Delilah Briarwood, of Whitestone and other lands to the north after usurping the de Rolo family. Sylas and his wife were in the service of Vecna.
In both Critical Role and The Legend of Vox Machina, Sylas is played by Matthew Mercer.
Description
Appearance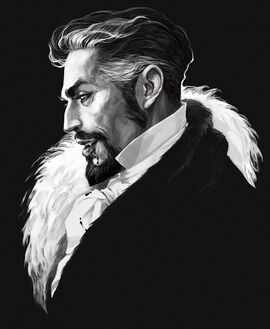 Sylas was a strong, tall man, with short brown hair framing his chiseled and handsome face, which was adorned with a well-groomed goatee. When Vox Machina first met him, Sylas's clothing was predominantly blue and black with gold and red trim. He wore a strip of gray fur cresting over one shoulder and framing his torso.[3]
Personality
Sylas is loyal, practical, and has a supernatural charisma. He is also sinister and cruel with very little empathy for those who are not Delilah or himself. However, he does genuinely care for his wife, willing to do anything to defend her and usually deferring to her wishes.
Biography
Background
The Briarwoods had enough powerful connections to maintain a comfortable life in the Dwendalian Empire. At some point, Sylas became sick with a disease that no one could seem to cure. Delilah set out to find something or someone who could help her husband, and though she did succeed in this quest, she returned too late and found that Sylas had already passed. Delilah agreed to serve Vecna in return for him to help Delilah perform the Rites of Vampirism, binding Sylas to Vecna and raising Sylas as a vampire.
When Delilah's necromancy and Sylas' undead nature were found out, they were ousted from the empire and fled to Port Damali, where they met Anna Ripley. When they heard about an isolated city called Whitestone, they dubbed themselves 'lord and lady' and visited Whitestone from Port Damali, building a relationship with the de Rolo family.[4]
At the end of a meeting with the Tal'Dorei Council, Percy asked Sovereign Uriel about the Briarwoods' visit to Emon. Uriel told Percy that the Briarwoods were interested in establishing an official trade route from Whitestone to Emon, using their fabricated story that the de Rolo family gifted Whitestone to the Briarwoods before the family died. Percy asked to be notified when the Briarwoods returned to Emon, and withheld the truth about the Briarwoods' attack on the de Rolos from the sovereign.[5]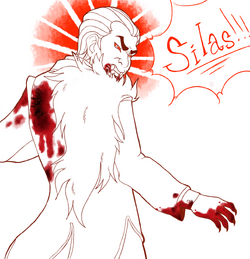 Seeker Asum Emring visited Greyskull Keep to inform Vox Machina that the venture, helmed by the Briarwoods, to build a bridge over the Shearing Channel had been agreed upon. The bridge would connect Tal'Dorei to the continent of Wildemount, set at the edge of the Alabaster Sierras. Asum questioned why Percy was uncomfortable at the mention of the Briarwoods, and Percy told him that he found them untrustworthy. Asum agreed with Percy's assessment, as he had sent operatives into Whitestone, only to have them resign. Vox Machina agreed to attend the dinner.[6]
Sylas and his wife visited Emon as part of a campaign to build a bridge across the Shearing Channel to Wildemount. Sovereign Uriel threw a feast in their honor, where they were introduced to the members of Vox Machina. At the feast, Sylas discussed the merits of a trade route to Wildemount and engaged, along with Delilah, in conversations with Vox Machina. Afterward, Vax tracked the couple to their guest room and tried to sneak in. Vax was caught at the door, and Sylas helped drag him into the room.
When Sylas failed to charm Vax, the couple moved to attack him. Delilah deals necrotic damage to Vax, while Sylas bit him, revealing his vampirism. Vax attempted to escape by jumping out of a window, and used his Earring of Whisper to alert the rest of Vox Machina.[7]
Vox Machina then joined the fight against the Briarwoods, with new ally Lilith to help, while Sylas charmed Seeker Assum. When Percy hit Sylas with multiple shots, a frustrated Sylas pulled out a previously invisible slate-gray greatsword. After Sylas had sustained a lot of damage, Delilah cast Dimension Door away from the part.[8]
After the fight with the Briarwoods, Vox Machina attended a council meeting to explain their actions. Although the party explained the Briarwoods' true history with Whitestone and Sylas' vampirism, it became clear that Uriel had at some point been charmed by Sylas. Believing Vox Machina were the true instigators of the attack, Uriel removed the party from the council pending further investigation.[9]
Vox Machina then interrogated Desmond, the Briarwoods' carriage driver. Desmond told the party about the Briarwoods' invasion of Whitestone, and the harsh life under the Briarwoods' rule. He told them that all of the servants in the castle were undead, and that the Briarwoods spent a lot of time excavating something underneath the castle.[10]
When the party became trapped in an acid distillery, both the Briarwoods' appeared, and Cassandra revealed that she had aligned herself with the couple. When Vax separated from the party, Sylas successfully charmed him. The party escaped the acid trap and followed the Briarwoods, along with a charmed Vax, into the Ziggurat.[11]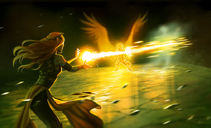 A fight started in the Ziggurat, Sylas appeared most affected by the radiant damage caused by Keyleth's Sunbeam spell. Angered by Percy attacking Delilah, Sylas willingly stood in direct sunlight to attack Percy in revenge. After suffering more radiant damage, Sylas was shot in the chest by Percy, dropping him to zero hit points.[12] This turned Sylas into his mist form, which Keyleth destroyed using Sunbeam.[13]
Sylas is seen with his wife Delilah atop a bone dragon, returned to life (or undeath) by Vecna at some point after his ascension.
Upon Vox Machina's destruction of part of the barrier protecting Thar Amphala, Sylas and Delilah rode in on their undead dragon to investigate. After Delilah's death, Sylas fled in bat and then mist form, moving quickly enough to avoid death by a sunlight generating spell. As a vampire reduced to 0 hit points, Sylas was forced to return to his resting place and be paralyzed for an hour before regaining any hit points.
Sylas was last seen through Keyleth's scrying. Still in bat form, he was flying frantically through the Vesper Timberland to escape.
A year after Vecna's defeat, Sylas and his vampire minions attacked the wedding of Percival and Vex'ahlia de Rolo at Dalen's Closet. He drugged the wine at the rehearsal, knocking out the majority of the party and abducting Percy and Vex. He bound them in chains and threw them off a cliff into the ocean below. As Vox Machina and their allies closed in, he attempted to flee but was killed by Vex before he could escape and his mist form was destroyed for good by the sunlight she radiated as the champion of The Dawnfather.[14]
The Legend of Vox Machina
Relationships
Delilah Briarwood
Sylas was married to Delilah. He was deeply devoted and loyal to Delilah, waiting until Percy and Vex's wedding to attack and kill the couple for killing his wife.
Character information
Abilities
Notable items
Appearances and mentions
Quotations
Trivia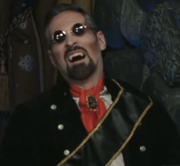 References
Art: