Wiki Targeted (Entertainment)
Play Sound
This page is about the actor. For the character from the "Liam's Quest" special episodes, see Sam Riegel (character).
Sam Riegel is a member of the main cast of Critical Role. He played Scanlan Shorthalt and Taryon Darrington in the first campaign, and Veth Brenatto in the second campaign. He has also been the Dungeon Master for several special episodes.
Critical Role
Pre-Stream
Before Critical Role began, Sam and his best friend Liam O'Brien created a podcast called allworknoplay, with the purpose of trying to get more fun into their busy schedules. They planned to play Dungeons & Dragons with some friends for Liam's birthday and discuss it on the podcast. Towards the end of All Work No Play's second episode, the two of them talked about getting ready for the upcoming "one-time" D&D game. Sam asked Liam what was the worst character to play as, and Liam suggested a gnome. Sam talked about being a bard in the podcast, which would suit him due to his background in music both from college and his help in writing show ideas for The Voice.
Sam recorded a few short clips of the pre-stream Critical Role game. These clips can be found on his vine page.
On the Show
As Scanlan the bard, he was known for improvising songs on the fly. Examples include: "I think you're really handsome and nice! You're going to have inspiration dice!" He often pulled songs from pop culture and modified their lyrics, as in, "Here's a little song I wrote! It's filled with inspiration, note for note. Don't fuck up. Or I'll kill you."[2]
Sam became the first player in the Critical Role canon to introduce a second player character when Scanlan Shorthalt left Vox Machina, to be replaced by Taryon Darrington in "A Bard's Lament" (1x85). He would later reprise his role as Scanlan in "Masquerade" (1x99), leaving Tary behind in "Thar Amphala" (1x101).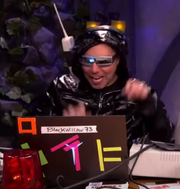 Early on, it became Sam's job to read sponsorship announcements at the beginning of episodes, and he quickly became creative with them, coming up with dozens of bits. He often sings jingles, dresses up in costumes, or performs strange feats to entertain the audience, with the actual sponsorship often simply thrown into them. He sometimes enlists other cast members to participate. Some of these bits are recurring and even have their own lore, like the Nord VPN ads, which spawned The Nordverse.
One of Sam's most iconic bits was his campaign to be elected as President of D&D Beyond, which became a recurring event over several episodes. During the sponsorship section, he gave campaign speeches and invited viewers to vote for him on election day. Eventually, Sam lost the election of 69th President of D&D Beyond to his campaign rival, Liam O'Brien. However, in a twist ending, he accepted Liam's "proposal" to become the the first ever co-presidents of D&D Beyond. They were then told that there is no such thing as President of D&D Beyond. A fan-made compilation of the race can be found here.
Easter Eggs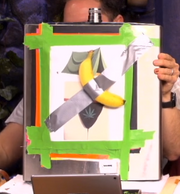 Mug and Flask Gag
Sam's most iconic running gag is his gigantic drinkware. During Campaign One, he drank from a massive tankard, and taped stickers, pictures and text to the bottom that could be seen while he tipped it back to drink. Similarly, he acquired several giant flasks from fans during Campaign Two, in reference to the Flask of Perpetual Booze, and also taped jokes to it. He even taped objects to it, like a spinning wheel and a basketball hoop. Critrole Stats has compiled a gallery of Sam's mug and flask for every episode. Sam has stated that he never washed his mug or his flask and that drinking from them tastes kind of weird.
Shirt Gag
During the second campaign, Sam has worn every shirt he wore in Campaign One in the same order, with a few exceptions. Critrole Stats has compiled a gallery of all of Sam's shirts. He finally completed the bit during "Devoutness and Dicks" (2x107), when he wore the shirt from the campaign one finale. Sam began wearing shirts with embarassing old pictures of the other main crew members shortly afterwards.
Other Works
→ See also: Sam's IMDb profile Sam appeared in the musical Les Misérables as Gavroche when he was a child. He began doing voice acting in 2001, and is best know for his roles as Donatello in the 2003 Teenage Mutant Ninja Turtles animated series and as Phoenix Wright in the Ace Attorney video game series.
Sam is a prolific a voice director and has worked on several series, such as Fallout New Vegas, Elena of Avalor and Ducktales. In 2018, he received the Daytime Emmy Award for Outstanding Directing in an Animated Program for his work on Danger & Eggs. He is also a writer and musician.
Personal Life
Sam is married to Quyen Tran, an independent filmmaker. They have two children.
On September 11, 2001, Sam and his wife Quyen witnessed the attacks on the World Trade Center. They lived in an apartment nearby.
Sam's Player Characters
See also: Player characters played by Sam Riegel
Main Storyline
One-Shots and Miniseries
Episodes DMed by Sam
Trivia
Sam is a known wine snob, which the cast often tease him about.
Every week, Sam retells the events of Critical Role as a bedtime story for his children.[3]
Sam Riegel created "The Meta Gaming Pigeon" concept in "Midnight Espionage" (2x12)
Sam's chosen drink for his Between the Sheets interview was a sidecar.
Every Halloween, the cast of Critical Role dresses up in costume for one episode. Sam has dressed up as Burt Reynolds (2015), Hotis (2016), Pac-Man (2017), a bottle of ketchup (2018), Phoenix Wright (2019) and Kiri (2020).
On Talks Machina, the host Brian Wayne Foster liked to "#ThankMyGuests" with names that are either mispronounced or wordplay that sounds close to their names. Here are the names for Sam Riegel:
Sam Rie-Gel
Sam Seagull
Spam Peehole
Jean Claude Van Sam Fecal
Slam Creedskull
Sham Beagle
Stan Smeagol
A Tad Evil

Uncle Sam's Eagle
Scram People
Scammin' Green Girl
Scamming Isn't Legal
Playing Small People
Flask Refill
Good Goblin is Nott Evil
Boomstick Non-Lethal
External Links
References
Art:
Critical Role Cast
Main Cast
Guest Stars

Campaign 1
Campaign 2
Pre-Stream