We're Getting Mutants in the MCU - The Loop
Play Sound
The immense Rumedam Desert, also known as the Marquesian Desert, covers a wide swath of Marquet and surrounds the metropolis of Ank'Harel.[3][4]
Geography
The Rumedam Desert is a vast desert of dunes, overbearing heat, and sandstorms. Travel through the desert is dangerous not only because of the extreme weather, but also the hungry creatures who live there.[5] The desert is at least partly bordered by jungles.[6]
Deserts make up approximately one-third of the overall land area of the continent of Marquet.[7]
Notable places
Wildlife
Certain "strange blooms" found in the deserts of Marquet can induce coma-like effects.[9]
Society
Many people live in the deserts of Marquet, but the hazards of that life are such that it is relatively common to meet people there who are missing limbs and other body parts.[10] It is inadvisable to stop at a campfire in the desert, partly due to banditry;[11] the Hand of Ord do not have the resources to patrol the entire desert and it can therefore be a lawless place.[5]
The Duneburrow goblins are known to inhabit the Marquesian deserts, and frightening stories about them are told on the Menagerie Coast.[12]
History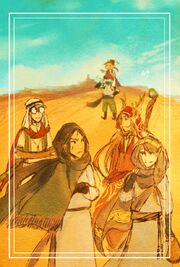 The land that is now the Rumedam desert was once a lush jungle that was home to an elvish and orcish civilization during the Calamity.[2] It was destroyed by Gruumsh the Ruiner, and the surrounding land was turned to desert.[13]
Before maturing into an ancient dragon,[14] Thordak had ruled and terrorized over half of Marquet for centuries[15] from his base in the Scaldwind Sands.[16] After he and his armies attacked the then-rising city of Ank'Harel, Thordak was gravely wounded and lost the battle. Most Marquesians believed he had died of his wounds.[17]
On two occasions, Vox Machina opted to use Wind Walk to fly over the Rumedam Desert to reach their destinations. The first time, after teleporting to Shandal, Vox Machina then flew north four or five hours to Ank'Harel, implying a distance of 136 to 170 miles.[18] Later, they flew from Ank'Harel southeast 290 miles toward the Smouldercrown Mountains to investigate the ziggurat there. The circular formation of spire-like mountains, only a few miles wide, protects a tiny valley within from the sandstorms of the surrounding desert.[19]
References
Art: