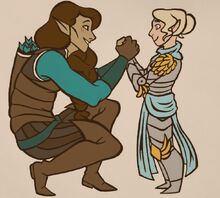 Pike and Vex have an incredibly fond and comfortable rapport with each other.
In fact, Vex felt comfortable enough to once hug Pike while she was naked, causing Pike to flush and scurry off.[citation needed]
When Vex was killed by Raishan in Thordak's lair during the Siege of Emon, Pike was the one to rush in and Revivify her, cutting off a piece of her hair as an offering and telling the ranger that it wasn't her time.[1]
Shortly before seeing Pike off to let her help rebuild Emon, Vex pulled Pike off to the side and asked her how she was doing after Scanlan left, telling her that she didn't always need to put on a brave face and pretend as if nothing bothered her just for their sake. Pike had simply smiled and told her that she did.[2]
References Edit
Art:
Community content is available under
CC-BY-SA
unless otherwise noted.