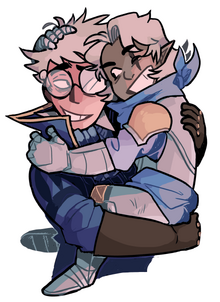 Pike and Percy are good friends and have the utmost respect for each other, despite Percy's distrust of the gods.
During the Whitestone Rebellion, it was Pike who managed to stem the spread of corruption within him, buying him the time that was needed to see his goal through.[1]
Before he departed for the Feywild, Percy was handed a special pendant from Pike that she had taken from her house in Westruun "for his protection".[2] This pendant later revived him when he was shot to death during his final encounter with Anna Ripley.[3]  However, after it shattered, it was unable to save him twice, and Ripley eventually killed him again.[4]  His body was later returned to Whitestone, where Pike performed a resurrection ritual that ultimately succeeded.[5]
Ashley Johnson stated during "Talks Machina: Campaign Wrap-up" (Sx31)[6] that Percy was the person who Pike had secretly been in love with.
References Edit
Art:
Community content is available under
CC-BY-SA
unless otherwise noted.