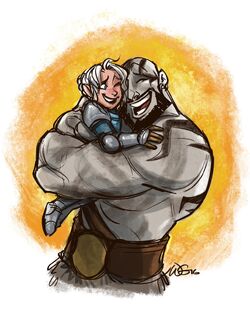 Grog Strongjaw and Pike Trickfoot have been close friends, almost to the point of acting like siblings, since before the show began. Pike saved Grog's life when his herd beat him nearly to death for showing mercy to Wilhand Trickfoot, who happened to be Pike's great-great-grandfather.  They lived together in Westruun from then until joining the adventuring party that became Vox Machina.
Other Intraparty Relationships Edit
References Edit
Art:
Community content is available under
CC-BY-SA
unless otherwise noted.