Wiki Targeted (Entertainment)
Play Sound
Opal is a human warlock who appeared in Exandria Unlimited. She is played by Aimee Carrero.
Description
Appearance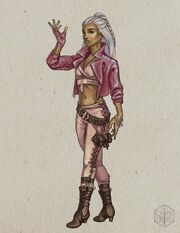 Opal has iridescent hair, which she puts in a half-up 'do, and is very attentive to her makeup. She wears a pink sateen cropped jacket and has a rose-gold necklace with a pendant containing a small opal.[11]
Personality
Biography
Background
Opal is from Byroden.[12] There she became skilled with a rope; by her own reckoning, tying things up is all she was good at.[13] She has a twin sister named Ted[14] and has a dad[15] and grandmother.[16] She has previously been crowned "Miss Byroden."[17]
Opal had never seen the ocean until her adventuring party visited the Port of Emon and saw the Ozmit Sea in 842 PD.[18]
Exandria Unlimited
Relationships
Opal has a twin sister, Ted, to whom she sometimes speaks out loud though they are apart. She feels close to Ted, though they made different decisions in life.[19] Ted is the source of Opal's magical power,[20][21] and she is watching Opal from a low, dark place[22] beside and within Opal.[23] After a confrontation with Ted while Opal was unconscious, she saw Ted in a new light but resented her for not having her own life.[24]
Character information
Notable Items
Abilities
Warlock Abilities
Warlock Spells
Cantrips
1st Level
2nd Level
Quotes
Behind the scenes
Aimee stated that her first question when creating Opal was "What's the Exandria equivalent of Laredo, TX?" She described Opal as "an amalgamation of many incredible women" ranging from celebrities to friends who grew up in Laredo. She highlighted stories of her friends participating in local Las Marthas debutante balls, a tradition she found interesting and described as part of Mexican-American and immigrant efforts to assimilate. Off these stories, she said, "Opal needed to be from a place like this: flashy, a little curious, and full of rich culture." Through discussions with Matt, Aabria, and other members of the creative team, it was ultimately decided Byroden was such a place.[42]
The intent with Opal was to tell a coming-of-age story, and her flawed and at times "unlikeable" character was intentionally developed as part of that. In remarks about "By the Road" (Ex04), which features an emotional argument between Opal and Ted, Aimee said that she wanted their relationship to explore "2 very different people, connected forever, with 2 really valid (and opposing) core wounds" and felt that "they can't ever seem to give what the other needs".[43]
Her Pinterest image board of visual inspiration for Opal included Dolly Parton, Jennifer Lopez, 1984 Miss America pageant winner Vanessa Williams, Goldie Hawn as she appeared on Laugh-In, and the character Cher Horowitz of Clueless.[44]
Trivia
Opal got the first "HDYWTDT" of Exandria Unlimited when fighting the shadowy assassins in "The Nameless Ones" (Ex01).[45]
Aimee described Opal as being the Exandria equivalent of Latina.[46]
Opal is right-handed.[47]
References
Art: