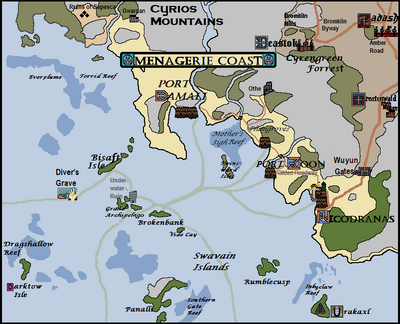 The Menagerie Coast is a collection of city-states on the southwestern coast of Wildemount and the Swavain Islands, bound to mutual self-defense and trade with each other through the Clovis Concord.[1] This confederation has effectively monopolized trade and travel along the coast of Wildemount, though the Menagerie Coast greatly values open trade and self-expression,[2] it holds all the long-term imports and exports in the palm of their hand.[3]
GeographyEdit
Swavain IslandsEdit
See Swavain Islands.
Notable SettlementsEdit
EnvironmentEdit
Merchants of import, such as those present for the Victory Pit tournament in Zadash, wore silks, billowing pants, and presently jewelry consisting of many finger chains that attach to rings. The style shared a visual aesthetic to that classical Europe.[7]
Cities in the Menagerie Coast mint special gold coins called "galleys".[8]
ReferencesEdit
Art: