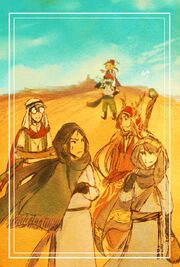 Marquet[1] is one of the continents on the world of Exandria.[2] 
GeographyEdit
Marquet is continent of mountains[2] and is comprised of approximately 70% desert[3]. There are few bastions of civilization to be found.
Shumas[spelling?] is a region in Marquet.
Notable Places Edit
DemographicsEdit
Individuals native to the continent of Marquet tended to have darker hair and skin.
Merchants of import, such as those present for the Harvest Close Festival Victory Pit tournament in Zadash, wore outfits consisting of very light linens of a dull egg-shell white, with trims of gold and purple, paired with deep blue pants.[5]
References Edit
Art:
Community content is available under
CC-BY-SA
unless otherwise noted.