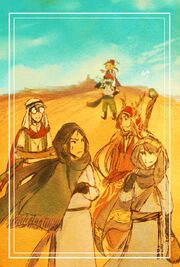 Marquet[1] is one of the continents on the world of Exandria.[2] 
GeographyEdit
Marquet is a continent of deserts and mountains
[2]
. To the north, the city of
Shamal
lies on the pebble-beached Bay of Gifts.
[3]
Beyond the port, the
Aggrad Mountains
spread for hundreds of miles before giving way to the immense Marquesian Desert
[3]
making up approximately 70% of the overall land area of the continent.
[4]
To the far south is scrubland and marshes leading to the mountains surrounding the Suuthan Volcano.
[3]
There are few bastions of civilization to be found.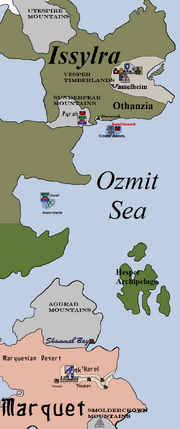 Shumas is a region in Marquet.[5]
Notable Places Edit
DemographicsEdit
Individuals native to the continent of Marquet tended to have darker hair and skin.
The elves of Gwardan on the Menagerie Coast originated from Marquet long ago.[7]
Merchants of import, such as those present for the Harvest Close Festival Victory Pit tournament in Zadash, wore outfits consisting of very light linens of a dull egg-shell white, with trims of gold and purple, paired with deep blue pants.[8]
References Edit
Art:
Community content is available under
CC-BY-SA
unless otherwise noted.