We're Getting Mutants in the MCU - The Loop
Play Sound
This page is about the actor. For the character from a one-shot campaign, see Marisha Ray (character).
Marisha Ray is a producer, a voice actress, a member of the main cast of Critical Role, and the creative director of Critical Role Productions LLC. She plays Laudna in Campaign Three.
In previous campaigns, Marisha played Keyleth and Beauregard Lionett. She was also the Dungeon Master for several special episodes.
Critical Role Productions
Pre-stream
Marisha helped Matthew Mercer, whom she was dating at the time, host the D&D session that later became Critical Role. She did not play as a character in that particular session, instead offering advice to new players.[2]
Upon joining the campaign, Marisha had not yet decided what kind of background or character Keyleth would have. Her outset was a druid of the air domain inspired by Avatar: The Last Airbender[3] with charisma as her lowest stat. This choice allowed Marisha to make Keyleth very introverted, which worked well because Marisha didn't know the other players well and decided to reflect that uncertainty in her character.[4]
Main campaigns
Marisha was the first player to roll a natural 20 on Critical Role, which she rolled in "Arrival at Kraghammer" (1x01) for a performance check while in the shape of a bear, trying to save Trinket from a bar fight.[5]
When asked if she could play any character from the first campaign, Marisha chose Scanlan or Pike.[6]
Creative director
After the split from Geek & Sundry, Marisha became Critical Role Productions LLC's creative director. She is involved in the inception and production of every show created by the company, and is credited as creator of Exandria Unlimited. She also acts as the company's spokesperson for State of the Role announcements, often accompanied by CEO Travis Willingham and chief creative officer Matthew Mercer.
Player characters
See also: Player characters played by Marisha Ray
Main storyline
One-shots and miniseries
Games played as game master
Other works
→ See also: Marisha's IMDb profile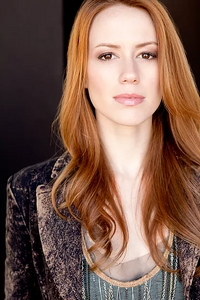 Marisha began her career in theater on the east coast. After moving to L.A, Marisha was encouraged by friends to go into voice acting because of her distinctive voice. She has voiced characters in multiple video games, such as Metal Gear: Survive and Fire Emblem Heroes.
Marisha has been involved in many web productions prior to Critical Role as an actress and producer. She was also creative director of Geek & Sundry before Critical Role split from the company.[7]
Personal life
Marisha first got acquainted with the world of TTRPG in 2008-2009, playing her first game with Matthew Mercer as the Dungeon Master. Before the first campaign, she was in a tabletop version of Buffy the Vampire Slayer, playing a pyromancer[8] and in another pen-and-paper RPG game with fellow voice actor and player Taliesin Jaffe.
On October 21, 2017,[9] in between campaigns One and Two, Marisha married Matthew Mercer. They live together with their dog Omar and previously had a bird Dagon. For their third anniversary, Matt shared some video highlights from his engagement to Marisha. He created a fake escape room with the help of friends, where she had to solve puzzles and fight a monster before he proposed to her.[10]
Trivia
Her first D&D character ever was a drow ranger, although she doesn't remember their name anymore.[11]
Out of the six humanoid characters Marisha has created, four are red-headed.
Marisha's chosen drink for her Between the Sheets interview was a jalapeno margarita.
Every Halloween, the cast of Critical Role dresses up in costume for one episode. Marisha has dressed up as Violet from Rat Queens (2015), Anna Ripley (2016), Lisa Frank Castle (2018), Soldier B (2019), Celia Ovesso (2020), and Taliesin Jaffe (2021).
Marisha currently holds the top attendance record out of the main cast members for the main campaigns, with just two more episode appearances than Liam O'Brien. However, if one-shots and miniseries are counted, she takes second place behind Liam.[12]
On Talks Machina, the host Brian Wayne Foster liked to "#ThankMyGuests" with names that were either mispronounced or a wordplay but close to the original. Here are the names for Marisha Ray:
Marsha Ray
Felicia Ray
Marsha Roy
Martrisha Rave
Martrisha Roy
Melinda Blaze
Patrisha Glaze
Moesha Ray
Happy National Barista Day

Mariska Haritray
Melissa Cray
No Dish Array
Marisha's Blazed
Marriage on the Way
Charisma Nay
Mouthful to Say
Goldfisha Spray
Marriage Is Cray

Martial Arts Yay
My Fists Are Bae
Marishka Heart Away
Fall in a Pit No Way
In Carpets For Days
Monk Shit For Days
Monks Don't Play
Gimme the Dish, Okay?
Not Good with Kids, Okay?
External links
References
Art:
Critical Role cast
Main cast
Guest stars

Campaign 1
Campaign 2
Campaign 3
Pre-Stream