We're Getting Mutants in the MCU - The Loop
Play Sound
Lyra is a human wizard, a member of the Slayer's Take guild in Vasselheim, and an ally of Vox Machina. She is played by Felicia Day.
Description
Appearance
Personality
Physically and socially awkward, naïve to the grave danger of a slayer's life, and lacking practical combat experience, Lyra was a curious choice for leading the party on such a perilous contract as slaying an adult white dragon. Nevertheless, she tenuously attempted to make leadership decisions and was ultimately essential to her party's success in slaying Rimefang.[3]
Biography
Background
Lyra's membership to the Slayer's Take was described as "a technicality", and she was regarded as an unproven member of the guild. Upon meeting Vox Machina, she claimed that her biggest kill to date was a worg that was threatening Aldor, another member of the guild and her crush.[4]
Lyra's parents are deceased, but her welfare was ensured with a trust fund[5] and her Uncle Randy in Vasselheim took her in. He is a trade ambassador and owns several warehouses within the city. Lyra stated that she was originally from Vasselheim, but studied "the wizardly arts" in Emon.[6] Despite this, she had not heard of Vox Machina prior to their introduction.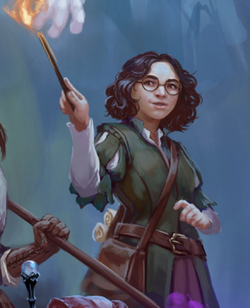 Lyra was appointed as a team leader for half of Vox Machina (Vex, Grog, Percy, and Scanlan) and one other applicant: Zahra Hydris. They were contracted to slay an adult white dragon and harvest its body parts within three days. Vanessa Cyndrial involved Lyra in this contract, ostensibly to test her abilities. Lyra was excited to get an opportunity to do so. The team learned of the rumored location of such a dragon, and set off on the Glasswalk Road toward its last known position. Along the way, Lyra helped fend off attacks from a mostly orcish raiding party and a pair of frost giants before reaching the dragon's lair.
Lyra, together with her team, finished Rimefang and gathered the necessary ingredients from his body, completing their contract. For every dragon part, the party was paid, in total earning them 9,000 gold. Lyra turned down her part of the share but was joyful to prove her worth to the Slayer's Take guild.[7]
Relationships
Throughout her adventure with Vox Machina, Lyra made frequent reference to Aldor and her amorous and unrequited feelings toward him. Her party members, including Zahra, attempted to persuade Lyra that she should forget about Aldor and expand her romantic horizons.
Scanlan Shorthalt
Scanlan was often flirtatious and duplicitous toward Lyra. He went so far as to assume the form of her beloved, Aldor, after she was revived from the dragon fight.[8] Lyra also states that she considers Scanlan a friend, and that he helped her realize that Aldor may not love her because she is not experienced enough sexually.
Character Information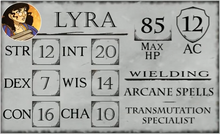 Notable items
Abilities
Wizard Abilities
Arcane Recovery
Arcane Tradition: School of Transmutation

Minor Alchemy
Shapechanger
Transmutation Savant
Transmuter's Stone

Ritual Casting
Spellcasting (Intelligence-based ability)
Wizard spells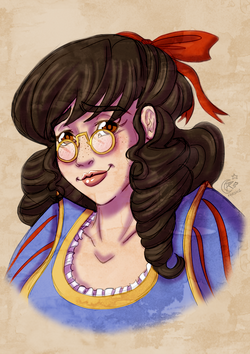 Lyra has a spell that would allow her to know the Giant language, but it's not clear whether that is Tongues or merely Comprehend Languages.[9]
Cantrips
1st-level
3rd-level
4th-level
5th-level
6th-level
Appearances and mentions
Quotations
Trivia
As of June 2022, Lyra holds the record for the lowest dexterity score of any player character to appear on Critical Role.
Lyra shares the highest intelligence stat of any player character with Percy, Caleb, and Lillith Daturai.
In the Critical Role Major Arcana Tarot Card Set, she represents III - The Empress.
References
Art: