Lycanthropy
is a curse that can transform humanoids into a beast. A humanoid inflicted with this curse is called a lycanthrope.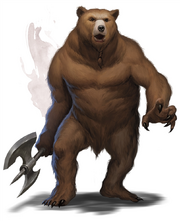 AppearanceEdit
In there humanoid and animal forms lycanthropes appear no different from normal. In their hybrid form they have their original shape with head and other features of animal shape they are cursed with.
[1]
Known LycanthropesEdit
ReferencesEdit
Community content is available under
CC-BY-SA
unless otherwise noted.