We're Getting Mutants in the MCU - The Loop
Play Sound
This article is a stub.  Please help the Critical Role wiki by expanding it, adding pictures, or improving existing text.

Ep E1x08 ("death"; a heal from Fearne)
Little Mister (also called simply Mister) is a wildfire spirit and the companion of Fearne Calloway. He takes the form of a De Brazza's monkey (Cercopithecus neglectus).[7]
Description
Appearance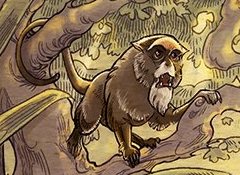 Little Mister takes the shape of a monkey whose mouth is a gaping furnace, burning anything that he decides to eat.[8]
Personality
Little Mister has a personality similar to Fearne's and loves to eat a lot. His nature is somewhat childish and likes to pull pranks, especially on Dariax.
Biography
Background
Fearne remembered standing at the edge of Thordak's Crater in one of her earliest adventures (one week before the events of the series[9]), staring into the ground and seeing the seething, roiling energy and potential. She jammed her hand into the earth and felt flame licking around it, and as she pulled her hand free unharmed, the fire spirit that she held and brought into being looked at her, smiled, and resolved into Little Mister.[10]
"The Oh No Plateau" (E1x02)
Once Little Mister got to the plateau, he began to actively consume the ash in the air, causing the yellow-orange glow in his mouth to turn red-purple.[11] As the group reached the center, Mister stepped on the sigil mark, transforming into a fire elemental. Dorian using Dissonant Whispers pushed him away from the sigil that seemingly was a source of power. Little Mister dissolved into a small fire elemental approximating Little Mister's monkey form.[12]
Little Mister was summoned in "On the Trail of a Killer" (3x04). He ate Dorian's breakfast sandwich, and became jealous of Pâté de Rolo.[13]
Relationships
Dariax had a childhood incident with a monkey. Since it bit his finger, he began to be wary of any monkey, including Little Mister.[14][15] Once Dariax attempted to harm him. During the investigation of the plateau, Mister turned into a fire elemental, then back in his monkey form. Dariax saw this as an opportunity and charged him, breaking his spear.[16]
However, when Little Mister was in a weak spot, Dariax had the opportunity to harm him, but didn't. Furthermore, he helped him by casting a Cure Wounds spell.[17]
Character information
Abilities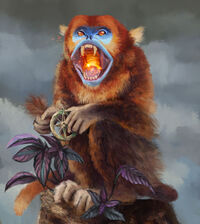 Damage Immunity: Fire
Condition Immunities: charmed, frightened, grappled, prone, and restrained
Darkvision
Flame Seed[18]
Fiery Teleportation[4]
Appearances and mentions
References
Art:
Bells Hells
Current members
Former members
Familiars and companions

Little Mister