Jurassic World: Dominion Dominates Fandom Wikis - The Loop
Play Sound
This page is about the actor. For the character from the "Liam's Quest" one-shots, see Liam O'Brien (character). For the character from the "Thursday by Night" one-shots, see Liam O'Brien (vampire).
Liam O'Brien is a voice actor, voice director, and a member of the main cast of Critical Role. He plays Orym in Campaign Three.
In previous campaigns, he played Vax'ildan and Caleb Widogast. He has also been the Dungeon Master for several special episodes.
Critical Role Productions
Pre-Stream
Before Critical Role began, Liam and his close friend Sam created a podcast called allworknoplay, with the intention to get more fun into their busy schedules. For Liam's birthday they planned to play Dungeons & Dragons with some friends and shared their experience on the podcast. Towards the end of All Work No Play's second episode, the two of them talked about getting ready for the upcoming "one-time" D&D game. Liam asked Matthew Mercer to run the game, because Matthew kept telling him about the D&D game he was running and often invited Liam to join. Liam enjoyed the game so much that he messaged the other players shortly after, asking if they would like to start a continuing game. They have been playing ever since.
Liam and Laura Bailey decided to play twins in Campaign One because they share their birthday, May 28th.[2] Before the game, the two of them spent three hours at a diner creating their character backgrounds.[citation needed]
Before they started streaming, Liam recorded snippets of their gameplay. One can be heard in the second episode of All Work No Play and another one is available on his yotube channel.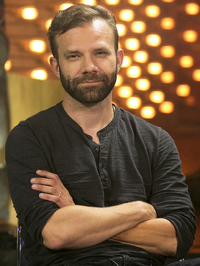 Main Campaigns
While playing as Vax'ildan in Campaign One, Liam came up with a backup character, a "halfling druid/monk from the Air Ashari, sent by Keyleth's father, to be of aid to her in her grief".[3] This initial character idea eventually morphed into Orym, his player character in Exandria Unlimited and Campaign Three.
Liam took part in the D&D Beyond Presidential Campaign, a recurring sponsorship segment created by Sam Riegel.
Player Characters
See also: Player characters played by Liam O'Brien
Main Campaigns
One-shots and miniseries
Games Played as Dungeon Master
Other Works
→ See also: Liam's IMDb profile
Liam began his career in theater before moving on to voice acting in the early 2000s. He also branched out to voice directing, and has worked on several productions, like The Last of Us and Resident Evil 6. A lot of his work revolves around japanese anime dubbing, be it as a voice actor, voice director, or automated dialog replacement writer. One of his most well-known speaking roles is the character Gaara from Naruto.
Personal Life
Liam is married to fellow voice actress Amy Kincaid. They have two children together, and own a dog, Sprigg, who was named after the guest character of the same name.
Liam has stated that D&D has helped him get through a rough patch in his life after he developed hyperacusis.[4]
Trivia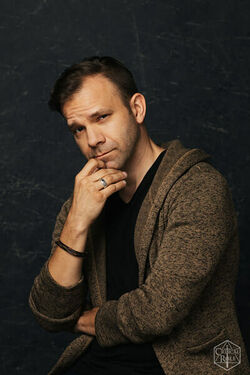 He shares his middle name, Christopher, with Matt Mercer.
Liam ties Travis for most player characters at 18. He additionally played a non-DM non-player character Cinna Brightbow.

His most played class is Fighter, with four characters.

More of Liam O'Brien's player characters have died than any other cast member on Critical Role.

Six of the characters Liam has played across one-shots and the main campaigns have died. Five of them were beyond resurrection or within a game without resurrection rules at their final death.

Liam is the only member of the cast who has played two characters of the same family: Derrig and his son-in-law, Orym.
Critical Role is Liam's first "pure" game of Dungeons & Dragons. Before this, he was a Dungeon Master in his sophomore year of high school as well as a player, which, as he states, "is totally cheating."[5] He also ran a Rift game as well as a Cyberpunk game. After Critical Role became such a large part of Liam's life, he began running several D&D games for his children.[citation needed]
When asked who he'd pick if he could switch to any player character in Campaign One, Liam chose Scanlan.[6]
Liam's chosen drink on his Between the Sheets interview was mulled wine.
Liam currently holds second place for attendance out of the main cast members for the main campaigns, just two episode appearances behind Marisha Ray. However, if one-shots are counted, he takes first place.
Liam's involvement in choosing fan art for the slideshows and official art books has earned him the title of "Art Dad" from the community.
Every Halloween, the cast of Critical Role dresses up in costume for one episode. Liam has dressed up as the Dread Pirate Roberts (2015), Tyriok Gadsworth (2016), the Sole Survivor from Fallout 4 (2017), Kylo Ren (2018), Gaara (2019), Astrid (2020), and Ashley Johnson (2021).
On Talks Machina, the host Brian Wayne Foster likes to "#ThankMyGuests" with names that are either mispronounced or wordplay that sounds close to their names. Here are the names for Liam O'Brien so far:
Liam O'Braun
Prince Liam Oberon
Liehelm O'Brain
Liam Oberon
Leave Him O'Dryen
Bleed Him and Fry Him
Feed Him Old Lion

Mausoleum Robe Tie-In
Clean Him, No Pryin'
DM O'Dyin'
Plead Him No Tryin'
Lead Man Old Byron
Zipper Low Flyin'
Ream Him Fo' Dyin'

Fleein' All Dyin'
Healin' by Fryin'
Fryin' Up Simon
Please Bathe I'm Dying
Frumpkin Be Flyin'
Library Tie In

Save Nott She Dyin'
Smut Quest Thrivin'
Lead Means No Scryin'
Cube Ate Yo' Kitten
That Story I'm Cryin'
Need the Bowl for Fryin'
External Links
References
Art:
Critical Role cast
Main cast
Guest stars

Campaign 1
Campaign 2
Campaign 3
Pre-Stream