Spider-Man: No Way Home Trailer Dropped - The Loop
Play Sound
Laudna is a Hollow One warlock/sorcerer and a member of the Campaign Three adventuring party. Laudna is played by Marisha Ray.
Description
Appearance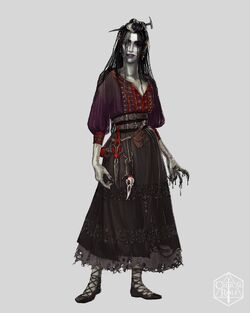 When she first appears, Laudna is fairly young, pale, and gaunt. Her big eyes have dilated pupils, and her lips are dark. Marisha further describes Laudna's features as "almost doll-like."[8] She has long, thin, dark hair with a shock of white through her bangs, pulled up in a half-up bun with a rock chisel (depicted as a rock pick in official art). She wears tattered clothes, including a dark red blouse and a black skirt. Her belt holds various tools, a dead rat with a raven skull named Pâté de Rolo, and other odds and ends.[9][10]
When Laudna uses her Form of Dread, her extremities elongate and a black veil comes across her face, hiding a stream of black tears pouring from her eyes.
Personality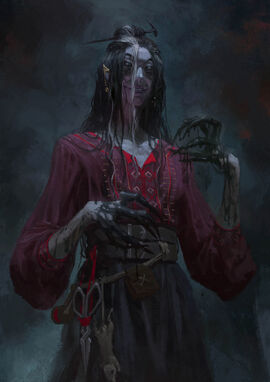 In stark contrast to her ghoulish appearance, Laudna is rather bubbly, personable, and easy-going. Laudna seems largely unaware of how frightening she appears (especially when she uses her Form of Dread power) and becomes offended when someone judges her based on appearances alone.[11]
Biography
Background
She comes from Whitestone in Tal'Dorei.[12] The Briarwoods took over the city when Laudna was a young woman, at which point she left and never returned. She was unaware that Percival and Cassandra de Rolo had returned to power there, saying that she became "a bit of a recluse" after her time in Whitestone. She didn't talk to people much, and they didn't want to talk to her.[13]
Relationships
→ Main article: Relationship between Imogen and Laudna
Imogen is Laudna's closest ally, whom Laudna met while she was in Imogen's town a couple of years[14] ago. They "hit it off real well" and decided to start traveling together.[15] They share a goal: to try to enter one of the conservatories located in the Spires so Imogen can do research.[16] They have been staying together in Jrusar with their landlady, Zhudanna.[17]
Character information
Notable items
Hollow One abilities
Ageless
Cling to Life
Revenance
Unsettling Presence[21]
Feats
Sorcerer abilities
Spellcasting (Charisma-based spellcasting)
Sorcerous Origin (Shadow Magic)
Font of Magic

Sorcery Points: 2
Flexible Casting
Warlock abilities
Otherworldly Patron (The Undead)
Pact Magic (Charisma-based spellcasting)
Eldritch Invocations (2)
Spells
Some spells Laudna knows are available to her through both of her classes. These spells are listed separately until their source is confirmed.
Quotations
Laudna: "Is it rude to ask about dead people?"
Dorian: "When you're using their body parts, I think so."
Laudna: "Wow. Don't tell Pâté."[42]
Orym: "So why are you puppeteering a dead rat?"
Laudna: (in Pâté's voice) "Well, you see, Laudna here was quite alone for quite some time, and she kind of needed somebody to keep her company or else she would go insane. Especially because it was just me and that voice in her head. (in her own voice) He's so silly."[43]
Trivia
Laudna's name likely derives from laudanum, an opium tincture historically widely used as a pain medication or to induce sleep. Its use often features in especially 19th century Gothic and horror literature.
The animation on her stat card features black smoke and black ooze dripping from the top of the frame.[5]
One fan theory speculates that Laudna's body was at one point hanged from the Sun Tree.
When using the Message spell, Laudna's voice is accompanied by eerie whispers and otherworldly sound effects created by the rest of the cast. This began as a joke when Laudna tried to spook Orym with a Message, and has become a running gag. Prior to this event, her Messages had no echoes.
Laudna is the second player character to hail from Whitestone, following Percival de Rolo.
Laudna is, at present, the only member of the Campaign Three adventuring party who has darkvision.
Art gallery
References
Art: