Doctor Strange in The Multiverse o Madness - The Loop
Play Sound
Laudna (pronounced /ˈlɔːdnə/) is a human Hollow One sorcerer/warlock and a member of Bells Hells. Laudna is played by Marisha Ray.
Description
Appearance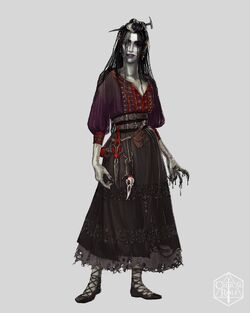 When she first appears, Laudna is fairly young, pale, and gaunt. Her big eyes have dilated pupils, and her lips are dark. Marisha further describes Laudna's features as "almost doll-like."[10] She has long, thin, dark hair with a shock of white through her bangs, pulled up in a half-up bun with a rock chisel (depicted as a rock pick in official art). She wears tattered clothes, including a dark red blouse and a black skirt. She wears pointy gold cuffs on her ears to hide their edges, which were once shorn to points like an elf's.[11] Her belt holds various tools, a dead rat with a raven skull named Pâté de Rolo, and other odds and ends.[12][13]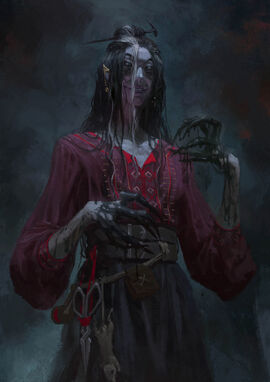 When Laudna uses her Form of Dread, her extremities elongate and a black veil comes across her face, hiding a stream of black tears pouring from her eyes.
Her eyes glow green at times, notably when she uses Eyes of the Runekeeper[14] or Cling to Life.[15]
Personality
In stark contrast to her ghoulish appearance, Laudna is rather bubbly, personable, and easy-going. Laudna seems largely unaware of how frightening she appears (especially when she uses her Form of Dread power) and becomes offended when someone judges her based on appearances alone.[16] She also shows insecurity when she feels as if she is lacking in purpose and thus tends to want to be helpful in any way.[citation needed]
When asked by Orym how she is the "happiest person" in Bells Hells, she comments that "the worst thing that's ever happened to [her] has already happened," alluding to her death. She prefers not to dwell on the past, beseeching others to do so in kind, that there is "no point in being sad over what can't be changed".[17]
Biography
Background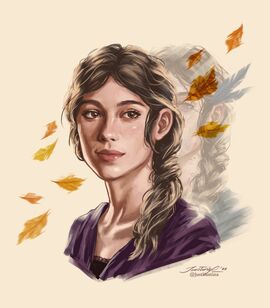 Laudna grew up on a farm on the outskirts of Whitestone in Tal'Dorei, and always had innate magical capabilities.[18][19] Even as a young girl, she was thought of as the freak of the town. She once had a crush on a young boy named Andy, but he threw dirt in her face.[20]
The Briarwoods took over the city when Laudna was a young woman. Shortly before the Whitestone Rebellion in 810 PD, she and her parents were invited to dine with the Briarwoods and told they were going to serve a greater purpose. In addition to the promise of festivities, she hoped that the magical Briarwoods would take interest in developing her natural sorceress magic.[21] After the dinner, she was killed. Her ears were docked into points like those of a half-elf and she was strung up on the Sun Tree in effigy of Vex'ahlia.[22]
Laudna woke up hanging from the tree when a burst of necromantic magic hit her and mingled with her natural magic.[23][24] She left the city and never returned, and believes she is a cross between dead and alive.[25] Although the Briarwoods are dead, Laudna began to hear the voice of Delilah Briarwood in her head around a year after Delilah died.[26] Laudna hears Delilah "every now and then."[27][28]
Having been killed before Vox Machina's arrival in the city and left during the rebellion, Laudna was unaware that Percival and Cassandra de Rolo had returned to power in Whitestone, saying that she became "a bit of a recluse" after her time in Whitestone. She didn't talk to people much, and they didn't want to talk to her.[29] She spent the next thirty years going from town to town, living in fixed-up abandoned shacks in the woods until chased out by townsfolk denouncing her as an undead witch.[30]
Relationships
Imogen Temult
→ Main article: Relationship between Imogen and Laudna
Imogen is Laudna's closest ally, whom Laudna met while she was in Imogen's town a couple of years ago.[31][32] They "hit it off really well" and decided to start traveling together.[33] They share a goal: to try to enter one of the conservatories located in the Spires so Imogen can do research.[34] They have been staying together in Jrusar with their landlady, Zhudanna.[35]
Laudna will often wake when Imogen has a nightmare and sometimes observes Imogen without waking her up as it happens. After Imogen awakens, she comforts her and talks about what Imogen saw in the dream.[36][37]
Delilah Briarwood
Laudna occasionally hears the voice of her patron, Delilah, in her head.[38] Delilah appears to be her warlock patron, although it is unclear when after Laudna and Delilah's respective deaths the pact was made. After Laudna told the rest of Bells Hells about her pact, Delilah told Laudna to keep things secret.[39] Laudna has also expressed to Imogen that she is not sure how she feels about Delilah and has floated the possibility of breaking her pact.[40]
While Laudna was inspecting the shard that Imogen got from the Shade Mother's den, Delilah used her power to shatter the shard and transfer the magical essence into Laudna. This upset Imogen, who had asked Laudna not to do anything to the shard. Laudna in turn was quite angry at Delilah and screamed "What did you do?"[41]
Fearne Calloway
She and Fearne clicked almost immediately. Fearne loved everything about her and was even fascinated when she saw Laudna perform her 'Form of Dread' for the first time.[42] Laudna, Fearne, and Imogen all have bonded over being spellcasters, and call one another 'Witchy/Witch Bitches'.[43][44][45]
Orym
Orym is one of the few members of Bells Hells that knows Laudna's cause of death. Laudna seems to trust Orym enough to tell him. Orym in return shows his empathy towards her in his repeated apologies about her death. Additionally Orym, due to his relationship with Keyleth, knew about the Whitestone atrocities.
Dorian Storm
Fresh Cut Grass
Ashton Greymoore
Unlike many people she's encountered, including other party members, who seem off-put by Laudna's creepiness, Ashton seems to love her aesthetic.[46]
Bertrand Bell
Chetney Pock O'Pea
Character information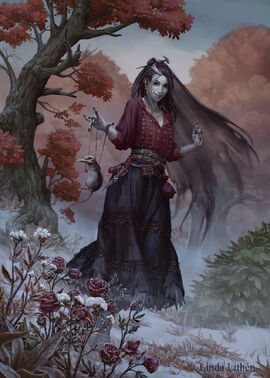 Notable items
Hollow One abilities
Feats
Sorcerer abilities
Spellcasting (Charisma-based spellcasting)
Sorcerous Origin (Shadow Magic)
Font of Magic

Sorcery Points: 4
Flexible Casting

Metamagic
Warlock abilities
Otherworldly Patron (The Undead)
Pact Magic (Charisma-based spellcasting)
Eldritch Invocations (2)
Sorcerer spells
Cantrips
1st-level
2nd-level
Warlock spells
Cantrips
1st-level
Unknown class spells
Some spells Laudna knows are available to her through both of her classes and are listed here until their source is confirmed.
Cantrips
Behind the scenes
Laudna's creation indirectly stems from a nightmare Marisha had where she encountered the jaw-less flower girl (which Laudna later conjured with Silent Image in "Ghosts, Dates, and Darker Fates" (3x10)). This made her want to play a creepy character for Campaign Three, and she initially wanted to play a little girl who had died and been resurrected, but ultimately believed it could get weird and decided to play an adult instead. Marisha knew from the outset that her character would have died during the Briarwoods' insurrection of Whitestone and been resurrected, and through discussion with Matt, the idea that she was the effigy of Vex'ahlia hung from the Sun Tree came to be. From there, she decided to multiclass as a sorcerer/warlock, and would thus need a patron, for which she suggested Delilah Briarwood.[84]
Appearances and mentions
Quotations
Trivia
Laudna's name likely derives from laudanum, an opium tincture historically widely used as pain medication or to induce sleep. Its use is often featured in especially 19th century Gothic and horror literature.
The animation on her stat card features black smoke and black ooze dripping from the top of the frame.[7]
When using the Message spell, Laudna's voice is accompanied by eerie whispers and otherworldly sound effects created by the rest of the cast. This began as a joke when Laudna tried to spook Orym with a Message and has become a running gag. Prior to this event, her Messages had no echoes.
Laudna is the second player character to hail from Whitestone, following Percival de Rolo.
During the masquerade ball in Jrusar, Laudna used the alias "Lorelei de Rolo"[93], combining the name of the werewolf family in "Liam's One Shot: The Song of the Lorelei" (Sx36) with the last name of the rulers of Whitestone, her former home. Her stuffed rat Pâté de Rolo also bears the de Rolo name.[94]

The word "lorelei" was also mentioned by Laudna as an abusive name hurled at her by mobs when she was driven out of various towns.[95] In this context, it refers to a siren or mermaid who lures men to their doom, particularly one associated with stories surrounding the Lorelei rock in the River Rhine.

Until Chetney Pock O'Pea's introduction in "Behind the Curtain" (3x07), Laudna was the only member of Bells Hells to have darkvision.
Art gallery
For more images, see Category:Images of Laudna.
External links
Notes
References
Art: