We're Getting Mutants in the MCU - The Loop
Play Sound
Kiri is a kenku child rescued by the Mighty Nein. As an NPC, Kiri is played by Matthew Mercer.
Description
Appearance
Kiri is a kenku child, about the size of an adolescent human. Her body is covered in black feathers and she does not have wings; rather, she has exceedingly long fingers resembling a crow's primary feathers. She has bright, raven-like eyes and a long beak.[7]
Personality
Kiri seems to be a kind and appreciative girl, saddened over losing her family but excited and hopeful that the Mighty Nein would "adopt" her. Kiri has no spoken language (Caleb's Comprehend Languages spell had no effect)[8], communicating instead through clicks, crowing noises, and mimicry. Her mimicry can replicate both the accent and the words of others. Most of the party found her behavior adorable, with Jester being especially enamored.
Kiri has a proclivity for picking up swear words with her mimicry and stabbing dead bodies with the dagger Fjord gave her. Nott views this as evidence that the Mighty Nein's behavior is "corrupting" Kiri.
Biography
Background
Kiri was one of four daughters to her parents, who all lived as a family unit somewhere near the valley people. They fled through the swamp to escape the fighting that broke out, where unfortunately Kiri got trapped in mud and her family were forced to abandon her. This is where she was discovered and saved by Jester.
Sadly, the Mighty Nein discovered the remains of several Kenku in the stomach of a crocodile that Jester concluded were probably her sisters, although it would appear that Kiri's parents were able to escape.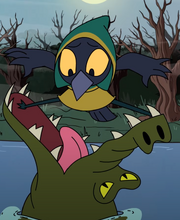 Kiri was first encountered struggling in the swamp and under threat of two fast approaching crocodiles. Due to Jester's initial curiosity and then swift action upon realizing the dangerous situation, they managed to save Kiri and 'took her in' for the time being.[9]
Jester got a detailed description of Kiri's parents, but was unable to contact them with her Sending spell.
Having arrived in Hupperdook, Yasha volunteered to babysit Kiri while the rest of the Mighty Nein continued on exploring, and partaking in a drinking contest.[10] Jester later bought Kiri a music box from Cleff Tinkertop.[11] After discovering the Schuster children, the Nein left Kiri with the kids while they continued on to Gearhole Prison.[12]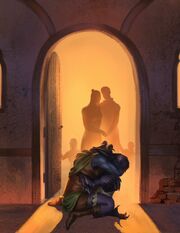 For her safety, and following a tearful goodbye, Kiri was left in the care of the Schuster family.
Jester messaged Kiri to check on how she was doing and to let her know that the Mighty Nein were thinking about her.[13]
While exploring the Folding Halls, the Mighty Nein learned from an outside ally that Hupperdook's factories had been attacked by the Kryn Dynasty. At first Jester was worried for Kiri's safety, but Beau reassured her that the Schuster kids were good at staying out of trouble.
Jester scryed on Kiri, seeing her well and apparently healthy although Upper Hupperdook had sustained serious damage from the Kryn attack, which was in the process of being repaired.[14]
Relationships
Beau sees Kiri as fragile and thinks that she would probably fare better outside of the Mighty Nein. When Kiri mimicked Beau, Beau was taken aback learning what she sounded like. Leaving Kiri with the Schusters affected Beau more profoundly than she expected, reflecting that the act of first saving the Schusters from prison and then giving Kiri a home among them was the first truly selfless action she'd taken and it felt good.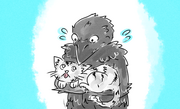 Caleb used Frumpkin to soothe Kiri when the Mighty Nein first met her. Afterwards, Frumpkin and Kiri would frequently spend time together on the road or in inns.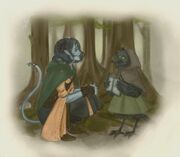 Jester and Kiri seem to be fond of each other. Jester has tried to take care of Kiri, teaching her phrases for everyday use, helping her adapt to Dwendalian social norms, and attempting to contact her parents. In return, Kiri has been affectionate to Jester and used the phrases Jester taught her in unexpected ways.
According to Taliesin, Molly is actively avoiding getting to know Kiri because, much like Beau, he believes that her continued presence is putting her life at risk. In his own words: "He's avoiding Kiri for the same reason why you don't name animals you're going to butcher".
Character Information
Abilities
Kenku Abilities
Notable Items
Appearances and mentions
Quotations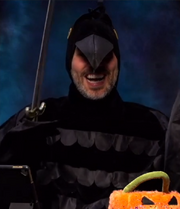 Trivia
A full list of Kiri's imitations can be found here from CritRoleStats.
Sam Riegel dressed as Kiri in the Halloween 2020 episode.[31]
Kiri mentioned during a Sending from Jester that she had built something; that turned out to be a music box.[32]
References
Art: