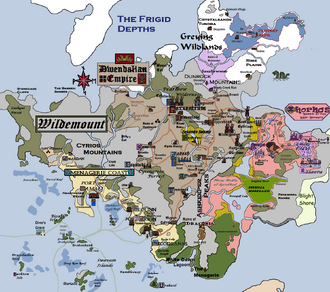 The
Flotket Alps
are a mountain range in the north of the
Greying Wildlands
.
DescriptionEdit
The Alps are tall mountains with jagged peaks and spires that come to dangerous points, all coated in snow and ice, densely forested in pine.[1]
Notable LocationsEdit
Kravaraad: Kravaraad is a craggy black volcano with three drifting plumes of black smoke and little glowing streams of orange pouring from different positions along its side. At its base is a small basin or a lake, and the molten rock drifts down into it, exploding into steam as it hits.[2] Inside it is the Cinderrest Sanctum, also known as the Burning Lodge or the Kiln, home of the Dust family.
Uthodurn: A mostly underground Dwarven-Elven city.
Mythburrow: In the eastern Alps, the cavern home of the ancient white dragon Gelidon, the Nightmare in Ivory.
Beasts that call the Alps home include wolves, dire wolves, winter wolves,[3] frost zephyr birds, wild white bison, giant goats,[4], remorhazes[5], yetis[6], wyverns[7], and large lizards that are an embodiment of elemental ice.[6] Orcs from Boroftkrah and from the Rime Plains hunt the area frequently.[7] Various frost giant clans live amongst and within the mountains.[6]
ReferencesEdit
Community content is available under
CC-BY-SA
unless otherwise noted.