Jurassic World: Dominion Dominates Fandom Wikis - The Loop
Play Sound
Exandria Unlimited: Calamity is a four-part miniseries set in the Age of Arcanum, following six adventurers as they uncover a hidden corruption beneath the city they've sworn to protect, and attempt to prevent The Calamity.[1] It is set in the floating city of Avalir.[2] It is the third mini-campaign of the Exandria Unlimited series.
Cast
Production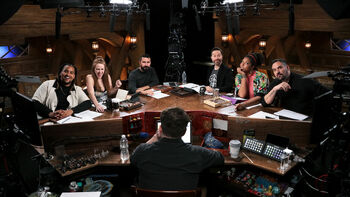 All episodes of Exandria Unlimited: Calamity were pre-recorded before airing.
Development
Brennan Lee Mulligan said he was inspired to set Exandria Unlimited: Calamity in the Age of Arcanum following a dinner conversation he had with Matt Mercer in 2021. Mulligan stated that Mercer was a generous resource "during the conception and prep-work" for the series and that Mercer "was also excited for Mulligan to flesh out and expand on a period of Exandrian history that Mercer had only imagined in broader terms".[9] On setting the series in the Age of Arcanum, Mulligan compared it to the Arthur C. Clarke quote on magic and technology being indistinguishable past a certain point. Mulligan said, "people will see some similarities that exist between our world and the Age of Arcanum in terms of an accessibility of magic that is so promulgated that it just seeps into the workings of everyday life in a way that is not present in current day Exandria. That is something that was truly lost".[10]
On setting Exandria Unlimited: Calamity during an apocalypse, Mulligan said, "If your only question is 'does the Calamity happen or not?' that's a different series. The question here is 'What is the nature of mortal beings when faced with this?' [...] There are different — and, in my opinion, more interesting — questions to be answered here than 'does the doom come or no?'".[9]
Character creation
Unlike typical Critical Role campaigns, where characters are developed separately by the players, the cast of Exandria Unlimited: Calamity developed their characters together as a group.[11] Marisha Ray said, "We entered this knowing that we are playing in the Age of Arcanum, so we knew we were playing high-level characters in very high positions of power. Brennan wanted us to be very powerful out of the gate, with characters who are in control and are movers and shakers. So, that required a lot of history, and lore, and understanding our positions before we even got started. One of the first things that we did when making our characters was just sit around a table together and talk about our relationships, and how each of us as individuals fit into the power structure of the city we live in".[11]
On creating characters in the Age of Arcanum, Sam Riegel said, "What was the government? Why was magic so popular? So to develop a character for that, not really knowing the world that you're in, is hard. It was a more fruitful process making the characters together. [...] But since Exandria Unlimited: Calamity is such a contained story in such a strange place and a strange time, it made a lot more sense to build the characters together. And we got some cool relationships out of it".[11]
Episodes
No.
Title
Original airdate
Link
Runtime
1
"Excelsior" (E3x01)

2022-05-26

VOD
4:10:46
The flying city of Avalir begins its triumphant return to the continent of Domunas while the Ring of Brass, a group of eminent city dignitaries, begin to uncover hints of something rotten within their gilded home..
2
"Bitterness and Dread" (E3x02)

2022-06-02

VOD
4:37:56
The Ring of Brass deepen their investigation into Vespin's inconceivable ritual while juggling their own profound desires and lofty ambitions...
3
"Blood and Shadow" (E3x03)

2022-06-09

VOD
5:21:36
Confronted with how deep Avalir's corruption runs, the Ring of Brass must face hard truths about themselves as impossible choices are made and lines are both drawn and sundered...
4
"Fire and Ruin" (E3x04)

2022-06-16

VOD
6:07:33
With time running out and an ancient terror unleashed, the Ring of Brass make their last stand for Avalir, for Exandria, and for their souls as calamity draws near...
Trivia
This campaign has the earliest in-universe chronological setting to date.
During the four-episode run, the border of the overlays on the show progressively displayed more and more damage.[12]
Related interviews
References
Art:
↑ Photograph of the cast of Exandria Unlimited: Calamity, by Michael Schmidt (source). This file is a copyrighted work. Its use in this article is asserted to qualify as fair use of the material under United States copyright law.