Wiki Targeted (Entertainment)
Play Sound
Exandria Unlimited is an eight-episode mini-campaign of Critical Role. It follows a group of adventurers starting their adventures in Emon in 842 PD, close to 30 years after the Chroma Conclave's attack on the city and six years after the end of Campaign Two.[1]
The Cast
Production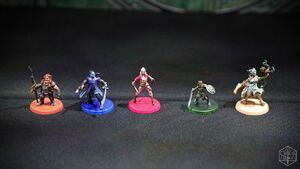 All episodes of Exandria Unlimited were pre-recorded before airing.[2] The series was created by Marisha Ray, and co-produced by Maxwell James and Steve Failows.[3]
The series opening features stained glass art by Joanna Johnen and animation by Christian Brown.[4] Music for the main theme and art reel was composed by Colm McGuinness.[5]
Character miniatures painted by Iron Tusk Painting.[6]
Trivia
The announcements at the beginning of every episode featured "Cozy Matt" in a robe with Omar, his corgi. They were recorded after the show, and at the end of the announcements, Aabria sometimes made a random comment on Matt's appearance, influencing elements of his attire.
Aimee Carrero was supposed to appear as a guest in the second campaign of Critical Role, but couldn't due to COVID-19 restrictions. This led to her becoming a cast member for Exandria Unlimited.[7]
Episodes
Exandria Unlimited
No.
Episode
Original
Airdate
Link
Runtime
1
"The Nameless Ones" (Ex01)
2021-06-24
VOD
4:09:17
Five burgeoning adventurers explore the Upper Slums of Emon and take a job offered by a mysterious thief, but what they discover may be more dangerous than any of them bargained for...
2
"The Oh No Plateau" (Ex02)
2021-07-01
VOD
3:57:39
The party makes their way to the Fire Ashari, but their search for answers yields only more questions and deeper conflict...
3
"A Glorious Return" (Ex03)
2021-07-08
VOD
3:17:55
The group must return to Emon to seek the expertise of a powerful runechild, but the seeming simplicity of this task is made more complicated by the Nameless Ones' relentless pursuit...
4
"By the Road" (Ex04)
2021-07-15
VOD
4:25:32
The adventurers continue their travels south through Tal'Dorei, but the past comes calling for them all in very different ways...
5
"A Test of Worth" (Ex05)
2021-07-22
Forthcoming
TBD
6
"

Exandria Unlimited Episode 6

" (Ex06)
2021-07-29
Forthcoming
TBD
7
"

Exandria Unlimited Episode 7

" (Ex07)
2021-08-05
Forthcoming
TBD
8
"

Exandria Unlimited Episode 8

" (Ex08)
2021-08-12
Forthcoming
TBD
References
Art:
Exandria Unlimited Episodes
#5
"A Test of Worth" (Ex05)
#6
"

Exandria Unlimited Episode 6

" (Ex06)
#7
"

Exandria Unlimited Episode 7

" (Ex07)
#8
"

Exandria Unlimited Episode 8

" (Ex08)