Wiki Targeted (Entertainment)
Play Sound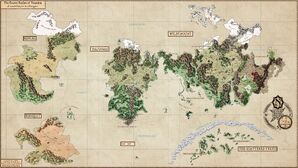 Exandria is the name of the world on which most events of Critical Role take place.[2] Exandria exists in a Material Plane,[3] although it features connections to other planes of existence, such as the portals to the elemental planes guarded by the Ashari.
History
→ Main article: History of Exandria.
Since the gods first came to Exandria, four distinct ages of the world have gone by: the Founding, the Age of Arcanum, the Calamity, and the Divergence. The events of Critical Role take place in the fourth age.[4] For a timeline of Exandrian history as it is now known, with dates, see the article Time Line.
Calendar
→ Main article: Calendar of Exandria.
An Exandrian year lasts 328 days over the course of 11 months. Each day is 24 hours in length and the 7 days of the week are named Miresen, Grissen, Whelsen, Conthsen, Folsen, Yulisen, and Da'leysen.
Geographic Characteristics
Continents
Oceans
Frigid Depths: The cold ocean to the north of Issylra, Tal'Dorei, and Wildemount.
Lucidian Ocean: A vast ocean to the south-east of Tal'Dorei and south of Wildemount, containing the Shattered Teeth.
Ozmit Sea: The sea separating Tal'Dorei from Issylra and Marquet to its west.
The Underdark is a vast subterranean region that exists below the continents of Exandria. A dark and hostile place, the Underdark is almost a world unto itself, with civilizations, monsters, politics, economies, and threats that may interact only sporadically or indirectly with the surface world.[10] Notably, the Underdark has significant connections to the Far Realm, from which many aberrations emerge.
Satellites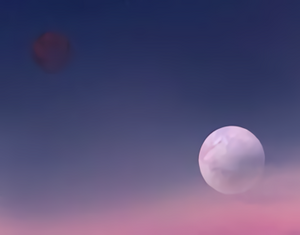 Exandria has two moons,[11][2][12] named Catha and Ruidus.[13]
Catha
Catha is similar in appearance to Earth's Moon, though it is closer to Exandria and appears larger in the sky.[12] It has a 33-day cycle during which it waxes and wanes.[14]
Ruidus
Ruidus appears smaller in Exandria's sky due to its further distance from the planet, and its reddish-purple, maroon-brown color contributes to a dimmer glow.[12] Lycanthropy is relatively unaffected by this moon in comparison to the closer moon.[15] It has a very slow orbit, taking a full year (328 days) for a revolution, and is visible for about half of the year.[16] Myths and rumors about Ruidus abound. Some believe it to be either pre-creation from when the elements themselves were consuming all of Exandria. Others believe it may have not originally existed, but was a creation of the Betrayer Gods, and was some sort of long-running mysterious plot that was cut short during the end of the Calamity.[17] There is a standard belief in various cultures across Exandria of it being an entity of ill-omen.
Languages
Many different languages are spoken across Exandria. Common is the most widely spoken among humanoids, though most races also have their own language.
References
Art:
External Links
Community content is available under
CC-BY-SA
unless otherwise noted.