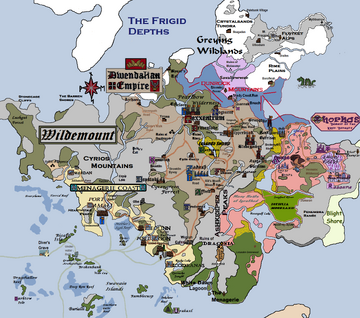 The Dunrock Mountains are large, spiky crags dividing the northern Dwendalian Empire from the Greying Wildlands further north.[1] It was once a solid mountain range that seems to have been torn and sundered into ravines that share a similar shape.[2] The Quannah Breach forms the border between the two territories, where a gate maintained by the Uttolot Family charges a toll to pass on the northern end, and a gate manned by Crownsguard guards the passage into the Empire at the southern end.[3] The Breach itself is a strange, snaking maze of weirdly carved pathways and wind-sheared, smooth cliffs in the otherwise rough mountains.[4]
References Edit
Art:
References Edit
Community content is available under
CC-BY-SA
unless otherwise noted.