Wiki Targeted (Entertainment)
Play Sound
Dorian Storm is an air genasi[2] bard who appeared in Exandria Unlimited. He is played by Robbie Daymond.
Description
Appearance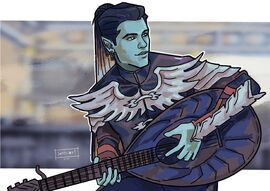 Dorian has sky-blue skin, crystal-blue eyes, and jet-black hair that falls in an ombre finishing in white and sky-blue just past his shoulders. He is 6'1"[9] and more lightweight than he appears. Most of his clothes and his lute are sunburst blue, but the inside of his cape is colored the oranges and reds of a sunset.[10]
Personality
Biography
Background
When Poska said Dorian seems to come from money, Dorian nervously brushed it off and claimed to just be a humble bard.[11] Dorian had lived "a very cloistered life" before he began adventuring, and he desperately wants to prove himself.[12]
Exandria Unlimited
Relationships
Dorian has referred to Dariax as a friend, which Dariax appeared touched by. Dorian told Poska that "if he doesn't like someone, I don't like someone."[13]
Character information
Notable Items
Abilities
Genasi Abilities
Subrace: Air Genasi

Unending Breath[23]
Mingle with the Wind (Cast Levitate 1/Day)
Bard Abilities
Bardic Inspiration (1d6)[24]
Jack of All Trades
Song of Rest (1d6)
Bard Spells
Cantrips
1st Level
2nd Level
Quotes
"Mm-hmm. Sorry, bacon lips."[31]
(While being grappled so hard he can only deal half damage with Dissonant Whispers:) "Joke's on you—I love hugs."[32]
Trivia
References
Art: