"Divergent Paths" (2x25) is the twenty-fifth episode of the second campaign of Critical Role. The Mighty Nein head down into the Gearhold Prison to destroy the clockwork Gear Warden, and hopefully help a family in need... 
Synopsis Edit
Previously on Critical Role Edit
"So last we left off: The Mighty Nein - in making their way northward towards their eventual goal of Shady Creek Run, to complete their second mission that they accepted from the Gentleman in Zadash - had been traversing the countryside and made their way to the city of Hupperdook: the largely Gnomish-cultural city there of industry and (currently) construction of war machines to send towards the conflict with Xhorhas to the east. There, you saw the very hardy work atmosphere of the Gnomes...and then the evening's *very* crazy *party* atmosphere, in which many of you dove into some hard drinking: a hard drinking contest.
"You won the title of the Blushing Tankard Tavern - beating out their old champions - and woke up with terrible hangovers...and realizing that most of your gold had been stolen. Upon doing some sleuthing around the town, you had bullied a couple of bullies that were pushing Rissa around and had been a problem for a while, sent them peeing their pants and rushing. You spoke with Rissa's father in his kind of tinkering inventor's store, in which you discovered a shiny object: a fantastic, experimental hand crossbow construct of his - that he would be interested in relinquishing without payment, if you do him the favor of correcting a mistake he made a while back.
"Apparently, he crafted (on the request of the Starosta of the city) a powerful gear-keeper: a construct-like entity that was meant to help the Warden within the prison...that went crazy, killed a bunch of people, then they sealed it off, and it's kind of just been there (forgotten) ever since. So, you said you'd take a look at this. Eventually, you discovered that the money you had lost had been taken by four children, who currently are without parents and have been kind of living on the streets here, in the city of Hupperdook...while their folks had been sent to the prison six months before for being caught worshiping unapproved deities within the Empire. You - after having this conversation with them, retrieving your funds, and leaving Kiri with them for the time being for safekeeping - decided to see if you had the possibility to prevent them from being sent to an Empire-run orphanage, in the hopes of freeing their parents in some way, shape, or form from their binds..."
It is late-morning/midday, so Nott wants to check out the Gearhold Prison and do some scouting before nightfall. Beau agrees, saying they should plan today, sleep, and then go to the prison tomorrow. Molly suggests calling off the "teenagers". Beau would hate for the Mighty Nein's problems with Fitz and Ashton to affect the kids...also she is still hungover and her words aren't really working right now. Caleb asks if they should try to find them. Molly states that at the very least word can be left with their employer at the Steelbringer's Forge. Beau wants to send Rissa to go talk with them, but Nott points out that Rissa knows the town and might be able to help them scout out the prison. Nott suggests sending Fjord and Jester to go tell their employers, to which Fjord (played by Taliesin) murmurs affirmatively. Caleb asks if Jester can give him her Fantastic Haversack, in case they need it. Jester (played by the DM) refuses, asking why she would give it to Caleb if she's going with the rest of the party? Besides, it's her bag, she paid for it. [A "frustrated" Liam says it is fairly obvious why, but okay...] Rissa starts to lead the party to Gearhold Prison in the lower tier of Hupperdook ("Lowerdook", as Sam puts it). Jester (played by the DM) sends a message to Fitz using Sending, telling them that they found the ones who took their money, so they can stop looking now. She also tells them to go back to work, but she might have gone over her word limit.
The Mighty Nein are led by Rissa into the Iron Lot, where the conflict with Xhorhas has put Hupperdook's smokestacks and equipment into overdrive. As they walk, Rissa points out more of Hupperdook's sights: the foundries of the Omni-Smelter, the Armavault treasury, the Underbellows, and the Firemark Facility. Upon learning it manufactures firearms, Nott asks if the Firemark Facility is heavily protected. Rissa snickers and replies that most everything is in Hupperdook. Rissa then points to a solid iron door at the mountain's base, towards the southern end of the Iron Lot: the Gearhold Prison. Molly asks what Rissa knows about the machine her father built. Rissa asks if Molly has ever seen an automaton made of stone or clay. The Gear Warden is made of metal and gears...and blades...LOTS of blades. It doesn't have feet: it basically just rolls and cuts. Caleb asks if it is animated by magical means. Rissa admits that it's only partially magical: the rest is locomotion-based clockwork. Rissa's father referred to the type of construct as a "gear-keeper". Nott asks if they need to appear more official to get the prison guards to let the Mighty Nein deal with the Gear Warden. Molly and Caleb think that the guards will just be glad to have someone deal with the problem. Jester offers to forge a letter from Rissa's father. Sam remarks that idea is way too smart for Laura to suggest...to which Matt warns him that Laura is probably watching right now.] Molly asks if anyone has any blueprints of the Gear Warden so they can make a plan of attack, but Rissa doesn't like the idea of going back to her father. Beau suggests picking up a pie for Rissa's dad on the way home. Yasha suggests making it a meat pie.
The party stops to get a meat pie on the way to the Gearhold Prison, getting caught in the middle of the lunch hour rush. They spot some tithe collectors, the "Reapers", so they know they're in the neighborhood. They return to the Tinkertop residence where Cleff produces the plans for the Gear Warden and explains its considerable defenses and weapons. It sees through lenses and the idea of blinding it by obscuring those lenses appeals to all of them. They decide to steal some tar on the way for that purpose.
The agoraphobic Cleff comes with them, uncomfortably, to help get them into the prison. They stop by the Assembly Yard and spot a bucket of tar. Using Caleb's Unseen Servant, Nott's Mage Hand, and a distraction by Molly and Yasha, they succeed in carrying it off, and reach the prison safely.
They tell the warden Poppin Drokrusher that they're there to take care of the clockwork warden, and Cleff vouches for them. They only request that if they're successful, they might discuss with him a means of resolving the issues of two of their friends currently in the system. The argument is unpersuasive, but Poppin says they can talk about it once they've succeeded. They are escorted to the massive barred door holding back the Gear Warden, and heat up the tar. The guards unlock the door and allow them to enter, chaining it back up behind them.
The Mighty Nein reach the slightly-open double doors of the sealed-off section. The doors behind, and in front of, the party (as well as the walls around them) are scraped and gashed with hundreds of blade marks. It looks like whatever is in here has spent a lot of time grinding around either looking for a means of escape or continuing its programmed patrol...over and over again. Molly uses his Primal Rite of the Frozen to ice up his swords. They see what looks like a prison cell with a locked door but Nott is unable to open it. Caleb uses the torch to help see inside and sees that the Gear Warden was unable to breach the door. He sees three skeletons decomposing: apparently the prisoners were trying to claw their way out when the Gear Warden was trying to break in, and some rubble collapsed and struck them. Another cell appears to have been breached, and one beyond that is open.
Caleb and the party devise a plan to seal their ranged fighters inside one of the cells before he realizes that he lacks the material components for Arcane Lock. He sends Frumpkin scouting for the Gear Warden, which he finds in the broken cell. As Frumpkin approaches, the Gearkeeper's lens opens, six long blade-like spider legs come out, and it rolls forward quickly. Caleb bamfs out Frumpkin just in time, and combat is initiated.
They whack away, taking some damage from hot shrapnel and blade attacks. The Gearkeeper is resistant to non-magical attacks, so Beau becomes frustrated at her inability to seriously hurt it. Nott successfully uses Mage Hand to get the tar onto its lens, blinding it, but it doesn't seem to be as helpful as they were hoping. Caleb grapples it with Earthen Grasp. It manages to clean the tar off the lens, and breaks Caleb's concentration on the grapple by pinning him against the wall with a blade through the chest. It continues to take damage, and uses a second hot shrapnel attack, knocking out Beau, who takes an automatic death saving failure from her proximity to the Gear Warden, and rolls a success. Molly gets the final strike with a sword and Jester immediately casts Cure Wounds on Beau.
The party heal up a bit and explore. Nott is able with the use of a fragment of possibility to get the locked cell open but there's nothing inside but bodies and very old human excrement, and Detect Magic produces no pings other than the Everburning torches. They bang on the doors and are let out by the surprised guards. On the way, Beau collapses in Yasha's arms, and Yasha fireman-carries her to the Wardenhelm's office, where Cleff and Rissa are waiting, and the Warden gives them 200 gold. They offer it back in exchange for the Schusters' release, but the Warden tells them false idol worship is not a minor offense and they still have two years to serve. Their bail would be an additional 150 gp in addition to the 200. They agree, with Jester and Fjord each paying half.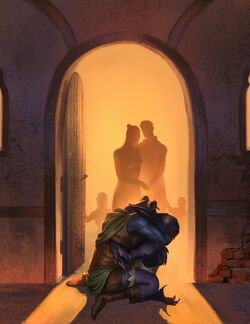 The Mighty Nein guide Gilda and Wallace out of the prison and back to their home, where they joyously reunite with their children. The Nein ask Gilda and Wallace to take care of Kiri, which pleases the Schuster children. Jester, Nott, and Yasha have emotional goodbyes with Kiri, and Beau gives the Schusters 50 gp to help with the expense. The party goes to bed in spite of the raucous partying, exhausted from the day's ordeal.
The next day, they stop by Tinkertop Inventions and pick up Nott's new crossbow. They ask Cleff to keep an eye on the Schusters and Kiri for them, and give Rissa their drink tokens. Gathering up their cart and horses, they head out of town. At sunset, they camp. Yasha and Fjord take second watch, and are joined by Jester when their conversation wakes her. They walk away a little to keep from waking the others, and are startled when their voices suddenly start making no sound. Yasha and Fjord are paralyzed and Jester is seized by a dark humanoid figure, while four others emerge and manacle both Fjord and Jester, all in total silence.
Yasha succeeds on a wisdom saving throw against the paralysis and fights the dark approaching figures, but is overpowered and also manacled despite continuing to kick and fight. They drag her, Fjord, and Jester to a group of carts, where a bald human man referred to as Lorenzo inspects them and pronounces himself pleased with their find. The three of them are shoved into a cage in the back of a cart piled high with other cages filled with other dark whimpering humanoid forms. The cart begins moving off.
Featured Characters Edit
Returning Edit
Mentioned Edit
Inventory Edit
Quotations Edit
References Edit
Art:
Community content is available under
CC-BY-SA
unless otherwise noted.