This article is a stub.  Please help the Critical Role wiki by expanding it, adding pictures, or improving existing text.

Needs summary of episodes. Off the top of my head, Deera has appeared in episode 1x15 (transporting VM to Vasselheim), 5x11 (in the chase after Ripley from Ank'Harel), and possibly even later, during the final attack on Thordak.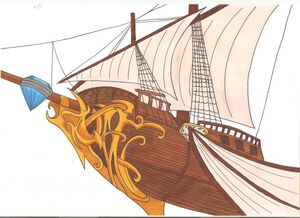 The Deera is Captain Damon's skyship.
Appearance Edit
The Deera is a large, beautifully-crafted wooden ship. The underside features beautiful elven-like golden scrolling. There are two wing-like protrusions on the sides. At the front of the ship is embedded a large blue crystal, ten to fifteen feet wide. Two similar crystals are attached to the back. The crystals slowly rotate in place and a slight hum of arcane energy emanates from them, which allows the crystals to hold the ship aloft.[1]
References Edit
Art:
Community content is available under
CC-BY-SA
unless otherwise noted.