Wiki Targeted (Entertainment)
Play Sound
This page is about the production company. For the webseries, see Critical Role.
Critical Role Productions LLC is a multimedia production company founded by of a group of professional voice actors. The company produces the webseries Critical Role, as well as several other webseries, books and other media.
History
The original cast of Critical Role had been playing a Pathfinder campaign together for two years before they converted their home game into a livestreamed Dungeons & Dragons webseries. In 2015, they were approached by Felicia Day to stream their campaign live on the Geek & Sundry twitch channel. On March 12, 2015 they began streaming their first live episode, "Arrival at Kraghammer" (1x01).
Critical Role Productions, LLC was incorporated in 2015 by the members of the creator-owned streaming show Critical Role which originally aired as part of the Geek & Sundry programming. The company moved to their own studio space in 2018, and started putting out new shows on their own Twitch and YouTube channels. In February 2019, Critical Role parted ways with Legendary Digital Networks, Geek&Sundry's parent company, and started to self-produce new shows and content under the name Critical Role Productions LLC.[1] Eventually, the live broadcasts of Critical Role and VODs aired exclusively on Critical Role's channels.
On 17 March 2020, Critical Role announced[2] that it was suspending all live broadcasts of both the D&D stream Critical Role and Talks Machina due to the COVID-19 pandemic. During the hiatus, they produced new content, as well as re-imagined versions of existing shows that followed the COVID-19 safety guidelines. Critical Role returned in a prerecorded format on 2 July 2020 with the broadcast of "Hunted at Sea" (2x100).[3]
Cast and crew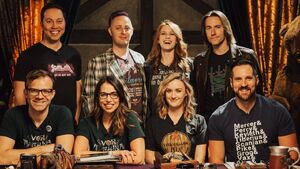 Production Team
As of 2019, Travis Willingham serves as Chief Executive Officer,[1] Matthew Mercer as Chief Creative Officer,[4] and Marisha Ray as Creative Director.[5]
Ed Lopez is Chief Operating Officer.[4] Rachel Romero is Senior Vice President of marketing,[4] and Ben Van Der Fluit is Senior Vice President of business development[4]. Brittany Walloch-Key is Director of Events. In September 2020, Nadia Dilbert became Director of Consumer Products Project Manager. Aaron Monroy is Art Director. Surena Marie joined the company as Marketing & Community Manager in February 2020.[6] Diana Jeanne Calalo is the Operations Manager. Adrienne Cho is the Product Design & Development Manager.
In Production, Vinnie Singh is Head of Production; Maxwell James is Senior Producer; Christopher Lockey is Social and Content Producer; and Kyle Shire, Steve Failows, and Spenser Starke are Producers. Dani Carr serves as Production Coordinator, and received the additional title of Lore Keeper in 2020.
Cast
The main cast appears in every episode of the main series, Critical Role, with a few exceptions.

The original cast also included Orion Acaba as Tiberius Stormwind. On October 28th, 2015, at 6:40 PST, it was announced live on the Geek & Sundry Twitch channel that due to a mutual parting of ways, Orion would no longer appear on Critical Role. Matt Mercer repeated the announcement at the beginning of "Stoke the Flames" (1x30). Orion last appeared in "The Path to Whitestone" (1x27).
Members of the main cast also host or appear in other webseries produced by Critical Role Productions. Outside of the main cast, notable recurring cast members are Brian W Foster, the host of Talks Machina and Between the Sheets, and Dani Carr, who appeared in Talks Machina and hosted Critical Recap. Will Friedle, Babs Tarr, and Mica Burton have also hosted or co-hosted their own webseries. Special guests are frequent in Critical Role and other webseries, with some of them appearing multiple times across different titles.
Core Values
The Critical Role website states the company's core values as follows:
Believing in the positive impact of storytelling
Sharing the love of games with others
Staying curious and always Learning
Leaving the world better than we found it
Critical Role's community guidelines encourage respect and inclusivity. The company works with sensitivity consultants who have personal and professional experience covering LGBTQIA+ issues & advocacy, gender identity, intersectional feminism, racism, colorism, neurodivergence & mental health, ableism, religion and other issues.[7]
Productions
Webseries
Critical Role
→ Main article: Critical Role
Critical Role is the main webseries produced by the company. It features a group of voice actors playing the popular table-top game Dungeons & Dragons (often abbreviated as D&D) in a world imagined by Dungeon Master Matthew Mercer. The series airs every Thursday at 7PM (Pacific Time) on Twitch, and new episodes are posted on YouTube the following Monday.
Critical Recap
Critical Recap, hosted by Dani Carr, summarized the events of the previous week's episode of Critical Role, as well as offering her own thoughts on the events that transpired and what they might mean for the future. The recaps started with "Zemnian Nights" (2x11) and aired on the Geek & Sundry Twitch channel before the live streams. After the split from Geek & Sundry, new episodes of Critical Recap premiered on Critical Role's YouTube channel on Tuesdays. The final video was for "Unwanted Reunions" (2x88), with recaps thereafter appearing in written form on the Critical Role website.
All Work No Play
→ Main article: All Work No Play.
All Work No Play started as a sporadic podcast (2012-2017) where Liam and Sam (and an occasional guest) caught up over a drink. The current video version sends Liam and Sam off on adventures, then meeting back up at Critical Role Land to discuss it, their lives, and anything else that may tickle their fancies.
Between the Sheets
→ Main article: Between the Sheets.
Between the Sheets was a show where Brian Wayne Foster interviewed in depth a different guest each episode.
Critter Hug
→ Main article: Critter Hug.
Critter Hug celebrates the tabletop gaming community by highlighting its cornerstones such as artists, terrain makers, local game stores, indie RPGs, and more, with hosts Mica Burton and Matthew Mercer.
#EverythingIsContent
→ Main article: EverythingIsContent.
EverythingIsContent is a show with no fixed format. Several of the episodes have had sponsored content. The show can also be something of a testbed for the studio to pilot potential projects.
Exandria Unlimited
→ Main article: Exandria Unlimited
An eight episode mini-campaign existing within the same world as Critical Role and GMed by Aabria Iyengar, it was set in Tal'Dorei in 842 PD, six years after the conclusion of Campaign Two: The Mighty Nein.
Handbooker Helper
→ Main article: Handbooker Helper.
Handbooker Helper is a series of short videos, hosted by various cast and crew members, covering various aspects of Dungeons & Dragons (5th Edition).
MAME Drop
→ Main article: MAME Drop.
Taliesin and guest(s) played old-school arcade games on the studio's MAME cabinet.
Mighty Vibes
→ Main article: Mighty Vibes.
Begun during the Covid-19 hiatus, Mighty Vibes provides lo-fi music by various artists with a minimalistic animated scene featuring different Mighty Nein characters.
Mini Primetime
→ Main article: Mini Primetime.
Mini Primetime is a show hosted by Will Friedle on how to improve painting techniques, specifically for Dungeons and Dragons miniatures.
Narrative Telephone
→ Main article: Narrative Telephone.
Begun during the Covid-19 hiatus, Narrative Telephone features a cast member relating a short narrative story, which is then retold by successive cast members.
One-Shot Specials
→ Main article: Specials.
The cast will occasionally play a one-shot game, often with several guests, different game systems, and different Dungeon Master/Game Master. Included in this category are special question-and-answer episodes outside the Talks Machina format.
Pub Draw
→ Main article: Pub Draw.
Pub Draw is a show where Marisha is taught how to improve her drawing by comic book artist, and Critter, Babs Tarr.
Talks Machina
→ Main article: Talks Machina.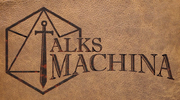 Talks Machina is a talk show discussing the events of Critical Role. The show is hosted by Brian Wayne Foster, with commentary by Dani Carr. The guests usually consist of the regular cast of Critical Role, but guest players, behind-the-scenes people, and fans such as Andrew from CritRoleStats have also appeared. The original run of the show aired weekly on Tuesdays and featured questions submitted by fans; however, due to COVID-19, the show came back from a hiatus in a bi-weekly, pre-recorded format, with questions written by Dani Carr.
Travis Willingham's Yee-Haw Game Ranch
→ Main article: Travis Willingham's Yee-Haw Game Ranch.
Travis Willingham's Yeehaw Game Ranch features Travis Willingham and Brian Wayne Foster (and occasional guests) playing video games.
UnDeadwood
→ Main article: UnDeadwood.
UnDeadwood was a four-part series in which Brian GMed a game based on the HBO series Deadwood, using the Deadlands RPG system.
Podcasts
Many of the webseries created by Critical Role Productions also exist in a podcast format. Earlier episodes of Critical Role and Talks Machina are available via the Nerdist Industries podcast network, preceding the split from Geek&Sundry. All other podcast episodes can be found via the Critical Role podcast network. New episodes are available one week after they aired on Twitch.
Series available in podcast format:
Comics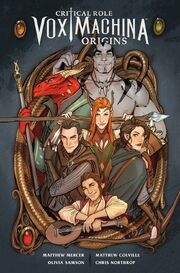 Winter's Crest Festival Comic
→ Main article: Winter's Crest Festival comic.
Marisha Ray and Taliesin Jaffe wrote a comic series with art by Wendy Sullivan Green. It told the story of Vox Machina's first Winter's Crest festival. The comic appeared on Geek&Sundry's website.
Vox Machina Origins
→ Main article: Vox Machina Origins.
On September 20, 2017, Dark Horse Comics released a six-issue comic series titled Vox Machina Origins Volume 1 covering how some of the members of Vox Machina came to meet each other. On July 10, 2019, Dark Horse began releasing Vox Machina Origins Volume 2, another six-part miniseries continuing the adventures of the fledgling group. A third series began releasing on February 10th, 2021, with the same creative team as Volume 2.[8]
The Mighty Nein Origins
→ Main article: Critical Role: The Mighty Nein Origins
On November 10, 2020, Dark Horse Comics and Critical Role announced that a new series of hardcover Critical Role graphic novels, The Mighty Nein Origins, would begin on June 16, 2021. The series will explore the backstory of each of the group's eight main characters, starting with Jester Lavorre.[9]
The Tales of Exandria
→ Main article: Critical Role: The Tales of Exandria
On December 15, 2020, Dark Horse Comics and Critical Role announced that a new mini-series of four comics, The Tales of Exandria, would begin on March 17, 2021. The series will focus on side characters and stories, beginning with Leylas Kryn[10]
Books
Tal'Dorei Campaign Setting
→ Main article: Tal'Dorei Campaign Setting.
The Critical Role: Tal'Dorei Campaign Setting is a reference book for D&D groups written by Matthew Mercer with the help of James Haeck. It was published in 2017 by Green Ronin Publishing and is available in both hardcover and PDF formats.
Explorer's Guide to Wildemount
→ Main article: Explorer's Guide to Wildemount.
The Explorer's Guide to Wildemount is an extensive 5th Edition campaign guide written by Matthew Mercer and a team of designers including Chris Lockey, James Introcaso, and James Haeck. The Wildemount campaign setting was released on 17 March 2020, published by Wizards of the Coast.[11]
The Chronicles of Exandria
The Chronicles of Exandria are art books featuring artwork from the community. They also include backstories of the main party members as well as some of the NPCs. Two have been published covering the Vox Machina Campaign and one (to date) for the second campaign.


The World of Critical Role
→ Main article: The World of Critical Role: The History Behind the Epic Fantasy.
Projected to release on 20 October 2020, The World of Critical Role is a non-fiction book containing archival photos and cast interviews, featuring "richly written insights into the events, characters, and locations of the adventures of Vox Machina and the Mighty Nein. Written by Liz Marsham and the cast of Critical Role, this book offers you the chance to experience the behind-the-scenes journey of how a circle of friends' home game became the most-watched fantasy RPG livestream of all time. Hear from the players themselves about their most triumphant moments and darkest hours. And celebrate the massive community of Critters who support and expand the show's world, through the crafts, cosplay, and art they create every day."[13]
Animation
Crit Recap Animated
→ Main article: Crit Recap Animated.
Crit Recap Animated is the spiritual successor to Critical Recap. The series condenses Campaign 2 story arcs into short 5-10 minute episodes written by Dani Carr, Marisha Ray, and Kyle Shire and animated by Offworld Studios.[14]
The Legend of Vox Machina
→ Main article: The Legend of Vox Machina.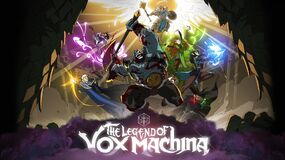 The Legend of Vox Machina is an animated series currently in production, funded by a kickstarter campaign of the same name.
In November 2019, Amazon Prime partnered on the project, to be seen exclusively on Amazon Prime Video and expanding it to two seasons totaling 24 episodes, completing the Briarwood storyline and moving "into other classic Vox Machina story arcs as well."[15] The show is now projected to premiere in the second half of 2021.[16]
Critical Role Foundation

The Critical Role Foundation is a non-profit organization dedicated to the mission of "leaving the world better than we found it". This foundation organizes fundraising campaigns for causes that the Critical Role team and the Critters care about. In addition, a percentage of all donations received are allocated to an emergency fund, to be used to provide financial help in the event of unforeseen emergencies, like natural disasters (hurricane, fire, and other tragedies).
The Foundation was first unveiled on September 24, 2020, with its first fundraising campaign aiming to support the First Nations' Native Youth & Culture Fund. The campaign goal of $50,000 was quickly surpassed: in the first 24 hours after launch, the Foundation had raised $98,000.[17]
| | |
| --- | --- |
| CRF Board of Directors | Permanent Partner Charities |
Other Charity Work
Throughout the years Critical Role has taken part in various charity drives. In addition, each member of the cast has chosen a charity to individually represent and encourage their fans to donate to them instead of sending gifts.[18]

826LA
During each broadcast, viewers were encouraged to donate to a charity, usually 826LA, and donators were thanked at the end of the session. During Hoomanism Appreciation Week in September 2015, the cast of Critical Role visited 826LA,[19] where they presented creative director Joel Arquillos with a check for $15,000.
Extra Life
Many of the cast members of Critical Role were involved with the Geek & Sundry Extra Life charity drive in October 2015,[20][21] including a special episode, "Critical Trolls for Extra Life" (Sx02) featuring the Vox Moronica crew.
Pablove Foundation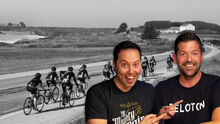 Sam and the cast had joined forces with Blair Herter, to help raise awareness and support for the Pablove Foundation. The Pablove Foundation is an charity dedicated to childhood cancer support through improving the lives of children with cancer through the arts, as well as investing in underfunded research projects. A few rewards were set up and reached:


Critical Role's 8-Bit Salute!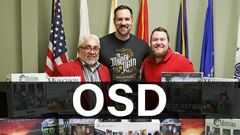 In November 2018, Travis and members of Critical Role joined forces with Operation Supply Drop (OSD)[24] Gaming Development Director, Jeff Bartom to raise money for their military community to provides Veterans with games and other entertainment items. In addition to this Supply Drop, they partnered with OSD with a goal to raise $50,000 for the military community.[25] As a reward for raising $25.000, Travis hosted a special live first-person shooter gaming session on the Critical Role Twitch channel.
In November 2019, Travis started another month-long fundraiser to help support our military community with OSD.[26] Travis Frederick of the Dallas Cowboys graciously offered to donate $500 per nat 1 (PCs only) rolled in November 2019.[27]
Red Nose Day


Critical Role joined the 2019 Red Nose Day campaign with Stephen Colbert to end childhood poverty, as part of which Matthew Mercer ran a one-on-one mini-adventure "Stephen Colbert's D&D Adventure with Matthew Mercer" (Sx43). Donors could support Red Nose Day by shaping Stephen's adventure through their donations. Donors decided Stephen's character class, his companion, his legendary weapon to be sought, and the villain. The story elements that gained the most donations were used in the mini-adventure. A total of $122,362 was raised to end childhood poverty.
Awards
Merchandise
Laura Bailey is in charge of Critical Role merchandise and often announces new releases at the beginning of new episodes of Critical Role. Since the initial airing of Critical Role, merch of all shapes and forms has been created, including t-shirts, hoodies, keychains, pins, collectible figures, plushes, dice, dice accessories, blankets, mugs and prints.
In 2018, Steamforged Games(SFG) raised approx $1.2M in a Kickstarter campaign for a collection of miniature figures based on player characters (PCs) and non-player characters (NPCs) from both Critical Role campaigns.
In 2020, a line of official Funko Pop figures of the members of Vox Machina was released.
In February 2020, it was announced that Critical Role had partnered with Hot Topic to sell branded apparel both online and in their stores.
Official merchandise is sold in four online shops to accommodate international shipping:
Darrington Press LLC
On October 23, 2020, Critical Role announced the formation of their own tabletop game publishing company, Darrington Press LLC, to develop and publish new tabletop games. It is headed by Ivan Van Norman. Matthew Mercer is acting as Creative Director, Darcy L. Ross is Publishing Marketing Manager, and Brittany Walloch-Key is Director of Retail. Their first four announced games, projected to release in 2021, are "Uk'otoa",[32] "Critical Role Adventures", "Syndicult", and "Guardians of Matrimonia".
Website
→ Main article: CritRole.com. The official Critical Role website, [critrole.com], features information, links to episodes, podcasts, news, a schedule, and galleries of fan creations. The website also features links to the online store.
A gallery of art pieces created by the fans is posted every week, chosen by Liam O'Brien amongst pieces shared on Twitter with the hashtag #criticalrolefanart or submitted via the website. Similarly, a gallery of cosplay photography is posted every month. Fans can submit fan art and photos of cosplay to participate in the weekly art gallery and monthly cosplay gallery on critrole.com, and for Cosplay/Fan Art of the Week Contests for Talks Machina.
Sponsors
Critical Role has been supported by many sponsors over the years. Most will sponsor one, or a few episodes, but some have been consistently supporting the show for a large amount of time.
Backblaze
Backblaze, Inc. is a cloud storage and data backup company. One of Backblaze's representatives, Yev, is a fan of Critical Role, and he was invited to the set during the airing of "Umbrasyl" (1x55). He later appeared in Backblaze advertisements that aired during breaks.
D&D Beyond
D&D Beyond is the official digital toolset and game companion for Dungeons & Dragons fifth edition. The website hosts online versions of the official Dungeons & Dragons fifth edition books, including rulebooks, adventures, and other supplements; it also provides digital tools like a character builder and digital character sheet, monster and spell listings that can be sorted and filtered, an encounter builder, and an interactive overlay Twitch Extension. In addition to official D&D content, it also allows the use of original Critical Role content, and provides the ability to create and add custom homebrew content.
The main cast of Critical Role started using D&D Beyond's tools at the start of Campaign Two to keep track of their character sheets. The Twitch extension allows viewers to see the player's health and status in real time.
NordVPN
NordVPN is a virtual private network (VPN) service provider. Sam's promotional segments for NordVPN evolved into an entire Nordverse.
Wyrmwood
Wyrmwood is a company selling handcrafted wooden tabletop gaming accessories and furniture. Since they began sponsoring Critical Role, they have provided accessories to the cast members, as well as crafting a custom gaming table and a DM screen for Matt. Wyrmwood products were also used as prizes for winners of Talks Machina's Fanart of the Week and Cosplay of the Week contests, until the COVID-19 pandemic made such giveaways impossible.
External Links
Community Websites
Articles
Gallery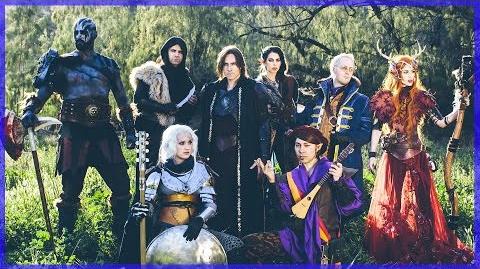 Trivia
The LLC acronym in the company's name stands for Limited Liability Company. A limited liability company (LLC) is a business structure in the United States whereby the owners are not personally liable for the company's debts or liabilities. Limited liability companies are hybrid entities that combine the characteristics of a corporation with those of a partnership or sole proprietorship. [33]
The Critical Role cast presented the Voice Acting and Writing categories at the 2021 Annie Awards. Due to the COVID-19 pandemic, the cast presented the categories directly from the Critical Role set.
References
Art: