"Critical Role One-Shot: Kobolds, Catacombs and Dragons (Oh My!)" (Sx29) is the twenty-ninth special episode of Critical Role.
Synopsis Edit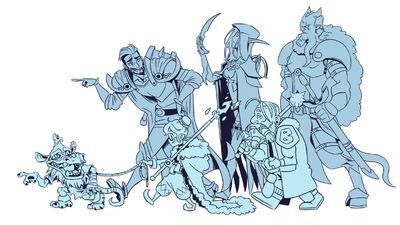 Featured Characters Edit
Player Characters Edit
Returning Edit
Mentioned Edit
Inventory Edit
Both Aluneth and Kingsbane appear in Hearthstone as well as in World Of Warcraft. Aluneth is legendary mage class artifact and Kingsbane rogue class.
Adventurefury, Blesssed Blade of Thrillseeker is a parody version of Thunderfury, Blessed Blade of Windseeker weapon.
Matthew Mercer voices Aluneth in World of Warcraft.
Quotations Edit
References Edit
Art:
Community content is available under
CC-BY-SA
unless otherwise noted.