"Critical Role: Grog's One-Shot" (Sx26) is the twenty-sixth special episode of Critical Role.  Grog plays a game of Bunions and Flagons with Percy, Scanlan, Vax, and Vex.
Synopsis Edit
Previously on Critical Role Edit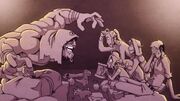 Featured Characters Edit
Vox Machina Edit
Returning Edit
Mentioned Edit
Inventory Edit
Quotations Edit
References Edit
Art:
Community content is available under
CC-BY-SA
unless otherwise noted.