Cobra Kai Season 4 - The Loop
Play Sound
Chetney Pock O'Pea is a gnomish blood hunter. He is played by Travis Willingham.
Description
Appearance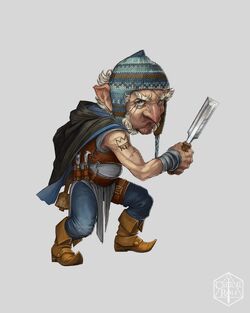 Chetney is an elderly gnome who appears to be "a hundred-and-something" years old. He stands about 3 foot 4 inches and has well-muscled arms. Tufts of silvery-grey hair sprout from and over his ears from under a knitted cap with ear straps pulled down tight on his head. He wears a leather chest harness, pointy-toed boots, and woodworking tools around his waist.[3]
Personality
Chetney loves woodworking, especially furniture making and toymaking. He works almost exclusively in wood and scorns the use of metal in craftsmanship; it may have been over this or a similar issue that he left his job in Uthodurn working for Oltgar. His skills as a woodcarver also play into his rogue skills of breaking and entering.[4]
Chetney has shown himself willing to volunteer for risky situations within his skillset[5][6] but hesitant to rush into danger that seems beyond his capability.[7] He is quick to retort, stubborn-willed, and foul-mouthed, but perceptive and capable under pressure.
Biography
Background
Chetney is a wood craftsman from Uthodurn, regarding himself as a master craftsman. He formerly made furniture but has mostly found success as a toymaker, specializing in rocking horses.[8] He left his old job working for Oltgar due to creative differences. In 843 PD, he was sent to Jrusar by the Craftsmen's Guild of the Savalirwood to meet with a man named Gurge Kisgregg, but lost him.
Campaign Three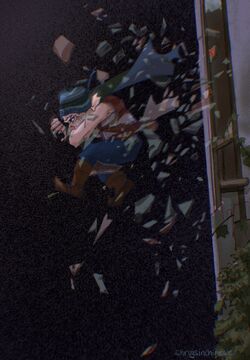 Chetney witnessed the Campaign Three adventuring party fighting with a spitting mimic outside the Dreamscape Theater. When the party approached him, he asked them for help in finding Gurge.[9]
Relationships
Chetney immediately liked Fresh Cut Grass and Fearne, was consistently alarmed by Laudna (though he was hesitantly delighted by Pâté), and took a great dislike to Dorian.[10] However, the two warmed up quickly, and Dorian directly called him a friend and a member of the party when patrolling the Moon Tower.
Character information
Notable items
Abilities
Gnome abilities
Darkvision
Gnome Cunning
Subrace: Rock Gnome[citation needed]
Artificers Lore
Tinker
Blood hunter abilities
Hunter's Bane
Blood Maledict (1/Rest)
Fighting Style
Crimson Rite
Blood Hunter Order: Order of the Lycan

Heightened Senses
Hybrid Transformation
Other abilities
Behind the scenes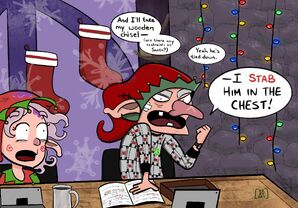 Chetney was conceived as a "true, legit" take on the character Chutney Chocolatecane, a Christmas elf Travis played in "The Night Before Critmas" (Sx41) and in Narrative Telephone's "Chutney's Christmas Vacation"; Campaign Three and the Critical Role special do not share continuity, and the gnome Chetney is distinct from the Christmas elf Chutney.[18] Chetney bears similar facial scars to his Christmas elf counterpart, and his knit cap may allude to Chutney's Christmas hat; similarly, both are armed with a weaponized wood chisel.[19] Much as Chutney is a toymaking elf from the North Pole who rues the replacement of wooden toys with plastic ones, Chetney is a toymaker from the snowbound northern city of Uthodurn who opposes the use of metal instead of wood in craftsmanship.[20][21] Both Chutney and Chetney committed an act of violence against their former employer.[22] Snowflakes are also depicted in the animation on Chetney's stat card, a further nod to his inspiration.[23]
Travis had wanted Chetney to join the party a little later in the story, so Chetney was not introduced until toward the end of "Behind the Curtain" (3x07).[24] Instead, Travis played Bertrand Bell (a returning character) until "The Trail and the Toll" (3x03) and was absent from the table until Chetney's introduction.[25]
Quotations
Chetney: (on meeting the party) You're awfully nice. I mean, I could be fucking armed to the teeth. You don't know me.
Laudna: Are you armed to the teeth?
Chetney: Yes.[26]
Chetney: (explaining his woodworking past) I started with furniture and there wasn't much of a market for that where I was. I wanted to make something that people loved, so I switched to toys. I'm particularly good at making rocking horses.[27]
Chetney: Woodworking is something I've had a passion for for decades, maybe longer. I learned from some of the best. [...] The wood speaks to you. You just have to be ready to listen.[30]
Dorian: to Chetney You have a friend, right? Like a group of friends?
Chetney: I do now.[31]
Trivia
The animation on his gnome stat card is of falling snow.[23]
Chetney is one of two members of the Campaign Three adventuring party with darkvision. Because Laudna acquired it magically through her sorcerer subclass, he is the only one who has darkvision naturally.
Chetney was introduced in December 2021, apt given his roots in a Christmas-themed one-shot.
References
Art: