Spider-Man: No Way Home Trailer Dropped - The Loop
Play Sound
Campaign Three is the third campaign of Critical Role. It began airing October 21, 2021, set on the continent of Marquet,[1] chronologically within a year after the events of Exandria Unlimited.[2]
Cast
Guests
Chapter summaries
→ Main article: Campaign Three adventuring party
Chapter
Title
First episode
Last episode
Chapter 20
TBD
"The Draw of Destiny" (3x01)
TBD
Three groups of adventurers, some familiar and some new, meet in the five-spired city of Jrusar and form an alliance initially born of convenience and the desire for knowledge and coin.
Production
The fact that a third campaign would happen was first confirmed in an announcement on June 10, 2021.[5] The premiere date was confirmed in an announcement on September 30, 2021,[1] and it was announced that it would also air live in select theaters in the United States.[6] The campaign is prerecorded. Unlike previous campaigns, the series will not air on the last Thursday of the month (starting in 2022) to give the cast and crew time to rest and prepare for upcoming episodes and to give viewers time to catch up with the show.[1]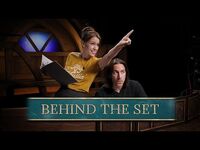 A brand new set was built for the campaign under Marisha's project direction. Matt stated that the idea of a campaign room that had windows fitted with LCD screens for effects comes from a high school art project that became a "white whale" for him. Projection effects were initially "dabbled" with in "Call of Cthulhu: Shadow of the Crystal Palace" (Sx46), many requested by Taliesin, and the new set was designed from the start to support using them more significantly. Named by the production team as the Tavern of Tales, the set's concept art was developed by Shaun Ellis and its lighting and projection design work was developed by Holly Hodges, who both worked in theme park development. It was built by Flip This Bitch, who built sets for Critical Role in the past. Marisha described the set as "a tool, and it's meant to enhance the expression of the story", and she felt that it not only had to look good for the audience but also for the players at the table.[7] All lighting, screens, projections, music, and other atmospheric details are controlled directly by Matt.[8]
In an open letter published a few days before the campaign premiere, Matthew Mercer confirmed that he was working with cultural and sensitivity consultants "throughout the worldbuilding and presentation of Marquet" to ensure that aspects of the continent of Marquet, the main setting for the campaign, would be "lending a familiarity and celebrating aspects of those same languages and cultures without appropriating them".[9] In a December 2018 episode of Talks at Google, he had talked about his desire to revisit Marquet in greater depth:
"
For me, personally, because it leans so heavily into, you know, Anglo fantasy and the very Lord of the Rings thing, as we've played through, our first campaign was definitely meant to be an introduction to D&D for most people at the table that never played. So I kept it very classic fantasy. And the more we've played, I've wanted to pull in other cultural inspirations. I would love to, at some point down the road, explore more of Marquet in our world, because I grew up loving Arabian Nights and a lot of ancient Sumerian Mesopotamian religion, classic Middle Eastern history, and mythology. I think it's so grossly underrepresented in modern media, and so I'd love to incorporate elements of that down the road as well. I love Eastern philosophy and Eastern mythology as well. It is wonderful and doesn't get a lot of love.
"
Liam and Ashley were given the chance to playtest their characters, Orym and Fearne Calloway, through the miniseries Exandria Unlimited. They both decided to reuse them in Campaign Three. They were given the option to re-roll their character stats for the new campaign, which Ashley took for Fearne. Guest player Robbie Daymond also chose to re-roll Dorian Storm's stats.[11]
According to Matt, Travis wanted to join the campaign a bit later than the others. To allow him to sit at the table from the first episode, Bertrand Bell, who had previously appeared in "The Search For Grog" (Sx42), was brought back as a temporary player character. Travis suggested that Bertrand be killed to allow him to introduce his new character, but didn't know when or how his death would occur.[12]
Trivia
Between Campaign Two and Campaign Three, the Critical Role timeslot was filled by Exandria Unlimited and various special episodes.
The race and class of Fresh Cut Grass were decided by Liam.[13]
Mighty Vibes episode 6, which aired six days before the State of the Role announcement, included a book titled Traveler's Guide to Marquet in the bookshelf, perhaps as a reference to the starting point for the campaign.
To help promote the campaign, Critical Role sponsored three videos from Quincy's Tavern featuring fictional foods and drinks with real accompanying recipes, in a series called "Taste of Marquet". They were posted to TikTok and Twitter.[14][15]

The first features the Mage's Cloak, a drink made of the Marquesian mahika flower often used in potions, drinks and desserts with a recipe for a mocktail of butterfly pea tea.
The second features kip kebabs, skewered meat dry rubbed with fusaka spice often sold by street vendors, with a recipe for baked dry rub chicken kebabs.
The third features sandberry pies made from sweet sand crystals, mined from mountains caves throughout Marquet and used as an ingredient various desserts and drinks, with a recipe for peach mango hand pies.

Campaign Three featured a guest earlier than any previous campaign, with Robbie Daymond as Dorian Storm appearing in the first episode.
Campaign Three is the first campaign to feature player characters from previous Critical Role games. Bertrand Bell previously appeared in "The Search For Grog" (Sx42) and its sequel; Fearne Calloway, Orym and Dorian Storm previously appeared in Exandria Unlimited.
References
↑ See "ICYMI: Campaign 3 Premieres October 21st & State of the Role Updates" at CritRole.com.
↑ Per Matthew Mercer's tweet: "Travis will return in the near future with his "true" C3 character"
↑ Critical Role (@CriticalRole) on Twitter: "Familiar travelers also make their journey to Jrusar with special guest @robbiedaymond leading the charge as Dorian!" (10-21-2021).
↑ See the June 10th episode of State of the Role.
↑ See "Campaign 3: Behind the Set"
↑ Matthew Mercer (@matthewmercer) on Twitter: "I get to control it ALL. Lights, screens, projections, music, atmosphere... my villain lair is nearly complete." (

2021-10-19

).
↑ See A Warm Welcome to Marquet and Campaign 3! on critrole.com
↑ See "Critical Role Campaign 2 Wrap Up" (Sx56) at 28:39.
↑ See @quincystavern on Twitter: the Mage's Cloak, Kip Kebabs, and Sandberry Pies.
Art:
↑ Screenshot of Traveler's Guide to Marquet from Mighty Vibes episode 6. This file is a copyrighted work. Its use in this article is asserted to qualify as fair use of the material under United States copyright law.