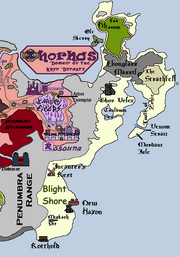 Blightshore is the land east of the Penumbra Range which separates it from Xhorhas. Its historical name was the Miskath Strand prior to the Calamity.[1]
GeographyEdit
Notable LocationsEdit
EnvironmentEdit
Eremis Stone says of Blightshore, "Creatures that come from there don't come in their... normal state. It's a place of twisted things." He says the Circle of Beasts draws some creatures from far-away Blightshore, and his theory is that the gorgon they faced was one such creature.[2]
At least one Luxon Beacon was found 700 years ago near the base of the Penumbra Range on the Blightshore side.[3]
References Edit
Art:
Community content is available under
CC-BY-SA
unless otherwise noted.