Benicio Lorelei is a human blood hunter and a member of the Lorelei family. He was played by Sam Riegel in "Liam's One Shot: 'Song of the Lorelei'" (Sx36).
Description Edit
Appearance Edit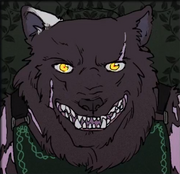 Personality Edit
Benicio had an itch for danger from an early age.
Biography Edit
Background Edit
Benicio and Lawrence's birth tragically caused the death of their mother, Rosaline. They were raised by their father and great-aunt Katerine. Benicio had an itch for danger from an early age. He was impatient to undergo the Taming, enter his adult life and flex his power.
Benicio's love of trouble led to him burning both his arms up to his shoulders in an attempt to prank Lawrence by sabotaging one of his explorations of alchemy. Benicio chose to learn from this expeirence: "Fire bad."
Relationships Edit
Character Information Edit
Abilities Edit
Werewolf Abilities Edit
Keen Hearing and Smell
Resistance to non-magical bludgeoning, piercing, and slashing damage dealt by non-silvered weapons.
Blood Hunter Abilities Edit
Blood Curses

Blood Curse of the Fallen Puppet[3]

Blood Hunter Order: Order of the Lycan
Crimson Rite (1d6)
Extra Attack
Hunter's Bane
Notable Items Edit
Quotations Edit
The name Benicio might be named after the actor Benicio Del Toro who plays Lawrence Talbot in the movie "The Wolfman" based on Sam and Travis's Twitter post.
References Edit
Art:
Community content is available under
CC-BY-SA
unless otherwise noted.