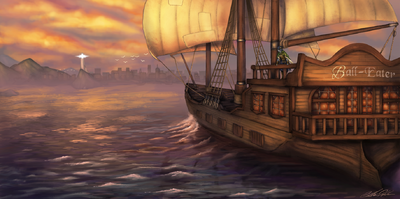 The Ball-Eater is a ship owned by the Mighty Nein, currently being captained by Orly Skiffback. Fjord captained the Ball-Eater during the Mighty Nein's time at sea. It was formerly captained by Avantika as the Squall-Eater and aligned with The Revelry before Avantika's death.[1] Plank King Wyatt Marinos determined that the Mighty Nein would take the ship and leave Darktow Isle permanently.[2]
Appearance Edit
The Ball-Eater is a massive, tri-mast ship with a cargo hold, an outer balcony and a gun deck. It is armed with large heavy cannons and has many gunports.[3] It has two rowboats, a rope ladder[4] and a captain's quarters below deck.
Captain's quarters Edit
The captain's quarters is a beautiful open room that is solidly made with a balcony in the back, with scuff marks on the floorboard. It has a mismatched patchwork of old carpets laid over each other from various designs around Exandria. There's a desk that has a bunch of carve marks into it where papers can be laid out and a shelf with a small lantern on it. Above the door is a small shelf with a tine black iron shrine to Uk'otoa. It is of an ouroboros serpent that's eating its own tail. About every inch there's an eye across the length of its body. In the center is a single metal sphere with a cloven line down the center of it.[5]
As The Squall-EaterEdit
The Squall-Eater was manned with a large crew. As pirates, the crew were heavily armed with shortswords, longswords and cutlasses. Most were also armed with a flintlock rifle and/or pistol.[6][7] During their confrontation with the Mighty Nein at Darktow they resorted to using heavy crossbows.[8]
As The Ball-EaterEdit
Current CrewEdit
The crew comprises of hired sailors and one former pirate. The crew are largely noncombatants.
Former CrewEdit
The crew consisted of the adventuring party known as the Mighty Nein as well as several hired sailors. Overall the crew was generally lightly armed but counted multiple spellcasters amongst its ranks. Under Fjord's captaincy the ship was renamed the Ball-Eater.
ResourcesEdit
The Ball Eater has four cannons on the port side and three functional cannons on the starboard side, for a total of seven.
Avantika's Captaincy Edit
Tusktooth's Captaincy Edit
Orly's Captaincy Edit
Its acting captain aims to turn the ship's use to more legitimate trade rather than illicit piracy.
References Edit
Art:
Community content is available under
CC-BY-SA
unless otherwise noted.