Wiki Targeted (Entertainment)
Play Sound
The Astral Plane, also known as the Astral Sea, is a Plane of Existence beyond the Material Plane.
The Astral Plane is one of the boundary planes that lie between many of the other realms. It is an amorphous realm where the will and the imagination have influence over the surrounding space, where one can will oneself to float and move. Some creatures whose species have been there for a long time have learned to actually shape the amorphous matter and energy into structures and objects. They therefore tend to be very psychic-oriented.[1]
Appearances
Campaign One
When Scanlan Shorthalt Scryed through his magical poo, his consciousness transcended the Material Plane, traveled across the Astral Sea, and arrived at his scrying destination on the Material Plane.[3]
Campaign Two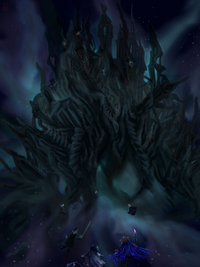 Creatures
Many beings reside within the Astral Sea:
References
Art:
External Links
Community content is available under
CC-BY-SA
unless otherwise noted.