Spider-Man: No Way Home Trailer Dropped - The Loop
Play Sound
"
Well, you know. Heaven to some, and hell to others.
"
– 
Ashton to Fearne about the inside of his head.
Ashton Greymoore is an earth genasi barbarian and a member of the Campaign Three adventuring party. Ashton is played by Taliesin Jaffe.
Description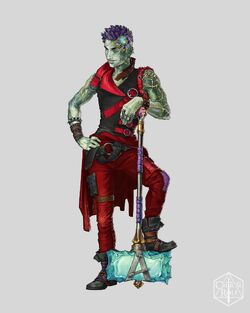 Appearance
Ashton has green stone skin and short, dark-purple crystal hair. They[6] have a prominent hole in the left side of their head filled with slag glass, through which an opalescent brain can be seen, and the eye on the cracked side of Ashton's head is milky white. There are cracks across Ashton's left side, patched together with what looks like slag melted gold (like kintsugi).[7]
Ashton has piercings made mostly of nails, carries multiple leather pouches, and wears a lot of well-worn leather with red fabric lining. The back of his hand-decorated jacket says "JUST DON'T". He carries a big glass hammer which has "FUCK OFF" engraved in it.[8] On Ashton's pant leg is a patch with a symbol of the Clasp.[9]
Personality
When Campaign Three opened, Ashton was living in the Fownsee Hollow neighborhood inside the Core Spire of Jrusar, in what would be considered destitute surroundings by anyone of means. It is a location where people come or are thrown to be forgotten. However, they saw it as colorful and fun, and had decorated their room with cast-offs and bright trinkets of little actual value.[10]
Ashton described himself as "cranky and unpleasant", and FCG immediately agreed with him.[11] Ashton recognized that he could be difficult with people.[12] He identified his main goals as self-reliance, and freedom to move about.[13]
Biography
Background
Ashton was hired to investigate the disappearance of a party of adventurers who had gone missing in a mine. Arriving at the assigned place, they discovered Fresh Cut Grass, along with several corpses scattered across the camp.[14]
As of "The Trail and the Toll" (3x03), Ashton is in debt with multiple third parties.[15]
Relationships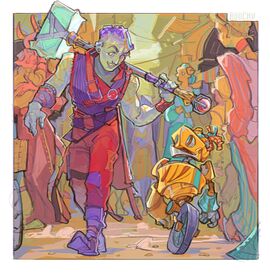 → Main article: Relationship between Ashton and Fresh Cut Grass
Ashton was hired to investigate the disappearance of the party of adventurers who had gone missing, and discovered Fresh Cut Grass along with the corpses of their comrades. Ashton emotionally supported FCG and helped him to bury his dead comrades, and FCG followed Ashton to their home. The two have remained close ever since.
Ashton and Fearne seem to get along with one another, and enjoy each other's mischief. They pickpocketed her when they first met, stealing a large earring of the Allhammer's symbol,[16] which she herself stole from a pachydan priest she met on her first day in Jrusar.[17] She offered to let Ashton drink some of the liquor out of her hair after Bertrand Bell accidentally threw it at her.
Unlike various other members of the party who seem to find Laudna scary or off-putting, Ashton immediately takes a liking to her and is apparently fond of her particular aesthetics, reacting favorably to her showing off of the dead rat puppet Pâté de Rolo and even going as far as to call the performance "amazing". In turn, Laudna seemingly appreciated their enthusiasm and, following a prank in which a drink was spilled over Bertrand Bell's clothes, cast Prestidigitation in order to pour the alcohol into their glass (despite the fact that the prank did not involve them).
Character information
Notable items
Abilities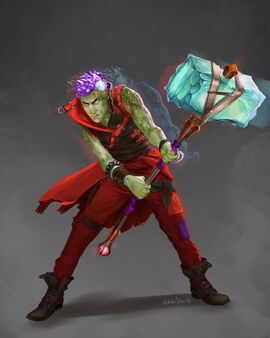 Genasi abilities
Subrace: Earth Genasi

Earthwalk
Pass without Trace (Cast Pass without Trace 1/Day)[23]
Barbarian abilities
Danger Sense[24]
Primal Path: Path of Fundamental Chaos[25][2][26]

Chaos Burst:[27] Add 2d4 damage to a weapon attack twice a day.[28] Damage type apparently depends on a rolled die and includes lightning, force[29] and cold damage.[30]
Four Rage builds:[31]

"Gravity build": Enemies within 15 feet seem to be pulled toward Ashton and suffer disadvantage on attacks against creatures other than Ashton.[32]

Rage[35]
Reckless Attack[36]
Unarmored Defense
Quotations
Trivia
Ashton uses he/they pronouns.[42]
Ashton returns to the trend, broken by Caduceus Clay, of Taliesin playing classes or subclasses created by Matt Mercer in the main campaigns.
The animation on his stat card appears to be a red-hued meteor shower.[4]
Art gallery
References
Art: