We're Getting Mutants in the MCU - The Loop
Play Sound
This page is about the real-world actor. For the character from the "Liam's Quest" one-shots, see Ashley Johnson (character).
Ashley Johnson is an actress, voice actress, a member of the main cast of Critical Role, and the president of the Critical Role Foundation. She plays Fearne Calloway in Campaign Three.
In previous campaigns, Ashley played Pike Trickfoot and Yasha Nydoorin. She was also the Dungeon Master for "The Nautilus Ark: A Johnson Corp Odyssey" (Sx60).
Critical Role Productions
Pre-Stream
The first campaign of Critical Role was Ashley's first time playing a pen-and-paper RPG. She was one of the last players to join the game, and with few options left, she chose to be a gnome cleric because she thought it would be funny and interesting. She quickly realized just how valuable a character she was when the first battle began.
On her first appearance on Critical Role, "Attack on the Duergar Warcamp" (1x04), her first and second dice rolls were both natural 20s. Her third dice roll was a natural 1.
Main Campaigns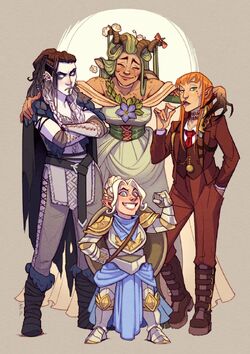 After "Enter Vasselheim" (1x16), Ashley had to leave Los Angeles, California to live in New York City, as she was starring in NBC's live-action series Blindspot. Ashley continued to play via Skype when possible, and she returned to LA several times during Blindspot's production hiatus, allowing her to return to Critical Role in person. Once production on Blindspot ended, Ashley was back permanently as of "The Cathedral" (2x86).
During the times when Ashley was not available to play, Pike's absence from the story was usually explained as her staying to work on rebuilding the temple of Sarenrae in Vasselheim or helping to fortify Whitestone. Her appearing out of nowhere to join the group for one or two episodes was explained by Pike using a divine projection to be with the rest of Vox Machina, although she physically remained in Vasselheim. Yasha's absences were justified by the character being more of a loner who does not like large groups, but will join up with the party on occasion, and eventually by her being mind-controlled by Obann.
Critical Role Foundation
Ashley became president of the Critical Role Foundation when it launched in September 2020. She frequently gives updates on current fundraising campaigns at the start of Critical Role episodes.
Player Characters
See also: Player characters played by Ashley Johnson
Main Campaigns
One-Shots and Miniseries
Games played as Dungeon Master
Other Works
→ See also: Ashley's IMDb profile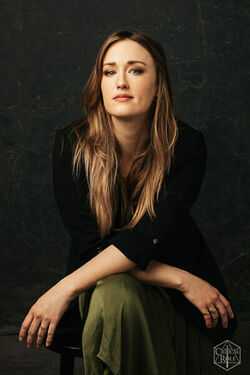 Movies and Television
Ashley became known as a child actress in the early 90s with her role as Chrissy Seaver on the sitcom Growing Pains. By the time she was 12, she had played in eight TV series. She appeared in the NBC drama series Blindspot from 2015 to 2020, as FBI forensic specialist Patterson.
In 2012, Ashley appeared in The Avengers as Beth, a waitress who is saved by Captain America. She was intended to appear in future films as his newest love interest, but the idea was shelved.
Voice Acting
Some of Ashley's well-known voice acting roles are Gretchen Grundler in Recess, Peter Shepherd in Jumanji (the animated series), Terra in Teen Titans, Gwen Tennyson in the Ben 10 franchise, and Tulip Olsen in Infinity Train. She provided the voice and motion capture for Ellie in the video game The Last of Us and its sequel, for which she won two BAFTA awards for Best Performer and a VGX Award for Best Voice Actress, and received several nominations.
Personal Life
Ashley and Brian W. Foster began dating in 2012 and announced their engagement in December 2018.[1] They live together with their two dogs, Henry and Bullock. Previously, Ashley also had had another dog, Sully, who passed away in 2018.
Trivia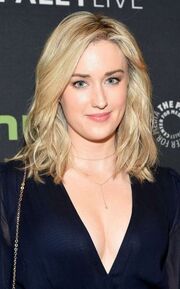 Ashley's player characters from the first two main campaigns have both had their hair turned white due to a significant event, and they both gained wings due to their accomplishments.
When asked which other Campaign One character she would rather play as, Ashley said either Vax'ildan or Grog.[2]
Ashley appeared as an NPC in "Critical Role EXTRA – Liam's Quest!" (Sx12), played by Liam O'Brien. She acted similarly to her character Pike, healing the party and sporting a pair of feathered wings.
Ashley's chosen drink for her Between the Sheets interview was a junglebird.
In 2020, Ashley appeared in "An Open Window" (2x114), her first time in costume for Halloween on the show. She was dressed as Henry Crabgrass. The following year, she dressed as Travis Willingham.
Ashley was the last member of the main cast to take on the role of Dungeon Master. Her first one-shot was unlocked as a stretch goal for the Kickstarter campaign of The Legend of Vox Machina.
Ashley always wanted to be an astronaut.[3]
Ashley can play the guitar, piano, violin, and cello. She is also a singer. She has a Soundcloud page where she posts song covers.
Due to the COVID-19 pandemic, the cast of Critical Role had to record their lines for The Legend of Vox Machina at home. Ashley built her recording studio inside of a closet.[4]
To promote Exandria Unlimited, several cast members took over the Critical Role instagram account for a day. Ashley took over on June 19, 2021. A fan-made compilation of her instagram stories has been uploaded on Youtube.
On Talks Machina, the host Brian Wayne Foster, Ashley's fiancé, likes to "#ThankMyGuests" with names that are either mispronounced or wordplay that sounds close to their names. Here are the names for Ashley Johnson so far:
Ashley Jenkins
Arshley Jenkins
Hashleaf Godson
Ad-Free Johnson
Crash Thee Datsun
Ask Me to Prom, Son

Ellie BAFTA Won
Trashly Jenkins
YASH-O-LEE
Yass Queen Get Some
Yasha is a Boss, Son!
Naturally Blocks Sun
External Links
References
Art:
Critical Role cast
Main cast
Guest stars

Campaign 1
Campaign 2
Campaign 3
Pre-Stream